Main content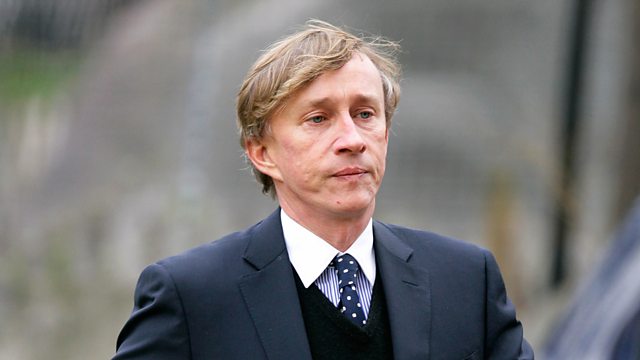 Jasper Conran
Michael Berkeley's guest is fashion designer Jasper Conran, who chooses music from Kathleen Ferrier, Ella Fitzgerald, Bessie Smith, as well as Mozart, Schubert, Chopin and Handel.
Michael Berkeley's guests is Jasper Conran, one of Britain's best-known fashion designers. In 1978, Conran began producing women's clothing, and has since concentrated on such diverse fields as home furnishings, crystal and china, as well as designing costumes and sets for ballets, plays and opera.
His musical choices encompass singers such as Kathleen Ferrier, Ella Fitzgerald, Bessie Smith and Cat Stevens, as well as works by Mozart, Schubert, Chopin, and his favourite composer, Handel.
M Berkeley: The Wakeful Poet (Music from Chaucer) (pub OUP)
Beaux-Arts Brass Quintet
BBQ BBQ 003, Tr 10
Duration: 25s
Trad: Blow the Wind Southerly
Kathleen Ferrier (contralto)
Kathleen Ferrier DECCA 417 192-2, Tr 3
Duration: 2m20s
Schubert: Impromptu No 4 in A flat, D899
Melvyn Tan (fortepiano)
Schubert EMI CDC 7 49102-2, Tr 4
Duration: 6m48s
Elizabeth Welch: Stormy Weather (Harold Arlen and Ted Koehler)
LP Elizabeth Welch WORLD RECORDS SH 233 S1 B6
Duration: 3m23s
Handel: Where'er you Walk (Semele - Act 2, Sc 3)
Anthony Rolfe-Johson (tenor)
English Baroque Soloists
John Eliot Gardiner (conductor)
Handel Semele ERATO 4509-99759-2 CD1, Tr 2
Duration: 4m58s
Bessie Smith: You Gotta Give Me Some (Spencer Williams)
Clarence Williams (piano)
Eddie Lang (guitar)
Bessie Smith BBC BBCCD602 8
Duration: 2m45s
Mozart: Laudate Dominum (Vesperae solennes de Confessore, K339)
Carolyn Samson (soprano)
Choir of the King's Consort
The King's Consort
Robert King (conductor)
Mozart HYPERION CDA 67560, Tr 5
Duration: 4m16s
Ella Fitzgerald: Undecided (Charles Shavers and Sid Robin)
Chick Webb and his orchestra
CDR The Very Best of Ella Fitzgerald STARDUST B001GIILLA, Tr 1
Duration: 3m17s
Chopin: Waltz in G flat, Op 70 No 1
Dinu Lipatti (piano)
Chopin EMI 566904-2, Tr 6
Duration: 1m53s
Handel: Comfort Ye My People (Messiah)
Mark Padmore (tenor)
The Sixteen
Harry Christophers (conductor)
Handel Messiah CORO COR 1606-2 CD1, Tr 2
Duration: 3m11s
Cat Stevens: Morning has broken (words Eleanor Farjeon; music arr Cat Stevens)
Teaser and the Firecat ISLAND IMCD269, Tr 7
Duration: 3m16s.