Main content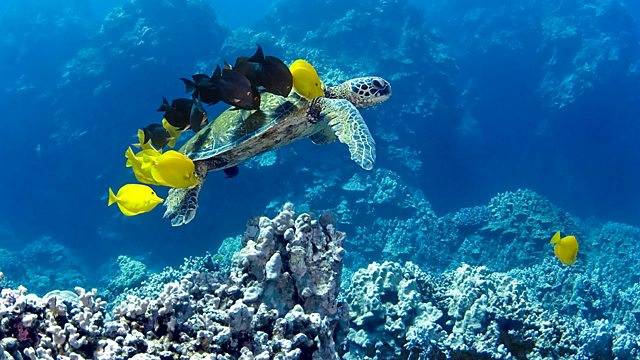 Documentary series on the South Pacific islands. Much of this blue wilderness is a marine desert, where sharks, whales and turtles must go to great lengths to survive.
A large part of the remote, blue wilderness of the South Pacific is a marine desert. Many animals that live in the ocean - among them sharks, whales and turtles - must go to extraordinary lengths to survive. Tiger sharks travel hundreds of miles to feast on fledging albatross chicks and, every year, sperm whales journey from one side of the South Pacific to the other in their search for food and mates. Theirs is a journey that can end in tragedy.
But the South Pacific is not all desert. New Zealand's super-rich coast supports huge pods of acrobatic dolphins; its coral reefs are some of the most diverse on earth; and there are few places richer in wildlife than the quirky Galapagos Islands, home to tropical penguins and surfing sea lions.
Using the greatest shipwreck story of all time - an event that inspired Moby Dick - the huge challenges of survival in this seemingly endless blue ocean are revealed.
Credits
| Role | Contributor |
| --- | --- |
| Presenter | Benedict Cumberbatch |
| Producer | Mark Brownlow |
| Executive Producer | Huw Cordey |
| Composer | David Mitcham |
Broadcasts