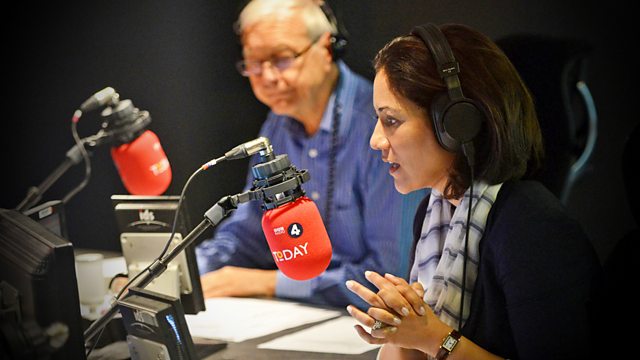 08/06/2009
Presented by John Humphrys and Sarah Montague.
Europe editor Mark Mardell and polling analyst John Curtice analyse the European election results.
Sir David Normington says he was shocked and disappointed by the the resignation of Metropolitan Police Commissioner Sir Ian Blair.
Sanchia Berg reports from a new play that reimagines the sinking of the Russian submarine Kirsk.
The UK Independence Party (UKIP) is celebrating second place in the European elections, in front of Labour. UKIP leader Nigel Farage discusses the result.
Sarah Montague describes the story of European election result night.
Shadow chancellor George Osborne explains what the European election results mean for the Conservatives.
Science correspondent Tom Feilden speaks to Richard Bashford about the RSPB's Make Your Nature Count survey.
Thought for the day with Rev Dr Colin Morris.
Professor Juliet Lodge and Dr Simon Hix discuss the electorial success of Europe's far right political parties.
BNP leader Nick Griffin, Labour deputy leader Harriet Harman and political editor Nick Robinson discuss the European election results.
Author of On Roads, Joe Moran, and Top Gear presenter James May discuss whether the M25 has the romantic appeal of Route 66.
The Liberal Democrats have come fourth in the European elections, behind the Conservatives, UKIP and Labour. Lib Dem leader Nick Clegg discusses the results.
Can food waste be used as a source of electricity? Sarah Mukherjee reports on government plans to invest in anaerobic digestion, a process which does just that.
A new film about the overfishing of tuna, End of the Line, has had such an impact that the boss of Pret a Manger says his company will stop selling tuna in sandwiches or sushi boxes. Actress Greta Scacchi and chef Phil Vickery discuss the film.
Commentators Jackie Ashley and John Rentoul discuss a disasterous night for Labour in the European elections.
Last on
So you think you know the Today programme?