Main content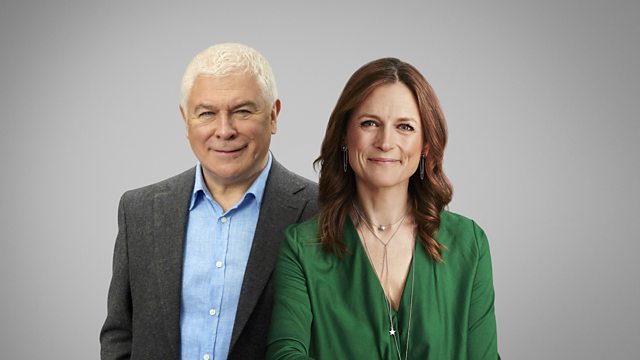 04/06/2009 Torleif Thedeen and The King and I
Sean Rafferty presents director Jeremy Sam and singers from The King and I at the Royal Albert Hall. Plus music from cellist Torleif Thedeen.
Sean Rafferty presents a selection of music and guests from the arts world.
Cellist Torleif Thedeen performs in the studio and talks to Sean about his forthcoming engagement with the London Philharmonic Orchestra.
Plus director Jeremy Sams joins Sean in the studio to talk about a new Royal Albert Hall production of The King and I, by Rodgers and Hammerstein. With excerpts from the musical performed by Maria Friedman, Ethan Le Phong and Yanle Zhong.
17:01
RICHARD RODGERS
The King and I (Overture)
Unnamed studio orchestra
Lehman Engel (conductor)
SONY SK 53328
Track 1
4'58
17:08
MONTEVERDI
Zefiro torna (e di soavi accenti)
I Fagiolini
Barokksolistene
Robert Hollingworth (director)
CHANDOS CHACONNE CHAN 0760
Track 5
6'05
17:15
LIVE
BRITTEN
Suite for Cello, op.72 (Lamento)
Torleif Thedéen (cello)
3'15
17:24
ELGAR
Concerto for cello and orchestra in E minor (2nd Movement)
Torleif Thedéen (cello)
Malmö Symphony Orchestra
Lev Markiz (conductor)
BIS CD486
Track 5
4'36
17:33
LIVE
BACH
Suite no.1 in G major, BWV 1007 (Sarabande)
2'26
SEGUE
17:36
BACH
Suite no.3 in C major, BWV 1009 (Bourée I – Bourée II)
Torleif Thedéen (cello)
5'43
17:40
SIBELIUS
Finland Awakes from Press Celebrations Music, JS 137
Lahti Symphony Orchestra
Osmo Vanska (conductor)
BIS-CD-1921/23
CD2, Track14
7'54
17:50
CHOPIN
Valse brilliante, Op.34 No.1
Maria Joao Pires (piano)
ERATO ECD88067
Track 14
5'32
17:55
VIVALDI
Ottone (Dopo un'orrida procella)
Cecilia Bartoli (mezzo-soprano)
Il Giardino Armonico
Giovanni Antonini (conductor)
DECCA 4665692DEC
Track 2
4'04
18:03
WIENIAWSKI
Polonaise de Concert
Nikolaj Znaider (violin)
Daniel Gortler (piano)
RCA 82876504702
Track1
5'05
18:09
BEETHOVEN
Egmont Overture, op.84
Orchestre Symphonique de Montreal
Kent Nagano (conductor)
RCA RED SEAL 88697400842
CD2, track 5
7'56
NEW RELEASE.
18:17
LIVE
RICHARD RODGERS
The King and I (Hello, Young Lovers)
Maria Friedman (Anna)
Gareth Valentine (piano)
3'02
18:27
LIVE
RICHARD RODGERS
The King and I (I have dreamed)
Ethan Le Phong (Lun Tha)
Yangle Zhong (Tuptim)
Gareth Valentine (piano)
2'39
18:35
LIVE
RICHARD RODGERS
The King and I (Getting to know you)
Maria Friedman (Anna)
Gareth Valentine (piano)
1'29
18:38
BACH
Unser Mund sie voll Lachens, BWV 110 (opening chorus)
Bach Collegium Japan
Masaaki Suzuki (director)
BIS SACD 1761
Track 1
6'17
NEW RELEASE
18:46
MILHAUD
Scaramouche Op165b
Stephen Coombs (piano)
Artur Pizarro (piano)
HYPERION CDA67014
Track 1-3
9'05
18:55
GRANADOS
Spanish Dance No.5
John Williams (guitar)
SONY 88697529852
Track 17
4'17