Main content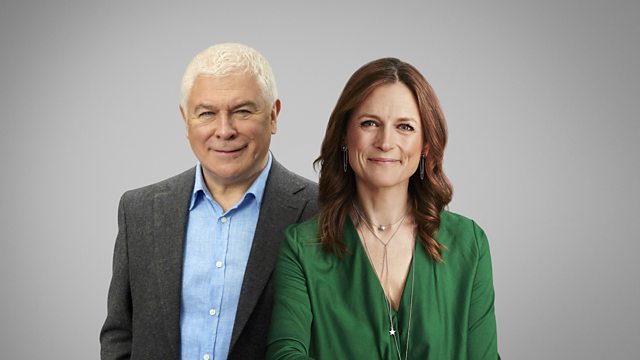 03/06/2009 George Fenton and Garsington Opera
Presented by Sean Rafferty. Including film composer George Fenton discussing his upcoming concert at the Barbican in London, plus singers from Garsington Opera.
Sean Rafferty presents a selection of music and guests from the arts world.
Film composer George Fenton discusses his upcoming concert at London's Barbican, and singers from Garsington Opera perform excerpts from Martinu's Mirandolina, being given its UK premiere at Garsington 50 years after its world premiere in Prague.
5.02
FENTON
Theme from Bergerac
Pickwick PWKM645
Tracks 11
0'19
5.03
HAYDN
Symphony No. 100 in G major Hob 1:100 (Finale)
Bavarian Radio Symphony Orchestra
Mariss Jansons (conductor)
Sony 88697412332
Track 11
5'20
5.09
BEETHOVEN
"O welche Lust, in freier Luft" from Act I Fidelio
Vienna Philharmonic and State Opera Chorus
Claudio Abbado (conductor)
DG 453 719-2
CD 3 Track 18
7'15
5.17
FENTON
Montage of TV themes and
Prelude from Planet Earth
BBC Concert Orchestra
George Fenton (conductor)
EMI 38189121 [Planet Earth]
CD 1 Track 1
2'15
5.23
FENTON
From Life [BBC nature series, to be broadcast autumn 2009]
George Fenton Band
George Fenton (conductor)
Angel Recording Studios
2'49
5.28
FENTON
Cry Freedom
George Fenton and Jonas Gwangwa
MCADMCG6029
Track 18
4'38
5.39
R. STRAUSS
Beim Schlafengehen (Going to Sleep) from Four Last Songs
Rene Fleming (soprano)
Houston Symphony Orchestra
BMG 09026 685392
Track 3
5'53
5.46
VIVALDI
Concerto for 2 violins in D RV 511
Nigel Kennedy (violin)
Daniel Strabrawa (violin)
Members of the Berlin Philharmonic Orchestra
EMI 7243 5 5766601
Tracks 16-18
12'01
6.00 News
6:04
RESPIGHI
The Birds: Prelude
Minneapolis Symphony Orchestra
Antal Dorati (conductor)
Mercury 432 007-2
Track 1
2'58
6.07
RUTTER
Arise, Shine
Choir of Clare College Cambridge
Timothy Brown (director)
Nicholas Rimmer (organ)
Naxos 8.557130
Track 8
4'27
6.12
MARTINU
Mirandolina: Act III Saltarello
Brno State Philharmonic Orchestra
Frantisek Jilek (conductor)
Supraphon SU37422011
Track 11
4'04
6.21
LIVE MUSIC:
MARTINU:
Where's the LandLord (Mirandolina, Act 2, scene 1)
Mary Hegarty (Ortensia)
Jean Rigby (Dejanira)
Daniel Norman (Fabrizio)
Sergey Rybin (piano)
4'56
6.31
LIVE MUSIC:
MARTINU
Do Excuse Me, How Shall I put this (Mirandolina, Act 2, scene 3)
Juanita Lascarro (Mirandolina)
Geoffrey Dolton (Ripafratta)
Sergey Rybin (piano)
5'28
6.44
ARNOLD:
Peterloo Overture
BBC Philharmonic Orchestra
Rumon Gamba (conductor)
Chandos CHAN10293
Track 2
10'04
6.49
CHOPIN:
Waltz in A flat major Op. 34 No. 1
Stephen Hough (piano)
Hyperion CDA67686
Track 6
5'38
6.55
SPIRO/JOHN PLAYFORD:
The Lost Heart
Jane Harbour (violin)
Jason Sparkes (piano accordion)
Alex Vann (mandolin)
Jon Hunt (acoustic guitar)
Real World CDRW172
Track 15
4'18