Main content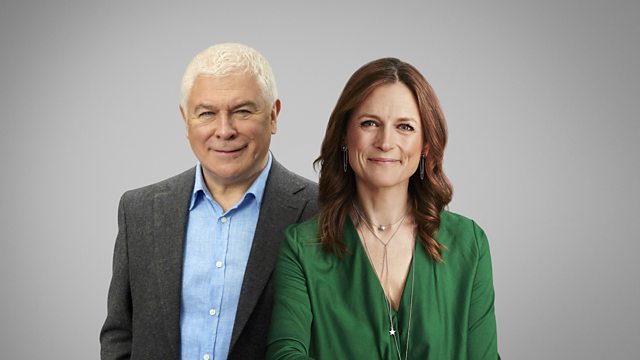 27/05/2009 Royal Opera House and Xuefei Yang
Presented by Sean Rafferty. Members of the cast of Christof Loy's new production of Lulu, by Alban Berg, talk about the production and guitarist Xuefei Yang performs in the studio.
Sean Rafferty presents a selection of music and guests from the arts world.
Soprano Agneta Eichenholz, bass Michael Volle and mezzo-soprano Jennifer Larmore join Sean to talk about Christof Loy's new production of Lulu by Alban Berg, at the Royal Opera House. The production opens on June 4, 2009 and is conducted by Antonio Pappano.
Plus guitarist Xuefei Yang performing Beethoven in the studio ahead of her appearance at the 2009 Bath Music Festival.
17:03
GLUCK
Air de Furies
Les Talens Lyriques
Christophe Rousset (director)
VIRGIN 216574-2
Track 6
4:00
17:07
HUANG ZI
Plum Blossoms in the Snow
Xuefei Yang (guitar)
EMI 206322-2
Track 19
2:06
17:10
BERG
Lulu (Act 2, scene 1 'Sie glauben nicht, wie ich mich darauf freue' & Kavatine: 'Koenntest du dich fuer heute nachmittag nicht freimachen?')
Yvonne Minton (Grafin Geschwitz)
Teresa Stratas ((Lulu)
Franz Mazura (Dr. Schoen)
Orchestre de l'Opera de Paris
Pierre Boulez (conductor)
DG 415 489-2
CD2, track 1
5:26
17:22
BERG
Lulu (Act 3, scene 2 Nocturno - 'Das ist der lezte Abend')
Yvonne Minton (Grafin Geschwitz)
Teresa Stratas ((Lulu)
Franz Mazura (Jack)
Orchestre de l'Opera de Paris
Pierre Boulez (conductor)
DG 415 489-2
CD3 Track 14
4:01
17:30
PACIUS
Ballad (Prinsessan av Cypern, Act 1)
Agneta Eichenholz (Anemotis – mezzo-soprano)
Tapiola Sinfonietta
Ulf Soederblom (conductor)
BIS CD 1340
Track 3
5:10
17:37
C. P. E. BACH
Symphonie in G major, Wq.173
Akademie fur Alte Musik Berlin
HMC 901711
Track 13-15
8:09
17:45
PURCELL
Thou knowest, Lord
The Sixteen
Harry Christophers (director)
CORO COR16069
Track 14
3:52
17:50
SCHUMANN
Faschingsschwank aus Wien, Op.26: No.1 (Allegro)
Piotre Anderszewski (piano)
VIRGIN 267291-2
CD1, track 8
9:03
18:03
HAYDN
Sinfonia in B major (Armida, Hob.1a:14)
Haydn Sinfonietta Wien
Manfred Huss (director)
BIS CD 1818
CD2, track 6
5:17
18:09
SCHUMANN
Der Knabe mit dem Wunderhorn, Op.30 No.1 (The boy with the magic horn)
Simon Keenleyside (baritone)
Graham Johnson (piano)
HYPERION CDJ33102
Track 9
2:15
18:12
LIVE
BACH
2 Minuets (Lute Suite in E major, BWV.1006)
Xuefei Yang (guitar)
4:16
18:23
LIVE
STEPHEN GOSS
Blue Orchid (The Chinese Garden)
Xuefei Yang (guitar)
2:56
18:30
LIVE
GRANADOS, arr. XUEFEI YANG
Selection of Valses (Valses Poeticos)
Xuefei Yang (guitar)
4'17
18:36
SVENDSEN
Karneval I Paris, Op.9
Trondheim Symphony Orchestra
Ole Kristian Ruud (conductor)
EMI 268161-2
CD2, track 1
12:29
18:50
ROSSINI
The Italian Girl in Algiers (Act 2: Rondo: Think of Your Country)
Jennifer Larmore (mezzo-soprano)
Philharmonia Orchestra
Brad Cohen (conductor)
CHANDOS CHAN3160
Track 15
18:57:
JOHANN STRAUSS, Sr.
Kettenbruecke-Walzer, Op.4 Nos 1-3
Concerto Koeln
ARCHIV 477 5420
Track 23
2:07