Main content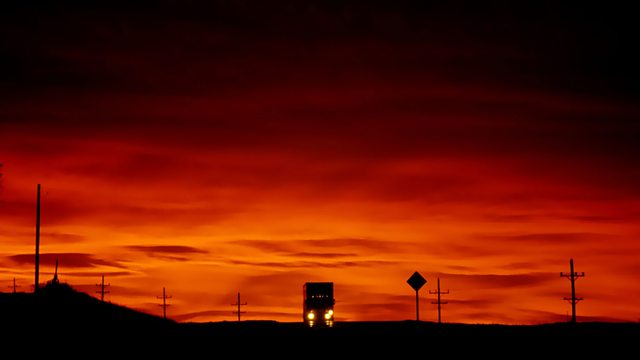 27/05/2009
Music including Martinu, Gerswhin, Bernstein, Shostakovich, Telemann, Daquin, Couperin, Kuula, Suolahti, Sibelius, Wagner, Wassenaer, Schubert, Kodaly, Liszt, Jardanyi and Molique.
1.00am
Martinu, Bohuslav (1890-1959): Symphony No 1
Prague Radio Symphony Orchestra
Vladimir Valek (conductor)
1.40am
Stravinsky, Igor (1882-1971): Rag-time for 11 instruments
Canadian Chamber Ensemble
Raffi Armenian (conductor)
1.46am
Scott, James Sylvester (1885-1938): Paramount Rag
Donna Coleman (piano)
1.49am
Lamb, Joseph Francis (1887-1960): Ragtime Nightingale
Donna Coleman (piano)
1.55am
Gershwin, George (1898-1937): Rhapsody in Blue, arr Lundin for piano and string quintet
Bengt-Ake Lundin (piano)
New Stenhammar String Quartet
Staffan Sjoholm (double bass)
2.12am
Bernstein, Leonard (1918-1990): Overture (Candide)
Netherlands Radio Symphony Orchestra
Richard Dufallo (conductor)
2.18am
Shostakovich, Dmitry (1906-1975): Waltz No 2 (Suite No 2 for Jazz Band)
Eolina Quartet
2.23am
Martinu, Bohuslav (1890-1959): Sonatina for clarinet and piano
Valentin Uriupin (clarinet)
Yelena Komissarova (piano)
2.35am
Martinu, Bohuslav (1890-1959): Symphony No 2
Prague Radio Symphony Orchestra
Vladimir Valek (conductor)
3.00am
Stadlmayr, Johann (c.1580-1648): Ave Maris Stella
Capella Nova Graz
Otto Kargl (conductor)
3.07am
Telemann, Georg Philipp (1681-1767): Overture (Suite) in D (Darmstadt), TWV LV d15
Bergen Philharmonic Orchestra
Roy Goodman (conductor)
3.28am
Daquin, Louis-Claude (1694-1772): Rondeau - Le Colin-maillard (blind man's buff)
Couperin, Francois (1668-1733): Rondeau - Le Tic-Toc-Choc (or Les maillotins)
Colin Tilney (harpsichord)
3.33am
Hildegard of Bingen (1098-1179): O clarissima Mater (respond)
Rondellus (vocal ensemble)
3.43am
Madetoja, Leevi (1887-1947): Dance Vision (Tanssinaky), Op 11
Finnish Radio Symphony Orchestra
Jorma Panula (conductor)
3.51am
Kuula, Toivo (1883-1918): Suru (Sorrow) for cello and piano (orig cello and orchestra), Op 22, No 2
Arto Noras (cello)
Tapani Valsta (piano)
3.58am
Suolahti, Heikki (1920-1936): Sinfonia Piccola
The Finnish Radio Symphony Orchestra
Kari Tikka (conductor)
4.20am
Sibelius, Jean (1865-1957): Rakastava (The Lover), Op 14 - arr for soprano, baritone and chorus
Pirkko Tornqvist-Paakkanen (soprano)
Jouni Kuorikoski (baritone)
Finnish Radio Chamber Choir
Eric-Olof Soderstrom (conductor)
4.27am
Wagner, Richard (1813-1883): Overture (Tannhauser)
BBC Philharmonic
Vassily Sinaisky (conductor)
4.42am
Pezel, Johann Christoph (1639-1694): Suite of German dances, arr Romm for brass ensemble
Canadian Brass
4.50am
Wassenaer, Count Unico Wilhelm van (1692-1766): Concerto armonica No 6 in E flat (Sei Concerti Armonici, 1740)
Combattimento Consort Amsterdam
Jan Willem de Vriend (conductor)
5.00am
Haydn, Joseph (1732-1809): Two marches for wind band: Ungarischer National-Marsch (Hungarian national march), H VIII; March for the Prince of Wales, H VIII 3
Bratislava chamber harmony
Justus Pavlik (director)
5.07am
Schubert, Franz (1797-1828): Symphony No 4 in C, D417 (Tragic)
The Radio Bratislava Symphony Orchestra
Ondrej Lenard (conductor)
5.36am
Kodaly, Zoltan (1882-1967): Sonatina for cello and piano
Laszlo Mezo (cello)
Lorant Szucs (piano)
5.46am
Liszt, Franz (1811-1886): Il m'aimait tant!
Katalin Szokefalvi-Nagy (soprano)
Magda Freymann (piano)
5.53am
Jeney, Zoltan (b.1943): Bird Tempting
Girls Choir of Gyor
Miklos Szabo (conductor)
6.00am
Kaufman, Nikolai (b.1925): Two Humorous Folk Songs
Bulgarian Radio Children's Choir
Hristo Nedyalkov (conductor)
6.04am
Bartok, Bela (1881-1945): Three Hungarian folksongs from the Csík district for piano, Sz 35a
Zoltan Kocsis (piano)
6.08am
Jardanyi, Pal (1920-1966): Fantasy and variations on a Hungarian folksong
Wind quintet of the Hungarian Radio Orchestra
6.21am
Molique, Bernhard (1802-1869): Six Songs without words, transcr Regondi and arr Petric/Goodman
Joseph Petric (accordion)
Erica Goodman (harp)
6.34am
Debussy, Claude (1862-1918): Jardins sous la pluie (Estampes)
Leif Ove Andsnes (piano)
6.38am
Boieldieu, Adrien (1775-1834): Concerto in C for harp and orchestra
Suzanna Klintcharova (harp)
Sofia Philharmonic Orchestra
Dimitar Manolov (conductor).