Main content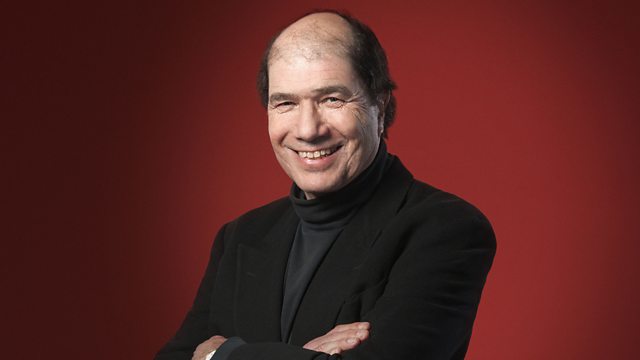 James Le Fanu
Michael Berkeley's guest is GP and journalist James Le Fanu, whose musical choices include a Byrd Mass, Haydn's The Creation, as well as Bach, Beethoven and Schumann.
Michael Berkeley's guest is GP and medical journalist James Le Fanu, author of books such as The Rise and Fall of Modern Medicine, and Why Us? How Science Rediscovered the Mystery of Ourselves, in which he argues that Darwinism doesn't necessarily provide all the answers to human existence.
Le Fanu has always loved liturgical music, and his choices begin and end with a Byrd Mass and Haydn's oratorio The Creation. He also selects music by Bach, Beethoven and Schumann.
M Berkeley: The Wakeful Poet (Music from Chaucer, pub OUP)
Beaux-Arts Brass Quintet
BBQ BBQ 003, Tr 10
Duration: 00m25s
Byrd: Agnus Dei (Mass for Four Voices)
Pro Cantione Antiqua
Bruno Turner (conductor)
Byrd ASV CD QS 6132, Tr 6
Duration: 03m28s
Beethoven: Symphony No 1 in C, Op 21 (4th mvt)
Scottish Chamber Orchestra
Charles Mackerras (conductor)
The Beethoven Symphonies HYPERION CDS 44301/5 CD1, Tr 4
Duration: 05m37s
Janis Joplin: Cry Baby
Pearl COLUMBIA 461 020-2 CD1, Tr 2
Duration: 03m56s
Bach: Sonata No 2 in A for violin and keyboard, BWV 1015 (2nd mvt, Allegro assai)
Jaime Laredo (violin)
Glenn Gould (piano)
The Glenn Gould Collection SONY SM2K 52615 CD1, Tr 6
Duration: 03m13s
Schumann: Wanderlied (Gedichte, Op 35)
Matthias Goerne (baritone)
Eric Schneider (piano)
Schumann DECCA 460 797-2, Tr 15
Duration: 02m26s
Shostakovich; String Quartet No 8 in C minor, Op 110 (2nd mvt, Allegro molto)
The Borodin String Quartet
VIRGIN CLASSICS 561630-2 CD2, Tr 2
Duration: 02m51s
Franck: Violin Sonata in A (4th mvt, Allegretto poco mosso)
Augustin Dumay (violin)
Maria Joao Pires (piano)
Franck DG 445 880-2, Tr 4
Duration: 06m08s
Haydn: The Creation (Duet and Chorus, By thee with bliss)
Mhairi Lawson (soprano)
David Stout (bass)
Choir of New College, Oxford
Oxford Philomusica
Edward Higginbottom (conductor)
Haydn The Creation OXFORD PHILOMUSICA RECORDS CD2, Tr 17
Duration: 09m36s.
Last on
Broadcast