Main content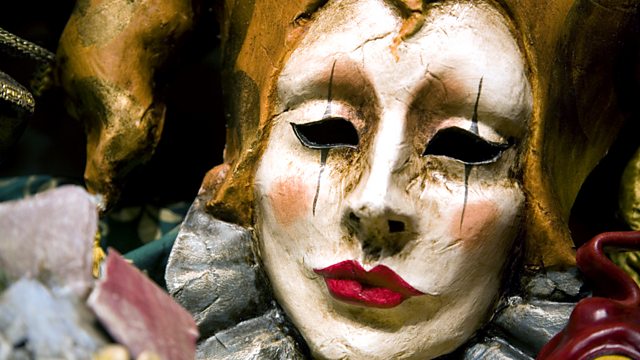 Carnival
Poetry, prose and music evoking the spirit of carnival, with readings by actors Saskia Reeves and Tom Hiddleston. With music by Saint-Saens and Verdi, plus works by Poe and Byron.
Turn the world upside down, break all the rules and let the dead talk to the living and what have you got? Nothing less than the spirit of Carnival. This week Words and Music takes its cue from Rome's Saturnalia and the gris gris of New Orleans.
Carnival may be about laughter and licence but it also acknowledges darkness and unease. It's a kind of whistling in the dark and a kind of exorcism. It gives physical form to our fears and with its clowns, zombies and ritual helps us to reconcile ourselves to the obscene, the terrible and the outrageously wonderful in our lives. Most, if not all of us watch and all of us sometimes wear the mask and join the dance.
Musical intoxication is supplied by the likes of Saint Saens, Constant Lambert, Verdi and Berlioz and the verbal fireworks come courtesy of Edgar Allan Poe, Byron, Elizabeth Bishop, ee cummings, Malcolm Lowry and Goethe with the actors Saskia Reeves and Tom Hiddleston as the Lords of Misrule.
Music Played
Timings (where shown) are from the start of the programme in hours and minutes
Lord Byron

Beppo read by Tom Hiddleston

Lord Byron

Beppo read by Tom Hiddleston

Lord Byron

Beppo read by Tom Hiddleston

ee cummings

A Clown's smirk in the skull of a baboon read by Saskia Reeves

Angela Carter

extract from Nights at the Circus read by Saskia Reeves

Malcolm Lowry

Extract from Under the Volcano read by Saskia Reeves

Goethe

Moccoli (Translator: W.H. Auden and Elizabeth Mayer) read by Saskia Reeves

Elizabeth Bishop

The Armadillo read by Saskia Reeves

Edgar Allan Poe

from The Masque of the Red Death read by Tom Hiddleston

W.B. Yeats

The Circus Animals' Desertion read by Tom Hiddleston

Anna Akhmatova

The Verdict (Translator: Max Hayward and Stanley Kunitz) read by Saskia Reeves

Dana Gioia

Sunday Night in Santa Rosa read by Saskia Reeves