Main content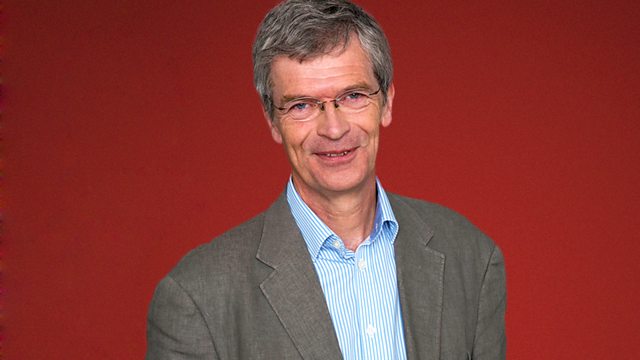 16/05/2009
Geoffrey Smith presents a selection of listeners' jazz requests. Email jazz.record.requests@bbc.co.uk.
Jazz Record Requests
Presented by Geoffrey Smith
Saturday 16 May 2009 5pm–6pm
JRR Signature Tune:
Oh, but on the Third Day (Happy Feet Blues) (Wynton Marsalis)
Performed by Wynton Marsalis (tp), Marcus Roberts (p), Todd Williams (ts), Dr Michael White (cl), Danny Barker (bj), Teddy Riley (tp), Freddie Lonzo (tb), Reginald Veal (b), Herlin Riley (d)
Recorded 28 October 1988
Taken from the album The Majesty of the Blues
1989 CD (CBS 465129 2)
Ice Cream (Johnson, King) (3:01)
Performed by Humphrey Lyttelton (tp) Keith Christie (tb) Wally Fawkes (cl) Ian Christie (cl) George Webb (p) Buddy Vallis (bj) John Wright (b) Bernard Saward (d)
Recorded 26 April 1950, London
Taken from the album The Parlophones 1949-1959
1998 CD (Calligraph CLGCD0351 Track 9)
One Morning in May (Hoagy Carmichael, Mitchell Parish) (4:40)
Performed by Bob Barnard (tp) Ralph Sutton (p) Milt Hinton (b) Len Barnard (d)
Recorded 25 August 1983, New York
Taken from the album Partners in Crime
CD (Sackville SKCD22023 (1) Track 2)
I've Got the World on a String (Ted Koehler, Harold Arlen) (3:02)
Performed by Cab Calloway and his Orchestra: Lammar Wright, Doc Cheatham, Edwin Swayzee (tp) De Priest Wheeler, Herry White (tb) Eddie Barefield (cl, as) Andrew Brown (as, bs) Walter Thomas, Arville Harris (ts, cl) Bennie Payne (p) Morris White (bj, g) Al Morgan (b) Leroy Maxey (d) Cab Calloway (v)
Recorded 9 November 1932, New York
Taken from the album This is Hep
2008 CD (Proper P 1661 Disc 1 Track 25)
Honeysuckle Rose (Fats Waller, Andy Razaf) (3:21)
Performed by Fats Waller (p)
Recorded 13 May 1941
Taken from the album the Joint is Jumping
1987 CD (Bluebird ND86288 Track 22)
You're Laughing at Me (Irving Berlin) (3:14)
Performed by Ella Fitzgerald (v)
Paul Weston's Orchestra including Strings (personnel unknown)
Recorded 17 March 1958, Los Angeles
Taken from the album The Best of the Song Books: The Ballads
1994 CD (verve 5218672 Track 13)
Love Nest (Louis A Hirsch, Otto Harbach) (4:14)
Performed by Russ Freeman (p) Chet Baker (tp) Shelly Manne (d) Leroy Vinnegar (b)
Recorded 1956
Taken from the album Quartet: Russ Freeman Chet Baker Pacific Jazz
LP (Vogue LAE 12119 S1/1)
Blue in Green (Miles Davis, Bill Evans) (5:25)
Performed by Miles Davis (tp) John Coltrane (ts) Bill Evans (p) Paul Chambers (b) Jimmy Cobb (d)
Recorded 2 March and 22 April 1959, New York
Taken from the album Kind of Blue
CD (CBS 460603 2 Track 3)
Anthropology ("Thrivin' on a Riff") (Charlie Parker) (3:05)
Performed by Claude Thornhill & his Orchestra: Ed Zandy, Louis Mucci, Emil Terry (tp) Al Langstaff, Vahey 'Tak' Takvorian (tb) Walter Weschler Siegelstein (frh) John 'Bill' Barber (tuba) Danny Polo (cl, as) Lee Konitz (as) Mickey Folus (ts) Mario Rollo (cl, ts) Bill Bushey (cl, bscl, bs) Claude Thornhill (p) Barry Galbraith (g) Joe Shulman (b) Exiner (d) Gil Evans (arr) Gene Williams (v)
Recorded 4 September 1947, New York
Taken from the album Tapestries
LP (Affinity AFSD 1040 S3/4)
Eiko's Dream (Geoff Eales) (5:52)
Performed by Geoff Eales (p)
Recorded 26 July 2002, West Sussex
Taken from the album Synergy
2004 CD (Basho Records SRCD11-2 Track 6)
Drive (Bobby McFerrin) (3:53)
Performed by Bobby McFerrin (v)
Recorded 1988
Taken from the album Simple Pleasures
1988 CD (Manhattan CDP7480592 Track 8)
B.W. Blues (Sonny Stitt) (11:20)
Performed by Sonny Stitt (as) Roy Eldridge (tp) Oscar Peterson (p) Herb Ellis (g) Ray Brown (b) Stan Levey (d)
Recorded January 1958
Taken from the album Only the Blues
LP (HMV CLP 1280 S2/1)
Don't forget, you can have your say on today's programme, or any aspect of jazz, by visiting the Jazz Messageboard.
The BBC is not responsible for the content of external internet sites.