Main content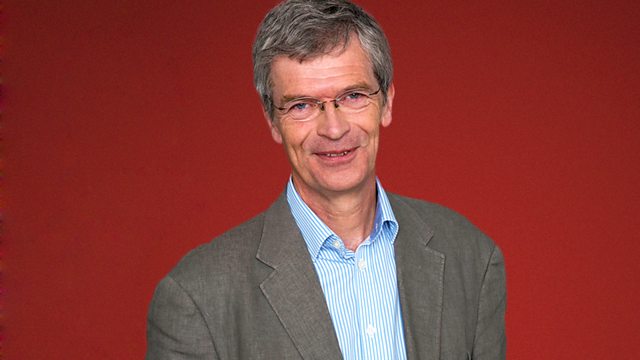 02/05/2009
Geoffrey Smith presents a selection of listeners' jazz requests. Email jazz.record.requests@bbc.co.uk.
Jazz Record Requests
Presented by Geoffrey Smith
Saturday 2 May 2009 5pm–6pm
JRR Signature Tune:
Oh, but on the Third Day (Happy Feet Blues) (Wynton Marsalis)
Performed by Wynton Marsalis (tp), Marcus Roberts (p), Todd Williams (ts), Dr Michael White (cl), Danny Barker (bj), Teddy Riley (tp), Freddie Lonzo (tb), Reginald Veal (b), Herlin Riley (d)
Recorded 28 October 1988
Taken from the album The Majesty of the Blues
1989 CD (CBS 465129 2)
Alexander's Ragtime Band (Irving Berlin) (2:58)
Performed by Bessie Smith (v) Joe Smith (ct) Jimmy Harrison (tb) Coleman Hawkins (cl) Fletcher Henderson (p) Charlie Dixon (bj)
Recorded 2 March 1927, New York City
Taken from the album The Essential Bessie Smith
1997 CD (Columbia/Legacy 487398 2 Disc 2 Track 1)
Stevedore Stomp (Duke Ellington, Irving Mills) (2:45)
Performed by Duke Ellington and his Cotton Club Orchestra: Cootie Williams, Louis Metcalf, Arthur Whetsol (tp) Joe 'Tricky Sam' Nanton (tb) Barney Bigard, Harry Carney (reeds) Otto Hardwick (cl, ss, as, bs) Duke Ellington (p) Fred Guy (bj) Wellman Braud (b) Sonny Greer (d)
Recorded 7 March 1929, New York
Taken from the album Jubilee Stomp
1992 CD (Bluebird 74321101532 Track 5)
The Campbells are Swinging (Trad. Arr. Clinton) (3:46)
Performed by The Big 18: Yank Lawson, Buck Clayton, Charlie Shavers, Rex Stewart (tp) Bob Ascher, Sy Berger, Lou McGarity, Dickie Wells (tb) Watt Levinsky (as, cl) Hymie Shertzer (as) Sam Donahue, Boomie Richman (ts) Ernie Caceres (bs) Johnny Guarnieri (p) Barry Galbraith (g) Russ Savakus (b) Don Lamond (d)
Recorded 15 July 1958, New York City
Taken from the album The Swing Collection
LP (RCA DPS 2058/A S2/5)
There Will Never Be Another You (Harry Warren, Mack Gordon) (5:10)
Performed by Lester Young (ts) Bill Potts (p) Norman Williams (b) Jim Lucht (d)
Recorded 7 & 8 December 1956, Washington DC
Taken from the album Lester Young in Washington, D.C. 1956, Vol. 3
LP (Pablo 2308 228 S2/2)
Little David's Fugue (John Lewis) (5:34)
Performed by Modern Jazz Society: J.J Johnson (tb) Guther Schuller (fh) James Politis (ft) Aaron Sachs (cl) Lucky Thompson (ts) Manuel Zegler (bs) Janet Putnam (harp) Percy Heath (b) Connie Kay (d) John Lewis (arr)
Recorded 14 March 1955, New York City
Taken from the album A Concert of Contemporary Music
1999 CD (Verve 5598272(1) Track 1)
Punkin' (Shorty Rogers) (3:18)
Performed by Louis Bellson (d) Willie Smith (as) Harry Carney (bs) Juan Tizol (tb) Billy Strayhorn (p) Clark Terry (tp) Wardell Gray (ts) Wendell Marshall (b) John Graas (fh)
Recorded February 1952, Los Angeles
Taken from the album Capital Jazz Classics Vol. 6 All Star Sessions
LP (Capitol M 11031. B5)
Isn't This a Lovely Day? (Irving Berlin, Fred Astaire) (3:54)
Performed by Stacey Kent (v) Jim Tomlinson (sx, cl) Colin Oxley (g) Dave Newton (p) Simon Thorpe (b) and Steve Brown (d)
Recorded 26 & 27 July 1999, England
Taken from the album Let Yourself Go Celebrating Fred Astaire
1999 CD (Candid CCD 79764 Track 4)
Green Dolphin Street (Bronislau Kaper) (5:42)
Performed by Eric Dolphy (as, bc, ft) Freddie Hubbard (tp) Jackie Byard (p) George Tucker (b) Roy Haynes (d)
Recorded 1 April 1960, New York City
Taken from the album Outward Bound
1987 CD (New Jazz OJCCD0222(1) Track 2)
Over the Rainbow (Harold Arlen, E.Y Harburg) (5:24)
Performed by Keith Jarrett (p)
Recorded live at Teatro Alla Scala, Milan, Italy on 13 February 1995
Taken from the album La Scala
1997 CD (ECM 5372682(1) Track 3)
The Lamp is Low (Maurice Ravel, Bert A Shefter, Peter De Rose, Mitchell Parish) (6:00)
Performed by Bud Shank (ft, as) Claude Williamson (p) Don Prell (b) Chuck Flores (d)
Recorded 1956
Taken from the album The Bud Shank Quartet Pacific Jazz
LP (Vogue LAE 12113; S2/4)
Romance in the Dark (Lil Green) (6:52)
Performed by Ruby Braff (tp) Samuel Margolis (ts) Vic Dickenson (tb) Nat Pierce (p) Walter Page (b) Jo Jones (d)
Recorded 17 October 1955, New York City
Taken from the album Linger Awhile
1999 CD (Vanguard VCD 79608-2. Track 8)
Don't forget, you can have your say on today's programme, or any aspect of jazz, by visiting the Jazz Messageboard.
The BBC is not responsible for the content of external internet sites.