Main content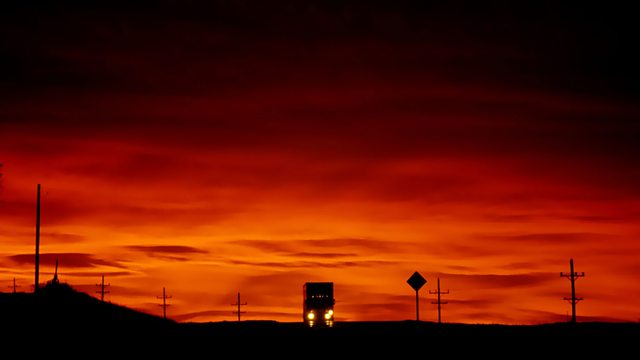 Susan Sharpe
Susan Sharpe presents music, including Berlioz, Mozart, Puccini, Respighi, Soriano, Vivaldi, Arnic, Gretry, Bach, Spohr, Beethoven, Debussy, Ravel, Groneman, Hofmann and Haydn.
With Susan Sharpe.
1.00am
Berlioz, Hector (1803-1869): Overture (Le carnaval romain, Op 9)
1.10am
Mozart, Wolfgang Amadeus (1756-1791): Piano Concerto No 21 in C, K467
1.42am
Puccini, Giacomo (1858-1924): Capriccio sinfonico
1.54am
Respighi, Ottorino (1879-1936): The Pines of Rome - symphonic poem
Gianluca Cascioli (piano)
RTE National Symphony Orchestra
Giancarlo Andretta (conductor)
2.15am
Soriano, Francesco (1548/9-1621): Dixit dominus
BBC Singers
Bo Holten (conductor)
2.22am
Vivaldi, Antonio (1678-1741): Le quattro stagione (The Four Seasons)
Elizabeth Wallfisch (baroque violin)
Australian Brandenburg Orchestra
Paul Dyer (director)
3.00am
Arnic, Blaz (1901-1970): Overture to the Comic Opera, Op 11
Slovenian Radio and Television Symphony Orchestra
Anton Nanut (conductor)
3.08am
Gretry, Andre-Ernest-Modeste (1741-1813): Selections (Le jugement de Midas)
Apollon/Marsias ...... John Elwes (tenor)
Chloe ...... Mieke van der Sluis (soprano)
Lise ...... Francoise Vanheck (soprano)
Mopsa ...... Suzanne Gari (soprano)
Palemon ...... Jules Bastin (bass)
Pan ...... Michel Verschaeve (bass)
Choeur de la Chapelle Royale de Paris
La Petite Bande
Gustav Leonhardt (conductor)
3.45am
Bentzon, Jorgen (1897-1951): Sinfonia Buffo, Op 35
Danish Radio Concert Orchestra
Borge Wagner (conductor)
3.51am
Pook, Jocelyn (b.1960), text: Andrew Motion: Mobile
The King's Singers
3.55am
Spassov, Ivan (1934-1996): Dimano, Lyube Dimano (Dimana, My Love Dimano)
Katya Dimanova (soloist)
Polyphonia
Ivelin Dimitrov (conductor)
4.02am
Bach, Johann Sebastian (1685-1750): Singet dem Herrn ein neues Lied, BWV225 - motet
Norwegian Soloists' Choir
Norwegian Radio Orchestra
Grete Pedersen (conductor)
4.19am
Bach, Johann Sebastian (1685-1750): Violin Sonata No 1 in G minor, BWV1001 (Presto)
Hilary Hahn (violin)
4.22am
Spohr, Louis (1784-1859): Duo in E minor for violin and viola, Op 13
Vilmos Szabadi (violin)
Gyorgy Konrad (viola)
4.37am
Beethoven, Ludwig van (1770-1827): Trio in B flat for violin, cello and piano, Op 11 (Gassenhauer-Trio)
Arcadia Trio
5.00am
Forqueray, Antoine (1672-1745): La regente (Pieces de viole - Paris, 1747)
Pierre Pitzl, Marcy Jean Bolli (violas da gamba)
Luciano Contini (archlute)
Augusta Campagne (harpsichord)
5.07am
Dessane, Antoine (1826-1873): Ouverture
Orchestre Metropolitain
Gilles Auger (conductor)
5.15am
Debussy, Claude (1862-1918): Chansons de Bilitis
Paula Hoffman (mezzo-soprano)
Lars-David Nilsson (piano)
5.25am
Debussy, Claude (1862-1918), orch. Ravel, Maurice (1875-1937): Tarantelle styrienne (Danse)Winnipeg Symphony Orchestra
Kazuhiro Koizumi (conductor)
5.31am
Ravel, Maurice (1875-1937): La valse - choreographic poem for orchestra
Orchestre National de France
Charles Dutoit (conductor)
5.44am
Witte, George Hendrick (1843-1929): Three Waltzes for piano, Op 7 Nos 3, 6, 9
Wyneke Jordans, Leo van Doeselaar (piano)
5.50am
Eyck, Jacob van (c.1590-1657): Preludium ofte Voorspel
Marijke Miessen (recorder)
5.52am
Huygens, Constantijn (1596-1687): Multi dicunt animae meae, domine ne in furore tuo, usquequo domine (Pathodia sacra et profana, 1647)
Anne Grimm (soprano)
Peter Kooij (bass)
Leo van Doeselaar (organ)
Mike Fentross (theorbo)
Mieneke van der Velden (viola da gamba)
6.00am
Groneman, Albertus (1710/12-1778): Trio Sonata in E minor
Gert Oost (organ)
6.07am
Roman, Johan Helmich (1694-1758): Suite (Sonata) No 12 in E minor for clavichord, IB236
Karin Jonsson-Hazell (harpsichord)
6.15am
Bach, Johann Sebastian (1685-1750): Sonata in G for flute, violin and continuo, BWV1038 (authenticity doubtful)
Musica Petropolitana
6.23am
Hofmann, Leopold (1738-1793) (formerly attrib. Haydn): Concerto in D for flute and orchestra
Emmanuel Pahud (flute)
Bienne Symphony Orchestra
Marc Tardue (conductor)
6.43am
Haydn, Joseph (1732-1809): Trio in E for keyboard and strings, H XV 28
Beaux Arts Trio.