Main content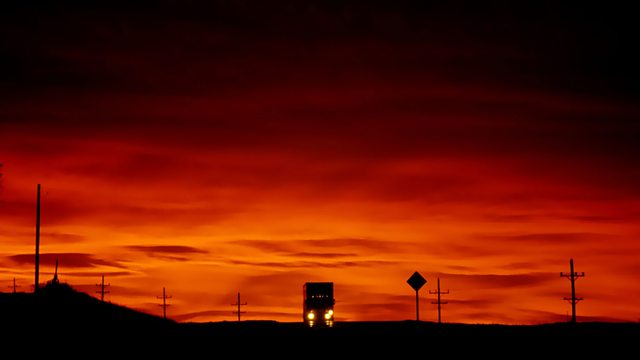 Susan Sharpe
Susan Sharpe presents music, including Brahms, Shostakovich, Rheinberger, Wagenaar, Naumann, Mondonville, Sibelius, Gal, Lipinski, Wilms, Donizetti, Gabrieli, Kokai and Janequin.
With Susan Sharpe.
1.00am
Brahms, Johannes (1833-1897): Symphony No 3 in F, Op 90
1.40am
Shostakovich, Dmitri (1906-1975): Symphony No 10 in E minor, Op 93
Berlin Philharmonic
Simon Rattle (conductor)
2.38am
Rheinberger, Josef (1839-1901): Sonata in E flat for horn and piano, Op 178
Martin van der Merwe (horn)
Huib Christiaanse (piano)
3.00am
Wagenaar, Johan (1862-1941): Frithjof's Meerfahrt, Op 5
Netherlands Radio Symphony Orchestra
Jac van Steen (conductor)
3.13am
Moscheles, Ignaz (1794-1870): Prelude No 1 in E (50 Preludes or Introductions to all the major and minor keys, Op 73)
Tom Beghin (fortepiano)
3.14am
Mendelssohn, Felix (1809-1847): Fantasia No 2 in E minor (The Little Trumpeter) - Three Fantasias (Caprices) for piano, Op 16
Danijel Detoni (piano)
3.17am
Naumann, Johann Gottlieb (1741-1801): Symphonie a grand orchestre (Cora och Alonzo)
Concerto Koln
3.29am
Mondonville, Jean-Joseph Cassanea de (1711-1772): Grand Motet (Dominus regnavit)
Ann Monoyios (soprano)
Matthew White (countertenor)
Colin Ainsworth (tenor)
Tafelmusik Chamber Choir
Tafelmusik
Ivars Taurins (conductor)
3.54am
Sibelius, Jean (1865-1957): 13 Pieces for piano, Op 76
Eero Heinonen (piano)
4.15am
Gal, Hans (1890-1987): Serenade for string orchestra, Op 46
Symphony Nova Scotia
Georg Tintner (conductor)
4.30am
Nrmeth-Samorinsky, Stefan (1896-1975): Birch Trees - symphonic poem
Slovak Radio Symphony Orchestra in Bratislava
Oliver Dohnanyi (conductor)
4.50am
Orff, Carl (1895-1982): In Trutina (Carmina Burana)
Yvonne Kenny (soprano)
Melbourne Symphony Orchestra
Vladimir Kamirski (conductor)
4.53am
Parac, Ivo (1890-1954): Andante amoroso for string quartet
Zagreb Quartet
5.00am
Couperin, Francois (1668-1733): Bruit de guerre
Hungarian Brass Ensemble
5.05am
Jenkins, John (1592-1678): Newark Siege
Concordia
Mark Levy (conductor)
5.11am
Byrd, William (c.1543-1623): The Battle, MB XXVIII 94 (excerpts)
Jautrite Putnina (piano)
5.17am
Lipinski, Karol Jozef (1790-1861): Variations de bravoure sur une romance militaire in D, Op 22
Albrecht Breuninger (violin)
Polish Radio Symphony Orchestra
Wojciech Rajski (conductor)
5.28am
Handel, Georg Frideric (1685-1759): Scenes of horror... while in never ceasing pain (Jephtha)
Maureen Forrester (contralto)
I Solisti di Zagreb
Antonio Janigro (conductor)
5.33am
Wilms, Johann Wilhelm (1772-1847): Die Schlacht von Waterloo: Ein historisches Tongemalde fur das Pianoforte, Op 43
Geert Bierling (organ)
5.58am
Schubert, Franz (1797-1828), arr. Schonherr: Marche militaire No 1 in D, D733
Edmonton Symphony Orchestra
Uri Mayer (conductor)
6.03am
Kuula, Toivo (1883-1918): March of the Cudgelmen
Finnish Radio Symphony Orchestra
Atso Almila (Conductor)
6.06am
Donizetti, Gaetano (1797-1848): Overture (La fille du regiment)
Oslo Philharmonic
Nello Santi (conductor)
6.15am
Gabrieli, Andrea (1532/3-1585): Aria della battaglia a 8
Theatrum Instrumentorum
Stefano Innocenti (conductor)
6.25am
Kokai, Rezso (1906-1962): Recruiting Suite
Hungarian Radio Orchestra
Andras Korodi (conductor)
6.43am
Wiggins, Thomas 'Blind Tom' (1849-1908): Battle of Manassas
John Davis (piano)
6.52am
Janequin, Clement (c.1485-1558): Escoutez tous gentilz (La bataille de Marignon/La guerre)
The King's Singers.