Main content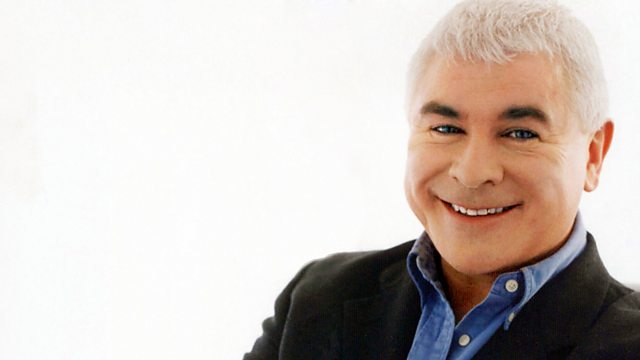 06/05/2009 Katarina Dalayman and Nikolaj Znaider
Presented by Sean Rafferty. With soprano Katarina Dalayman and tenor Lars Cleveman, violinist Nikolaj Znaider, plus Charles Hazlewood on his new BBC TWO series.
Sean Rafferty presents a selection of music and guests from the arts world.
Soprano Katarina Dalayman and tenor Lars Cleveman talk about their performances of Wagner's Gotterdamerung with the Halle orchestra, conducted by Mark Elder.
Violinist Nikolaj Znaider discusses his Artist Portrait with the London Symphony Orchestra and his new CD release of Brahms and Korngold.
And Charles Hazlewood looks at his BBC TWO series exploring the development of British music through the lives, times and music of Purcell, Handel, Haydn and Mendelssohn.
17:02
SCHUBERT
Klavierstucke D.946, No.3 (Allegro in C major)
Lars Vogt (piano)
AVI-MUSIC LC 15080
T7
5:00
17:08
WAGNER
Trauermusik beim Tode Siegfrieds
(Gotterdammerung, Act 3 Scene 2)
Vienna Philharmonic Orchestra
Georg Solti (conductor)
DECCA 455569-2
CD4 T11
6:34
17:20
WAGNER
Gotterdammerung (Act 3 Scene 3)
Katarina Dalayman (Brunnhilde)
Metropolitan Opera Orchestra
James Levine (conductor)
3:15
17:29
WAGNER
Extract - The Messengers of Peace (Rienzi, Act 2)
Lars Cleveman (Rienzi)
Marianne Hellgren Staykov (1st Messenger of Peace)
Soloists and Chorus of the Royal Swedish Opera
Royal Swedish Orchestra
Leif Segerstam (conductor)
NAXOS 8.557714
T5
4:22
17:34
MARCELLO
Oboe concerto in D minor
Albrecht Mayer (oboe)
New Seasons Ensemble
DECCA 478 0313
T8-10
11:52
17:53
PURCELL
Fantasia VII, 1680
Amsterdam Loeki Stardust Quartet
CCS 16998
T9
4'24
18:03'
MOZART
Symphony No.29 in E-flat major, K.184
Le Cercle de l'Harmonie
Jeremie Rhorer (director)
VIRGIN 234868
T5-7
8:12
18:12
COUPERIN
Les Moissonneurs (Duexieme livre de Pieces de clavecin)
Christophe Rousset (clavecin)
HMU 901447.49
CD1 T10
1:44
18:14
BRAHMS
Adagio (Violin Concerto in D major, Op.77)
Nikolaj Znaider (violin)
Vienna Philharmonic Orchestra
Valery Gergiev (conductor)
RCA
T2
9:15
18:30
YSAYE
Obsession: Prelude (Poco vivace)
(Solo Sonata No.2, Op.27)
Nikolaj Znaider (violin)
CYP 9608
T3
2:25
18:37
KORNGOLD
Violin Concerto in D major, Op.35
(Allegro assai vivace)
Nikolaj Znaider (violin)
Vienna Philharmonic Orchestra
Valery Gergiev (conductor)
RCA
T6
7:22
18:45
MONTEVERDI
Batto, qui pianse Ergasto (Il sesto libro de madrigali)
I Fagiolini
Robert Hollingworth (director)
CHAN 0749
T13
3'48
18:50
MENDELSSOHN
Fuga in C-sharp minor (1826)
Roberto Prosseda (piano)
DECCA 476 5277
T17
8:03