Main content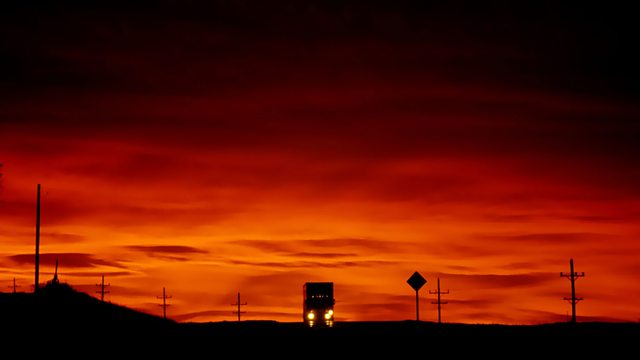 Susan Sharpe
Susan Sharpe presents music, including Wagner, Messiaen, CPE Bach, Brahms, Martin, Liebermann, Lazar, Monteverdi, Vivaldi, Piazzolla, Strauss, Haydn, Handel, Elgar and Demersseman.
With Susan Sharpe.
1.00am
Wagner, Richard (1813-1883): Prelude and Liebestod (Tristan und Isolde)
Berlin Philharmonic
Simon Rattle (conductor)
1.21am
Messiaen, Olivier (1908-1992): Turangalila-symphonie
Pierre-Laurent Aimard (piano)
Tristan Murail (ondes martenot)
Berlin Philharmonic
Simon Rattle (conductor)
2.40am
Bach, Carl Philipp Emanuel (1714-1788): Six Little Sonatas for two flutes, two horns and bassoon, Wq 184
Bratislava Chamber Harmony
3.00am
Brahms, Johannes (1833-1897): Quintet in B minor for clarinet and strings, Op 115
Algirdas Budrys (clarinet)
Vilnius Quartet
3.41am
Martin, Frank (1890-1974): Mass for double choir
Jauna Muzika (Vilnius Municipality's Choir)
Vaclovas Augustinas (director)
4.05am
Liebermann, Rolf (1910-1999): Suite on Six Swiss Folk Songs
Swiss Chamber Philharmonic Orchestra
Patrice Ulrich (conductor)
4.17am
Matusic, Frano (b.1961): Two Croatian Folksongs
Dubrovnik Guitar Trio
4.24am
Anon (18th-century Croatian): Six works for organ and trumpet
Ljerka Ocic (organ)
Stanko Arnold (trumpet)
4.37am
Lazar, Milko (b.1965): Prelude (Allegro moderato)
Mojca Zlobko Vajgl (harp)
Bojan Gorisek (piano)
4.45am
Sorkocevic, Luka (1734-1789): Symphony No 3 in D
Zagreb Soloists
Henryk Szeryng (conductor)
4.53am
Walpurgis, Maria Antonia (Electress of Saxony) (1724-1780): Sinfonia (Talestri, Regina delle Amazzoni - Dramma per musica)
Batzdorfer Hofkapelle
Tobias Schade (harpsichord/director)
5.00am
Bach, Johann Christoph (1642-1703): Furchte dich nicht - motet for five voices
Cantus Colln
Konrad Junghanel (director)
5.05am
Monteverdi, Claudio (1567-1643): Confitebor tibi, domine - motet for voice and five viols
Jill Feldman (soprano)
Les Arts Florissants
William Christie (harpsichord/director)
5.18am
Sances, Giovanni Felice (c.1600-1679): Lagrimosa belta (Cantade a doi voci, libro secondo, parte seconda)
Suzie LeBlanc, Barbara Boden (sopranos)
Tragicomedia
Stephen Stubbs (conductor)
Concerto Palatino
Bruce Dickey (conductor)
5.22am
Jarzebski, Adam (c.1590-c.1649): Corona Aurea: Concerto a 2 for cornett and violin
Bruce Dickey (cornett)
Richte van der Meer, Rainer Zipperling (cellos)
Jacques Ogg (harpsichord)
Anthony Woodrow (double bass)
Lucy van Dael (violin/conductor)
5.28am
Vivaldi, Antonio (1678-1741): Concerto in D for two violins, two cellos and orchestra, RV564
Europa Galante
Fabio Biondi (violin/director)
5.39am
Piazzolla, Astor (1921-1992): Le grand tango for cello and piano
Duo Rastogi/Fredens:
Janne Fredens (cello)
Soren Rastogi (piano)
5.52am
Strauss, Richard (1864-1949): Der Abend, Op 34 No 1 - for 16-part choir
Danish National Radio Choir
Stefan Parkman (conductor)
6.01am
Haydn, Joseph (1732-1809): Symphony No 8 in G (Le soir)
Norwegian Radio Orchestra
Rolf Gupta (conductor)
6.26am
Handel, Georg Frideric (1685-1759): Sonata in E minor for flute and continuo, HWV379
Sonora Hungarica Consort
6.35am
Elgar, Edward (1857-1934): Serenade in E minor for string orchestra, Op 20
BBC Concert Orchestra
Stephen Cleobury (conductor)
6.47am
Demersseman, Jules Auguste (1833-1866): Italian Concerto in F, Op 82 No 6
Kristina Vaculova (flute)
Inna Aslamasova (piano).