Main content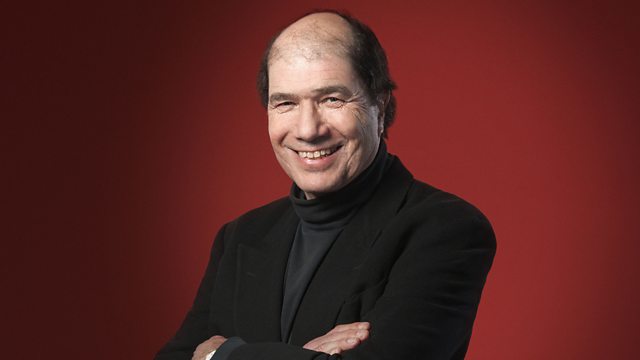 Michael Pennington
Michael Berkeley's guest is actor Michael Pennington. His musical choices include works by Stravinsky, Tim Hardin, Bach, Rachmaninov, Britten, Strauss and Joan Armatrading.
Michael Berkeley's guest is actor Michael Pennington, who has worked in a range of stage and film roles, from Shakespeare to Star Wars. He takes on the roles of two distinguished German musicians - conductor Wilhelm Furtwangler and composer Richard Strauss - in a double-bill of plays by Ronald Harwood in London's West End. His choices range from Stravinsky's Rite of Spring and Britten's Serenade to songs by Strauss, Tim Hardin and Joan Armatrading.
Playlist:
M Berkeley: The Wakeful Poet (Music from Chaucer) (pub OUP)
Beaux-Arts Brass Quintet
BBQ BBQ 003 T10
00.25
Stravinsky: Sacrificial Dance (The Rite of Spring)
The Kirov Orchestra
Valery Gergiev (conductor)
Gergiev PHILIPS 468 035-2, Tr 14
04.52
Tim Hardin: Hang on to a Dream (recorded at the 1973 Reading Festival)
Reading Festival 1973 MARQUEE MQCCD001 T8 (fade to 03.06 on applause)
03.06
Bach: Chaconne (excerpt) (Partita No 2 in D minor)
Itzhak Perlman (violin)
Bach EMI 7243 4 76810 CD2, Tr 5
07.47
Rachmaninov: Lord, now lettest thou thy servant depart in peace (the Vespers)
Vladimir Mostowoy (tenor)
St Petersburg Chamber Choir
Nikolai Korniev (conductor)
Vespers PHILIPS 442 344-2 Tr 5
03.40
Alaric Jans: O mistress mine
Ronald Keaton (vocal)
Jay Voss (guitar)
The Food of Love SHAKESPEARE REPERTORY COMPANY 31301 1112-2, Tr 3
01.27
Britten: Elegy (Serenade for tenor, horn and strings, Op 31)
Peter Pears (tenor)
Dennis Brain (horn)
New Symphony Orchestra
Eugene Goossens (conductor)
Britten DECCA ELOQUENCE 0289 476 847-2, Tr 4
04.39
Strauss: Morgen
Elizabeth Schwarzkopf (soprano)
Edith Peinemann (violin)
London Symphony Orchestra
George Szell (conductor)
Richard Strauss EMI CDC 747276-2, Tr 13
03.40
Joan: Armatrading Willow
Classic UNIVERSAL 490 789-2, Tr 4
04.46.