Main content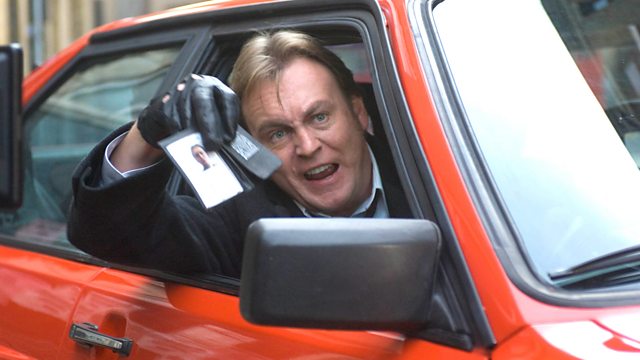 Police drama. The team must venture into dangerous territory when a fellow officer is found dead, while Alex's whole perspective on this world is threatened when she is kidnapped.
When a dead man is found in a Soho strip club, it looks like a sex game has gone wrong. So when the deceased is discovered to be a police officer, Gene and Alex are ordered to keep the case under wraps.
PC Sean Irvine was supposed to be clearing the streets of vice, but did he instead become seduced by it? When the pathologist uncovers signs that Sean was murdered, the team need to discover whether he was killed because he was a corrupt cop, or because he was an honest one.
As the case leads them onto dangerous territory, Alex finds herself kidnapped by a man whose words threaten her whole perspective on this world. Only Gene can save her, but even if he gets there in time, Alex fears that someone else in 1982 knows her dark secret: that she is from the future.
Meanwhile, sounds and messages from that future suggest to Alex that her circumstances have changed. Lying with a bullet in her head on the wet ground of an abandoned boat, is it possible that someone has discovered her?
More episodes
Previous
You are at the first episode
Credits
| Role | Contributor |
| --- | --- |
| Gene Hunt | Philip Glenister |
| Alex Drake | Keeley Hawes |
| Ray Carling | Dean Andrews |
| Chris Skelton | Marshall Lancaster |
| Shaz Granger | Montserrat Lombard |
| Producer | Beth Willis |
| Director | Catherine Morshead |
| D/Supt Mackintosh | Roger Allam |
| Martin Summers | Adrian Dunbar |
| PC Kevin Hales | Shaun Evans |
| Ruth Irvine | Pooky Quesnel |
| Sally | Anna Nightingale |
| Luigi | Joseph Long |
| Viv James | Geff Francis |
| Molly Drake | Grace Vance |
| Julia | Diane Langton |
| Pathologist | Michael Gould |
| Nurse | Deirdre Mullins |
| Nurse | Laura Martin-Simpson |
| PC | Syrus Lowe |
| Woman | Janet Whiteside |
| Mrs McClusky | Gwyneth Powell |
| DCI Garrett | Michael McCain |