Main content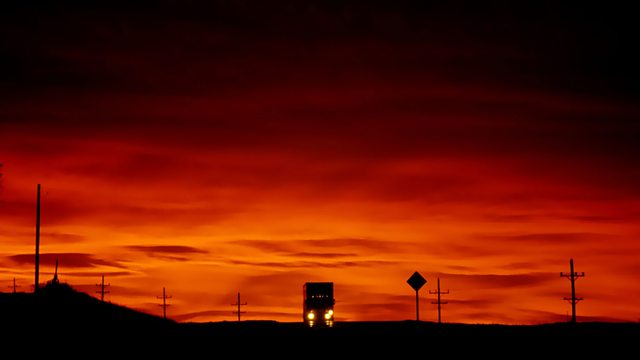 Susan Sharpe
Susan Sharpe presents music, including Debussy, Messiaen, Prokofiev, Mozart, Bach, Naumann, Dobrzynski, Scriabin, Kuula, Gilson, Mosonyi, Strauss, Stoyanov, Haydn and Vladigerov.
With Susan Sharpe.
1.00am
Debussy, Claude (1862-1918): Sonata in G minor
1.15am
Messiaen, Olivier (1908-1992): Theme et variations
1.25am
Prokofiev, Sergei (1891-1953): Sonata No 2 in D, Op 94a
1.48am
Massenet, Jules (1842-1912), arr. Marsick: Meditation (Thais)
Alina Ibragimova (violin)
Huw Watkins (piano)
1.54am
Mozart, Wolfgang Amadeus (1756-1791): Davidde Penitente, K469 - cantata for two sopranos, tenor, choir and orchestra
Krisztina Laki, Nicole Fallien (sopranos)
Hans-Peter Blochwitz (tenor)
Netherlands Chamber Choir
La Petite Bande
Sigiswald Kuijken (conductor)
2.42am
Bach, Johann Sebastian (1685-1750): Brandenburg Concerto No 6 in B flat, BWV1051
Netherlands Radio Chamber Orchestra
Jerzy Maksymiuk (conductor)
3.00am
Stobaeus, Johann (1580-1646): Du bist meine Zuversicht - psalm motet for six voices
3.04am
Eccard, Johannes (1553-1611): Cui pia contingit divino munere conjunx - wedding song for six voices
Ensemble Weser-Renaissance (voices and continuo)
Manfred Cordes (conductor)
3.08am
Naumann, Johann Gottlieb (1741-1801): Concerto in B flat for harpsichord and orchestra, C1137
Gerald Hambitzer (harpsichord)
Concerto Koln
3.23am
Dobrzynski, Ignacy Feliks (1807-1867): String Quartet No 1 in E minor, Op 7
Camerata Quartet
3.53am
Scriabin, Alexander (1872-1915): Fantasy in A minor for two pianos
Aglika Genova, Liuben Dimitrov (pianos)
3.58am
Rachmaninov, Sergey (1873-1943): Italian Polka for two pianos
Ruta Ibelhauptiene, Zbignevas Ibelhauptas (pianos)
4.01am
Sibelius, Jean (1865-1957): Luonnotar, Op 70 - tone poem for soprano and orchestra
Soile Isokoski (soprano)
Finnish Radio Symphony Orchestra
Jukka-Pekka Saraste (conductor)
4.09am
Kuula, Toivo (1883-1918): South Ostrobothnian Suite No 2, Op 20
Finnish Radio Symphony Orchestra
Jorma Panula (conductor)
4.33am
Gilson, Paul (1865-1942): Suite Nocturne, d'apres Aloysius Bertrand
Josef de Beenhouwer (piano)
4.49am
Mosonyi, Mihaly (1814-1870): Unnepi zene (Festival music)
Hungarian Radio Orchestra
Adam Medveczky (conductor)
5.00am
Svendsen, Johann (1840-1911): Festival Polonaise for orchestra, Op 12
Bergen Philharmonic Orchestra
Philippe Jordan (conductor)
5.10am
Strauss, Richard (1864-1949): Ewig einsam/Wenn du einst die Gauen (Guntram, Op 25)
Ben Heppner (tenor)
Toronto Symphony Orchestra
Andrew Davis (conductor)
5.23am
Anon (c.1590): Selections from the Susanne van Soldt manuscript
Okke Dijkhuizen (organ)
5.30am
Sweelinck, Jan Pieterszoon (1562-1621): Six Variations on a Folk Melody
Bulgarian Academic Wind Quintet
5.38am
Saebelmann-Kunileid, Aleksander (1845-1875), (lyrics: Koidula, Lydia): Mu Isamaa On Minu Arm (My Fatherland, you are my love)
5.41am
Saebelmann-Kunileid (lyrics: Koidula): Sind Surmani (Until I die)
Estonian Radio Mixed Choir
Toomas Kapten (conductor)
5.45am
Stoyanov, Veselin (1902-1969): Concerto in F minor
Valentin Stefanov (violin)
Bulgarian National Radio Symphony Orchestra
Jordan Dafov (conductor)
6.06am
Haydn, Joseph (1732-1809): Keyboard Sonata in C, H XVI 16 35
Andreas Staier (fortepiano)
6.18am
Vladigerov, Pancho (1899-1978): Improvisation and Toccata for orchestra, Op 36
Bulgarian National Radio Symphony Orchestra
Alexander Vladigerov (conductor)
6.31am
Schumann, Robert (1810-1856): Introduction and Allegro appassionato, Op 92
Ivan Palovic (piano)
Radio Bratislava Symphony Orchestra
Ondrej Lenard (conductor)
6.48am
Handel, Georg Frideric (1685-1759): Terpsichore - ballet music (excerpt)
English Baroque Soloists
John Eliot Gardiner (conductor).