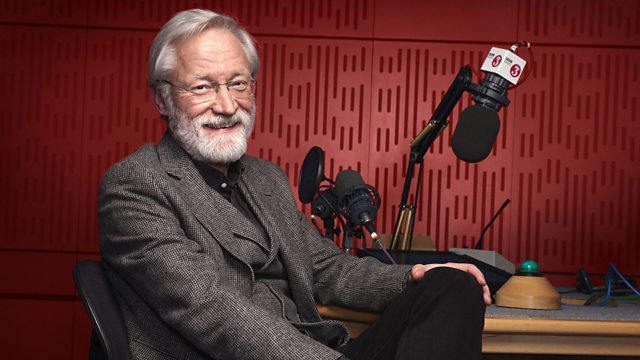 Donald Macleod is joined by scholar and performer Christopher Stembridge to explore the life and work of Girolamo Frescobaldi.
They consider Frescobaldi's influence on later generations, including Johann Jakob Froberger, who came to study with Frescobaldi in 1637 after a spell as organist at the imperial court in Vienna; Bach, who studied Frescobaldi's Fiori Musicali, and whose own Clavierubung and Art of Fugue show its influence; and Ligeti, who based the eleventh piece in his Musica Ricercata collection on Frescobaldi's Recercar Cromatico.
Frescobaldi: Balleto e Ciaccone (Toccate e partite Libro primo, 1637 aggiunta)
Rinaldo Alessandrini (harpsichord attributed to Giovani Celestini, Venice, c.1605)
Arcana A904, CD 1 Tr 4
Music 2: Frescobaldi: Toccata settima (Toccate e partite libro primo)
Christopher Stembridge
(unreleased recording)
Froberger: Toccata V all Levatione in D minor (Libro secondo, 1649)
Richard Egarr (organ)
Globe GLO 6022, CD 1 Tr 5
Froberger: Toccata I in A minor (Libro secondo)
Hans Knut Sveen (harpsichord after Ruckers, 1638, by J Katzman, Amsterdam)
Bergen Barokk BBR 901, Tr 1
Frescobaldi: Recercar con obligo del Basso come appare (Missa degli Apostoli, Fiori Musicali)
Rinaldo Alessandrini (organ by Gian Giacomo Antegnati, 1554, in the church of S Maurizio, Monastero Maggiore, Milan)
Astree E 8714, CD 2 Tr 5
Bach: Wir glauben all'an einen Gott, BWV680 (Clavierubung Part 3)
Ton Koopman (organ)
Teldec 4509984642, Tr 20
Frescobaldi: Ricercar cromatico post il credo (Missa degli Apostoli, Fiori Musicali)
Performed in the studio by Christopher Stembridge (harpsichord)
Ligeti: Omaggio a Girolamo Frescobaldi (Music ricercata)
Andante misurato e tranquillo
Pierre-Laurent Aimard (piano)
Sony SK 62308, Tr 25
Frescobaldi: Aria di Passacaglia
James Bowman (countertenor)
Skip Sempe (harpsichord)
Jay Bernfeld (viola da gamba)
Arion ARN 68046, Tr 6
Frescobaldi: Partite cento sopra il Passachagli (Toccate e partite Libro primo, 1637 aggiunta)
Christopher Stembridge (harpsichord by Giovanni Battista Boni, 1619)
First heard in a BBC Radio 3 broadcast on 23 September 1993.
Last on
More episodes
Next
You are at the last episode