Main content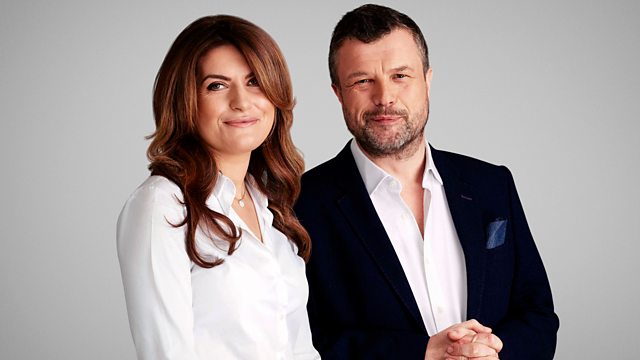 Rob Cowan
Rob Cowan presents music, news and the occasional surprise.
Rob Cowan presents music, news and the occasional surprise.
Playlist:
07:02
Beethoven: Overture; Turkish March (Ruins of Athens)
Anima Eterna
Jos van Immerseel (director)
ZIG ZAG TERRITOIRES ZZT080402.6 CD 2, Trs 7-8
07:09
Scriabin: Sonate-fantaisie
Stephen Coombs (piano)
HELIOS CDH55286, Tr 11
07:17
Frescobaldi: Toccata per la Levatione
Timothy Roberts (organ)
Frescobaldi: O Iesu mi dulcissime
Angus Smith (tenor)
Paula Chateauneuf (chitarrone)
ARCHIV 437 833-2, Trs 12-13
07:23
Wieniawski: Etude Caprice in E flat, Op 18 No 2
David and Igor Oistrakh (violins)
DG 463 616-2, Tr 14
07:31
Rameau: La poule (Suite in G)
Alexandre Tharaud (piano)
HARMONIA MUNDI HMC901754, Tr 17
07:38
Nedbal: Scherzo caprice, Op 5
Czech Philharmonic Orchestra
Gerd Albrecht, conductor
PONY CANYON HPE 013-2, Tr 6
07:51
Wilms: Sonata in C, Op 31 (3rd mvt)
Hans-Peter and Volker Stenzl (piano)
CARUS 83.434, Tr 3
08:03
Handel: La rejouissance; Minuets (Music for the Royal Fireworks)
L'Arte dell'Arco
Federico Guglielmo (director)
CPO 777 312-2, Trs 26-28
08:10
Tchaikovsky: 1812 overture, Op 49
Oslo Philharmonic
Mariss Jansons (conductor)
EMI CDD 7 64291 2, Tr 1
08:25
Liszt: Transcendental Studies (No 7 in E flat)
Boris Berezovsky (piano)
TELDEC 4509-98415-2, Tr 7
08:32
Mozart: Madamina, il catalogo e questo Don Giovanni (Don Giovanni)
Fernando Corena (Leporello)
Vienna Philharmonic
Josef Krips (conductor)
DECCA 478 138-9 CD.1, Tr 6
08:39
Bach: French suite No 2 in C minor for keyboard, BWV813
Tatiana Nikolayeva (piano)
SCRIBENDUM SC 028 CD.1 Trs 26-31
08:54
Badelt: Pirates of the Caribbean (theme from the film)
Royal Liverpool Philharmonic Orchestra
Carl Davis (conductor)
NAXOS 8.572111, Tr 11
09:00
Monti: Csardas
Maxim Vengerov (violin)
Virtuosi
Vag Papian (piano)
EMI 5 57164 2, Tr 15
09:07
Handel: With plaintive notes and am'rous moan (Samson - Act 2)
Attendant to Dalila ...... Angela Maria Blasi
Concentus Musicus of Vienna
Nikolaus Harnoncourt (conductor)
WCJ DAS ALTE WERKE 2564 69260-2 CD.1, Tr 20
09:13
Gounod: Ballet music (Faust)
Rotterdam Philharmonic Orchestra
David Zinman (conductor)
PHILIPS 438 763-2 CD.2, Trs 19-25
09:33
Chopin: Etude in C minor, Op 10 No 12 (Revolutionary)
Murray Perahia (piano)
SONY CLASSICAL SK61885, Tr 12
09:37
Wagner: Prelude (Der Meistersinger von Nurnberg)
Royal Concertgebouw Orchestra
Bernard Haitink (conductor)
PHILIPS 420 886-2, Tr 1
09:48
Francaix: L'heure du berger - musique de brasserie for piano and strings
La Pieta
Angele Dudeau
ANALEKTA AN 2 8728, Trs 2-4
09:57
Muriel Herbert: We weeps over Rahoon
Ailish Tynan (soprano)
David Owen Norris (piano)
LINN CKD 335, Tr 6.