Main content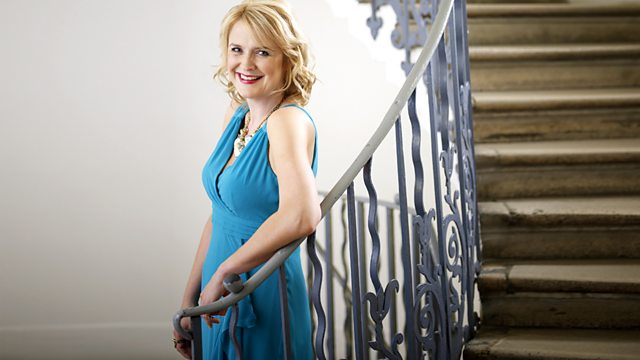 Sarah Walker
With Sarah Walker. Including Telemann: Overture (Suite) in D. Britten: War Requiem (excerpt). Haydn: Symphony No 33. Bach: Christmas Oratorio (excerpts). Dvorak: Slavonic Dance.
With Sarah Walker.
10.00am
Telemann: Overture (Suite) in D, TWV LV D19
The English Concert
Trevor Pinnock (harpsichord/director)
DG 463 260 2
10.27am
Britten: Offertorium; So Abram rose...; Sanctus; Benedictus (War Requiem)
Anthony Dean Griffey (tenor)
Gerald Finley (baritone)
Christine Brewer (soprano)
Tiffin Boys' Choir
Simon Toyne (conductor)
London Philharmonic Orchestra and Chamber Orchestra and Choir
Neville Creed (conductor of chamber orchestra)
Kurt Masur (conductor)
LPO LPO 0010
10.44am
Haydn: Symphony No 33
Academy of Ancient Music
Christopher Hogwood (director)
L'OISEAU LYRE 436 592 2
11.07am
Bach: Jauchzet, frohlocket; Frohe Hirten, eilt; Chorale - Ich steh an deiner Krippen hier (Christmas Oratorio)
Eberhard Buchner (tenor)
Leipzig Radio Choir
Ludwig Guttler Trumpet Ensemble
Dresden Staatskapelle
Peter Schreier (conductor)
PHILIPS 426183 2
11.21am
Dvorak: Slavonic Dance, Op 46 No 8
Wind soloists of the Chamber Orchestra of Europe
ASV CD COE 812
11.26am
Albinoni: Concerto in F, Op 9 No 3
Anthony Camden, Julia Girdwood (oboes)
London Virtuosi
John Georgiadis (violin/director)
NAXOS 8.550739
11.37am
Shostakovich: Piano Concerto No 2 in F, Op 102
New York Philharmonic
Leonard Bernstein (piano/conductor)
SONY CLASSICALSM3K 47166.