Main content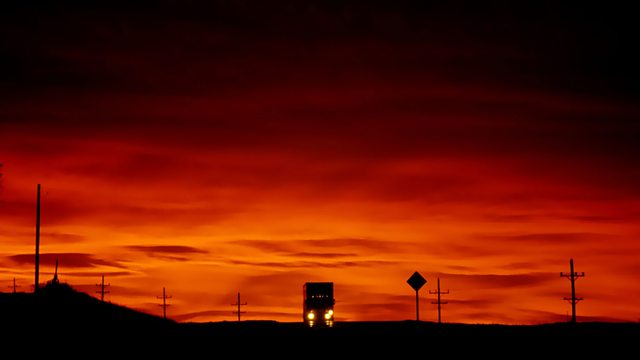 John Shea
John Shea presents music, including Sibelius, Agrell, Bruckner, Franck, Schubert, Telemann, Rontgen, Eccles, Vaughan Williams, J Strauss II, Janequin, Weber, CPE Bach and Mozart.
With John Shea.
1.00am
Sibelius, Jean (1865-1957): Scene with Cranes, Op 44 No 2
1.08am
Sibelius: Concerto in D minor for violin and orchestra, Op 47
Nikolaj Znaider (violin)
KBS (Korean Broadcasting System) Symphony Orchestra
Pietari Inkinen (conductor)
1.42am
Agrell, Johan Joachim (1701-1765): Sonata No 2 in A for cello and harpsichord
Chrichan Larson (cello)
Peter Lonnerberg (harpsichord)
1.54am
Scarlatti, Domenico (1685-1757): Sonata in E for keyboard, L23
Sae-Jung Kim (piano)
2.00am
Agay, Denes (1911-2007): Five Easy Dances for flute, oboe, clarinet in B flat, bassoon and horn
Tae-Won Kim (flute)
Hyong-Sup Kim (oboe)
Hyon-Kon Kim (clarinet)
Sang-Won Yoon (bassoon)
Kwang-Ku Lee (horn)
2.08am
Bruckner, Anton (1824-1896): Symphony No 1 in C minor
KBS (Korean Broadcasting System) Symphony Orchestra
Pietari Inkinen (conductor)
3.00am
Franck, Cesar (1822-1890): Sonata in A for violin and piano, M8
Janine Jansen (violin)
Kathryn Stott (piano)
3.28am
Schubert, Franz (1797-1828): Symphony No 8 in B minor, D759 (Unfinished)
Norwegian Radio Orchestra
Markus Lehtinen (conductor)
3.53am
Handel, George Frideric (1685-1759): Kunft'ger Zeiten eitler Kummer, HWV202
Helene Plouffe (violin)
Louise Pellerin (oboe)
Dom Andre Laberge (organ)
3.58am
Telemann, Georg Philipp (1681-1767): Septet in B flat for three oboes, three violins and continuo, TWV XLIV 43
Il Gardellino
4.08am
Rontgen, Julius (1855-1932): Theme with Variations
Wyneke Jordans, Leo van Doeselaar (pianos)
4.19am
Meder, Johann Gabriel (1729-1800): Sinphonia No 4 (6 Sinphonie, Op 1 No 4)
Netherlands Radio Chamber Orchestra
Anthony Halstead (conductor)
4.32am
Eccles, Henry (1675/85-1735/45): Sonata for double bass and piano
Gary Karr (double bass)
Harmon Lewis (piano)
4.41am
Tallis, Thomas (c.1505-1585): Loquebantur variis linguis for seven voices
BBC Singers
Bo Holten (director)
4.46am
Vaughan Williams, Ralph (1872-1958): Fantasia on a Theme by Thomas Tallis
Royal Academy Soloists
Clio Gould (director)
5.00am
Corelli, Arcangelo (1653-1713): Trio Sonata in G, Op 1 No 9
London Baroque
5.07am
Vivaldi, Antonio (1678-1741): Nulla in mundo pax sincera for soprano and orchestra, RV630
Marita Kvarving Solberg (soprano)
Norwegian Radio Orchestra
Ketil Haugsand (conductor)
5.14am
Puccini, Giacomo (1858 -1924): Chrysanthemums for string quartet
Moyzes Quartet
5.21am
Strauss, Johann II. (1825-1899): Rosen aus dem Suden (arr. Schoenberg for harmonium, piano and string quartet)
Canadian Chamber Ensemble
Raffi Armenian (conductor)
5.30am
Albright, William Hugh (1944-1998): Morning Reveries (Dream Rags)
Donna Coleman (piano)
5.37am
Brahms, Johannes (1833-1897): Immer leiser wird mein Schlummer (My slumbers grow ever lighter), Op 105 No 2
Mark Pedrotti (baritone)
Stephen Ralls (piano)
5.41am
Janequin, Clement (c.1485-c.1558)/Crecquillon, Thomas (c.1505/15-1557)/Sermisy, Claudin de (c.1490-1562): Four Renaissance chansons
Ray Nurse (lute/guitar/viol)
Nan Mackie, Patricia Unruh (viols)
Margriet Tindemans (viol/recorder)
Liz Baker (recorder)
Vancouver Chamber Choir
Jon Washburn (director)
5.53am
Weber, Carl Maria von (1786-1826): Missa sancta No 2 in G, Op 76 (Jubelmesse)
Henriette Schellenberg (soprano)
Laverne G'froerer (mezzo-soprano)
Keith Boldt (tenor)
George Roberts (baritone)
Vancouver Chamber Choir
CBC Vancouver Orchestra
Jon Washburn (conductor)
6.18am
Bach, Carl Philipp Emanuel (1714-1788): Trio Sonata in B minor for flute, violin and continuo, Wq 143
Les Coucous Benevoles
6.28am
Mozart, Wolfgang Amadeus (1756-1791): Symphony No 39 in E flat, K543
Bergen Philharmonic Orchestra
Eivind Aadland (conductor).