Main content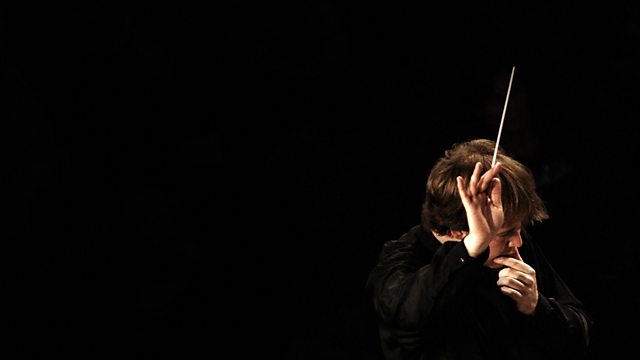 SCO in Stravinsky, Britten, Bizet
Scottish Chamber Orchestra under Andrew Litton. Stravinsky: Symphony in C. Britten: Les illuminations. Bizet: Symphony in C. Plus Youth Orchestras: NYOS in Holst's The Perfect Fool.
Ian Skelly presents a concert given in April 2009 at Glasgow's City Halls, with the Scottish Chamber Orchestra performing with American conductor Andrew Litton and soprano Sally Matthews.
The first two works in the programme were both started in Europe but finished in America as their composers escaped the approaching war in Europe. Stravinsky's Symphony in C was written at time of personal trauma as he mourned the loss of both his wife and daughter to tuberculosis and wrestled with the disease himself. It is a work firmly in Stravinsky's neo-classical style, harking back to composers of an earlier age.
Britten also made the journey across the Atlantic: in 1939, he departed Britain having written two of his settings of Rimbaud's Les illuminations, going on to finish the other movements in the United States during the early months of the Second World War.
The concert concludes with Bizet's exuberant Symphony in C, written when the composer was just 17 years old - and like similar precocious works by Mozart and Mendelssohn, it shows considerable maturity of form and invention.
Sally Matthews (soprano)
Scottish Chamber Orchestra
Andrew Litton (conductor)
Stravinsky: Symphony in C
Britten: Les illuminations
Bizet: Symphony in C
Followed by a focus on youth orchestras from Britain and abroad:
Holst: The Perfect Fool
National Youth Orchestra of Scotland
Bramwell Tovey (conductor)
Malcolm Edmonstone: Scotland Suite - For the Lack of Gold
National Jazz Orchestra of Scotland
Wagner: Die Meistersinger overture
National Youth Orchestra of Scotland
Takuo Yuasa (conductor)
Dallapiccola: Piccola Musica Notturna
Gustav Mahler Jugendorchester
Claudio Abbado (conductor).