Main content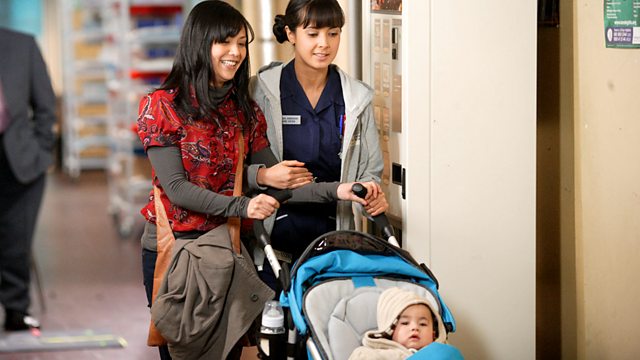 Careful What You Wish For
With Ric away dealing with the Hewitt case, Connie attacks his status as director of surgery, but is frustrated when Michael reneges on their deal.
Connie discovers the truth behind the death of Mr Hewitt, taking the heat off Ric but leaving Annalese in a very vulnerable position.
Martha tries to engineer some family bonding between Elliot and Ben, her new husband, but when Samson joins the party it all goes terribly wrong.
Daisha and her sister Lalaine, unaware of Mark's true feelings, have taken over his flat, and together they care for baby Joe.
Credits
| Role | Contributor |
| --- | --- |
| Michael Spence | Hari Dhillon |
| Jac Naylor | Rosie Marcel |
| Mark Williams | Robert Powell |
| Faye Morton | Patsy Kensit |
| Connie Beauchamp | Amanda Mealing |
| Elliot Hope | Paul Bradley |
| Joseph Byrne | Luke Roberts |
| Chrissie Williams | Tina Hobley |
| Linden Cullen | Duncan Pow |
| Donna Jackson | Jaye Jacobs |
| Daisha Anderson | Rebecca Grant |
| Rachel Baptiste | Ayesha Antoine |
| Martha Woodman | Holly Lucas |
| Ben Woodman | Oliver Boot |
| Annalese Carson | Anna-Louise Plowman |
| Jayne Grayson | Stella Gonet |
| Baby Joe Anderson | Marvelle Mendoza |
| Lalaine Anderson | Rhoda Montemayor |
| Fran Barclay | Joy Blakeman |
| Producer | Phil Hunter |
| Director | Robert Del Maestro |