Main content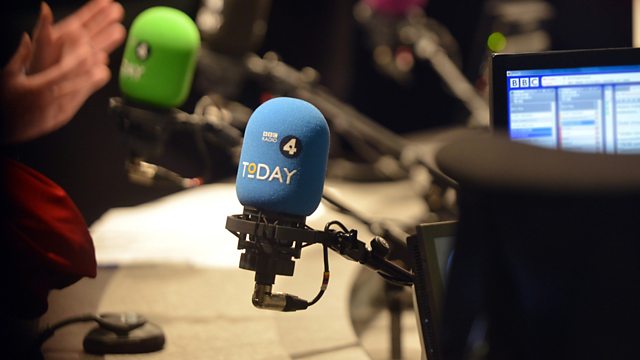 16/04/2009
With Edward Stourton and Sarah Montague. Including Sports Desk; Weather; Thought for the Day.
Presented by Sarah Montague and Edward Stourton.
Broadcaster and former Liberal MP Sir Clement Freud has died aged 84.
Richard Ashworth MEP says the blockade by French fishermen should be forcibly removed if necessary.
Douglas McWilliams, chief executive at the Centre for Economics and Business Research, explains the UK retail statistics.
Chris Morris reports on the long process of voting in the Indian elections.
Keith Vaz MP says he is confident that no minister was involved in the arrest of Damian Green.
Tom Feilden considers why so many fish are failing to make it back to rivers to spawn.
Thought for the day with the Reverend Angela Tilby, vicar of St Bene't's Church in Cambridge.
Shadow Minister David Willetts and Geoff Mulgan, of the Young Foundation, discuss the Office for National Statistics' annual survey on the state of the nation.
Chris Huhne, the Liberal Democrat home affairs spokesman, says the police should never have been brought in to investigate Damian Green.
Stephen Fry remembers the varied and fascinating life of Sir Clement Freud, who has died aged 84.
Fishermen blockading the Channel ports of Calais and Dunkirk have suspended their action. P&O spokesman Chris Laming describes what is happening to holidaymakers and hauliers who still face disruption.
Middle East editor Jeremy Bowen and veteran Middle East peace negotiator Aaron Miller consider if the US special envoy to the Middle East, George Mitchell, stands any chance of making progress in the peace process.
Lorinda Sheasby, of Co-Operative Funeralcare, and BBC 6 Music presenter Chris Hawkins discuss the most popular choices for funeral songs.
Matt Prodger investigates organised crime in Croatia.
Playwrights Trevor Wood and Ed Waugh discuss what they believe to be the greatest football story ever told, the story of the Sir Thomas Lipton Trophy, held in Turin in 1909.
Carol Reed's film The Third Man celebrates its 60th birthday this year. Journalist Harry Mount and Guardian film critic Peter Bradshaw discuss the film voted the greatest ever British film by the BFI.