Main content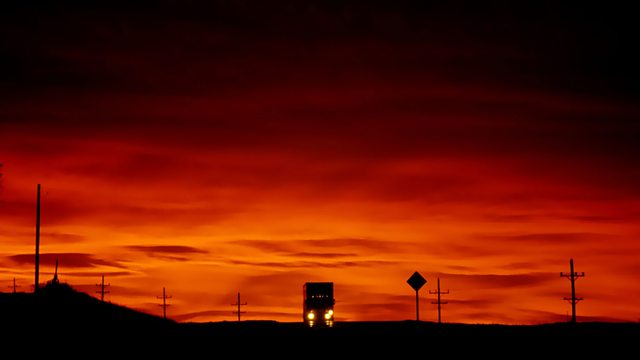 Susan Sharpe
Susan Sharpe presents music, including Bax, Finzi, Elga, Reicha, Mehul, Wilms, Groneman, Corelli, Paganini, Abel, Gershwin, Liszt, Schubert, Sandstrom, Lindberg, Sibelius and Haydn.
With Susan Sharpe.
1.00am
Bax, Arnold (1883-1953): The Garden of Fand - symphonic poem
BBC Concert Orchestra
Paul Daniel (conductor)
1.18am
Finzi, Gerald (1901-1956): Intimations of Immortality for tenor, chorus and orchestra, Op 29
Andrew Kennedy (tenor)
BBC Symphony Chorus
BBC Concert Orchestra
Paul Daniel (conductor)
1.58am
Pilkington, Francis (c.1570-1638): Rest, Sweet Nymphs
Cantamus Girls Choir
Pamela Cook (director)
2.02am
Wilbye, John (1574-1638): Weepe, mine eyes for five voices
Morley, Thomas (c.1557-1602): Now is the month of Maying
BBC Singers
Bo Holten (conductor)
2.08am
Elgar, Edward (1857-1934): Violin Concerto in B minor, Op 61
Nigel Kennedy (violin)
BBC Concert Orchestra
Paul Daniel (conductor)
3.00am
Reicha, Anton (1770-1836): Quintet in F, Op 107 - version for oboe and strings
Les Adieux
3.29am
Mehul, Etienne-Nicolas (1763-1817): Symphony No 1 in G minor
Cappella Coloniensis
Bruno Weil (director)
3.56am
Wilms, Johann Wilhelm (1772-1847): Rondo - Polonaise in D for fortepiano
Arthur Schoonderwoerd (fortepiano)
4.03am
Krasa, Hans (1899-1944): Overture for chamber orchestra
Nieuw Ensemble
Ed Spanjaard (conductor)
4.09am
Groneman, Johannes Albertus (c.1710-1778): Sonata in G for two flutes
Jed Wentz, Marion Moonen (flutes)
4.18am
Bach, Carl Philipp Emanuel (1714-1788): Wer ist so würdig als Du, Wq 222 - for chorus, two trumpets, timpani, two oboes, strings and continuo
Rheinische Kantorei
Das Kleine Konzert
Hermann Max (conductor)
4.23am
Bach, Johann Michael (1648-1694): Es ist ein grosser Gewinn - sacred concerto for soprano, four violins and continuo
Maria Zedelius (soprano)
Musica Antiqua Koln
Reinhard Goebel (director)
4.27am
Corelli, Arcangelo (1653-1713): Trio Sonata in C minor, Op 1 No 8
London Baroque
4.34am
Paganini, Niccolo (1782-1840): Moses fantaisie (after Rossini) - arr. for double bass and piano
Gary Karr (double bass)
Harmon Lewis (piano)
4.43am
Castelnuovo-Tedesco, Mario (1895-1968): Capriccio diabolico for guitar, Op 85
Goran Listes (guitar)
4.52am
Sorkocevic, Luka (1734-1789): Symphony No 4 in F
Zagreb Soloists
Visnja Mazuran (harpsichord)
5.00am
Abel, Carl Friedrich (1723-1787): Symphony in A, Op 10 No 6
La Stagione Frankfurt
Michael Schneider (conductor)
5.13am
Benjamin, Arthur (1893-1960): Overture to an Italian Comedy
Sydney Symphony Orchestra
Joseph Post (conductor)
5.20am
Gershwin, George (1898-1937): Three Preludes for piano
Donna Coleman (piano)
5.28am
Liszt, Franz (1811-1886): Les Preludes, S97 - symphonic poem after Lamartine
Hungarian State Orchestra
Janos Ferencsik (conductor)
5.45am
Liszt, Franz (1811-1886): Transcendental Study No 5 in B flat, S139 (Feux follets)
Daniel Wayenberg (piano)
5.49am
Schubert, Franz (1797-1828): Auf dem Wasser zu singen, D774
Edith Wiens (soprano)
Rudolf Jansen (piano)
5.53am
Carlton, Richard (c.1558-1638): Calm was the air (The Triumphes of Oriana)
The King's Singers
5.57am
Sandstrom, Sven-David (b.1942): A new heaven and a new earth for a capella chorus
Chamber Choir AVE
Andraz Hauptman (conductor)
6.06am
Lindberg, Oskar (1887-1955): Quartet for piano and strings
Marten Landstrom (piano)
Members of the Uppsala Chamber Soloists
6.31am
Sibelius, Jean (1865-1957): Rakastava, Op 14 - suite for string orchestra
Danish Radio Concert Orchestra
Hannu Koivula (conductor)
6.44am
Haydn, Joseph (1732-1809): Concerto in E flat for trumpet and orchestra, H VIIe 1
Geoffrey Payne (trumpet)
Melbourne Symphony Orchestra
Michael Halasz (conductor).