Main content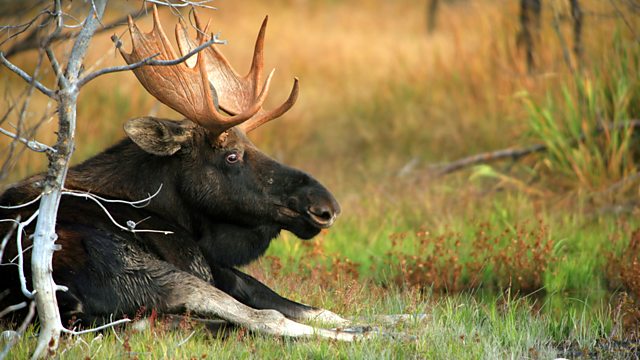 Series following wildlife in Yellowstone. Winter approaches and the animals have two months to get ready. As the snow and ice return, many move away from the national park.
Over the summer, Yellowstone has flourished - in late August there are more living things here than at any other time of the year. But winter is around the corner and there are just two months for all Yellowstone's animals to get ready or get out.
An early dusting of snow is a sign for elk to start moving down from the mountains to focus on finding food in the valleys. Although the wolves are waiting for them, the male elk are distracted, their haunting bugle call boasting that they are fired up and ready to fight each other to the death for the right to breed.
As temperatures fall further, beavers get busy in a rush to repair dams and stock underwater larders before ice freezes their ponds. Yellowstone's forests - the aspens, cottonwoods and maples - start to shut down for the winter, their colours painting the park a blaze of red and gold. Meanwhile, another tree is coming into its own, the whitebark pine. It offers up a bumper crop of pine nuts which fatten grizzly bears and squirrels alike. But its nuts are meant for another animal - the Clark's nutcracker, a small bird with a colossal memory and one that will reward the tree's efforts well by carrying its seeds far and wide, and even planting them.
As autumn ends, the snow and ice return and many animals now move out from the heart of Yellowstone and away from the protection of the national park. Their fight is not only to survive the cold, but also to find what little wild space remains in the modern world. All around Yellowstone, the human world is encroaching - it is now that the true value of the 'world's first national park' becomes clearer than ever.
Mike Kasic is a local sound recordist who got many of the natural sounds for the series, but in his spare time he dons snorkel and fins and jumps into the raging waters of one of the USA's wildest rivers to explore Yellowstone from the point of view of the unique Yellowstone cut-throat trout. Whilst his exploits might seem strange to the other park users - fly fishermen and bison alike - in becoming a fish, Mike not only uncovers an enchanting hidden Yellowstone, but finds out that things are not what they used to be for the cut-throat trout.
More episodes
Next
You are at the last episode
Credits
| Role | Contributor |
| --- | --- |
| Narrator | Peter Firth |
| Participant | Mike Kasic |
| Producer | Andrew Murray |
| Producer | Nathan Budd |
Broadcasts