Main content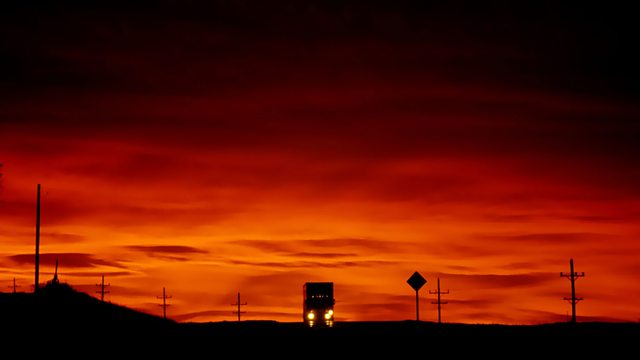 Jonathan Swain
Jonathan Swain presents music, including Schumann, Carter, Bartok, Lopes-Graca, Szeligowski, Shostakovich, Bruckner, Hammerschmidt, Salzedo, Schein, Nielsen, Handel and Forsyth.
With Jonathan Swain.
1.00am
Schumann, Robert (1810-1856): Gesange der Fruhe (Songs of Dawn)
1.14am
Carter, Elliott (b.1908): Night Fantasies
1.37am
Messiaen, Olivier (1908-1992): L'alouette lulu (Catalogue d'oiseaux)
1.44am
Bartok, Bela (1881-1945): Szabadban (Out of Doors), Sz 81 - suite
Pierre-Laurent Aimard (piano)
2.00am
Lopes-Graca, Fernando (1906-1994): Portuguese Regional Songs, Op 39
Ricercare Chorus
Rodrigo Gomes (piano)
Pedro Teixeira (conductor)
2.43am
Szeligowski, Tadeusz (1896-1963): Four Polish Dances
Polish Radio National Symphony Orchestra Katowice
Miroslaw Blaszczyk (conductor)
3.00am
Shostakovich, Dmitri (1906-1975): Piano Concerto No 2 in F, Op 102
Dmitri Shostakovich (piano)
Sofia Philharmonic Orchestra
Konstantin Iliev (conductor)
3.17am
Elsner, Jozef Antoni Franciszek (1769-1854): Two Polonaises
Urszula Bartkiewicz (harpsichord)
3.26am
Bruckner, Anton (1824-1896): Symphony No 9 in D minor (Unfinished)
Orchestre Philharmonique de Radio France
Gunther Herbig (conductor)
4.20am
Michna z Otradovic, Adam (1600-1676): O svatem Vaclavu
Capella Regia Musicalis
Robert Hugo (organ/director)
4.24am
Hammerschmidt, Andreas (1611/12-1675): Suite in G minor/major for winds (Ester Fleiss)
Hesperion XX
Jordi Savall (director)
4.39am
Prevorsek, Uros (1915-1996): Spanish Dance
Dejan Bravnicar (violin)
Slovenian Radio and Television Symphony Orchestra
Samo Hubad (conductor)
4.42am
Albeniz, Isaac (1860-1909): Iberia (Book 1) - for piano
Plamena Mangova (piano)
4.51am
Ravel, Maurice (1875-1937): Une barque sur l'ocean
Trondheim Symphony Orchestra
Eivind Aadland (conductor)
5.00am
Schubert, Franz (1797-1828): Overture (Rosamunde), D644
Oslo Philharmonic Orchestra
Heinz Holliger (conductor)
5.11am
Schumann, Clara (1819-1896): Scherzo for piano in D minor, Op 10 No 1
Angela Cheng (piano)
5.16am
Strauss, Richard (1864-1949): Das war sehr gut... Dann aber, wie ich Sie gespurt hab' hier im Finstern steh'n (Arabella, Act 3)
Joanne Kolomyjec (soprano)
Calgary Philharmonic Orchestra
Mario Bernardi (conductor)
5.23am
Locatelli, Pietro Antonio (1695-1764), arr. Bierling: Menuetto con variazioni (Sonate in G, Op 2 No 10)
Geert Bierling (organ)
5.30am
Anon (14th century Florence): Incalci - toccata della buccina
Micrologus
5.33am
Salzedo, Carlos (1885-1961): Variations sur un theme dans le style ancien, Op 30
Mojca Zlobko (harp)
5.44am
Schein, Johann Hermann (1586-1630): Diletti Pastorali, Hirten Lust (excerpts) - madrigals for five voices and continuo
Cantus Coln
Konrad Junghanel (conductor/lute)
6.06am
Nielsen, Carl (1865-1931): Adagio con sentimento religioso (String Quartet, Op 44)
Young Danish String Quartet
6.15am
Jolivet, Andre (1905-1974): Chant de Linos for flute and piano
Ales Kacjan (flute)
Bojan Gorisek (piano)
6.25am
Kabalevsky, Dmitri (1904-1987): Comedians - suite
Slovak Radio Symphony Orchestra in Bratislava
Oliver Dohnanyi (conductor)
6.43am
Handel, George Frideric (1685-1759): Concerto grosso in B flat, Op 3 No 1
Elar Kuiv (violin)
Olev Ainomae (oboe)
Estonian Radio Chamber Orchestra
Paul Magi (conductor)
6.53am
Forsyth, Malcolm (b.1936): Sagittarius - Concerto grosso for brass quintet and orchestra (1st mvt)
Canadian Brass
National Arts Centre Orchestra
Mario Bernardi (conductor).