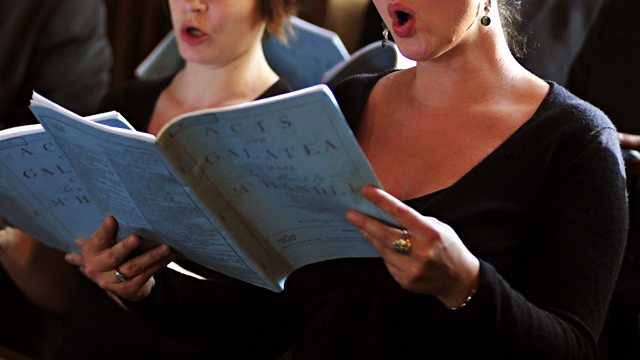 Soviet Choral Music
Aled Jones explores how Soviet composers turned to choral music to meet the demands of their leaders for patriotic pieces. Including a complete performance of Prokofiev's Cantata for the 20th Anniversary of the October Revolution.
Yury Aleksandrovich Shaporin: Chorus of Soldiers (Decembrists)
Red Army Choir and Band
Victor Feorov (conductor)
Naxos 8553154, Tr 9
Georgy Sviridov: Three Choruses (Prayer - Tsar Feodor Ioannovich)
The Moscow New Choir
Elena Rastvorova (director)
Olympia OCD541, Tr 1
Alexander Kastalsky: Brotherly Prayer for the Dead - 1917 (Wrath of Nemesis - My Sword)
Radio Large Choir
USSR Symphony Orchestra
Yevgeny Svetlanov (conductor)
Russian Disc RDCD10043, Tr 10
Shostakovich: Slava! (Song of the Forest)
Sergei Kisseliev (tenor)
Gennadi Bezzubenko (baritone)
Boys' Choir of Glinka College
St Petersburg Chorus
St Petersburg Philharmonic Orchestra
Yuri Temirkanov (conductor)
RCA 09026688772, Tr 7
Alexandr Vasil'yevich Mosolov: Collective Farm Meadows; Spring Song (ladies only); Dance Song (Collective Farm Meadows - eight choruses)
The Russian Song Chorus of the USSR TV and Radio
Nikolai Kutuzov (conductor)
Olympia OCD176 (Trs 16, 18, 19, 21)
Prokofiev: Cantata for the 20th Anniversary of the October Revolution, Op 74
Gennady Rozhdestvensky (speaker)
Philharmonia Chorus and Orchestra
Neeme Jarvi (conductor)
Chandos, CHAN9095, Trs 1-10.
Last on