Main content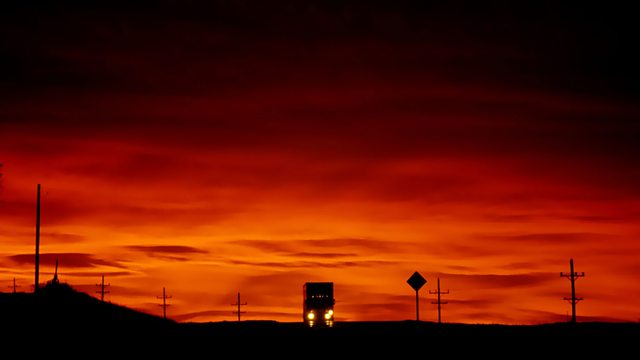 02/04/2009
John Shea presents music, including Mahler: Symphony No 7, Bach, Poulenc, Biber, Rebel, Messiaen, Alkan, Wilms, Gigout, Gilse, Schubert, Norman, Haydn, Greef and Vivaldi.
With John Shea.
1.00am
Mahler, Gustav (1860-1911): Symphony No 7 in E minor
San Francisco Symphony Orchestra
Michael Tilson Thomas (conductor)
2.19am
Dvorak, Antonin (1841-1904): Lento maestoso in C minor (Trio No 4 for piano and strings, Op 90 - Dumky)
Ondine Trio
2.25am
Tavener, John (b.1944): The Tyger for chorus; The Lamb - carol
Polyphony
Stephen Layton (conductor)
2.33am
Bohm, Georg (1661-1733): Chorale Prelude: Vater unser im Himmelreich
David Goode (organ)
2.38am
Bach, Johann Sebastian (1685-1750): Brandenburg Concerto No 5 in D, BWV1050
Rachel Brown (flute)
Pavlo Beznosiuk (violin)
Academy of Ancient Music
Richard Egarr (harpsichord/director)
3.00am
Poulenc, Francis (1899-1963): Concert champetre for harpsichord and orchestra
Jory Vinikour (harpsichord)
Radio France Philharmonic Orchestra
Marc Minkowski (conductor)
3.26am
Biber, Heinrich Ignaz Franz von (1644-1704): La Battaglia
Concerto Copenhagen
Lars Ulrik Mortensen (director)
3.35am
Rebel, Jean-Fery (c.1666-1747): Les elemens - simphonie nouvelle for two violins, two flutes and bass clarinet
Norwegian Radio Orchestra
Roy Goodman (conductor)
3.59am
Gesualdo, Carlo (c.1560-1613): Two madrigals: Merce grido piangendo; Luci serene e chiare
The King's Singers
4.06am
Messiaen, Olivier (1908-1992): Le Loriot (Catalogue d'oiseaux)
David Louie (piano)
4.15am
Alkan, Charles-Valentin (1813-1888): Grand Duo concertant in F sharp minor for violin and piano, Op 21
Semmy Stahlhammer (violin)
Johan Ullen (piano)
4.37am
Jacob van Eyck (c.1590-1657): Bravade for solo recorder
Heiko ter Schegget (recorder)
4.40am
Wilms, Johann Wilhelm (1772-1847): Die Schlacht von Waterloo
Geert Bierling (organ)
4.49am
Rossi, Salomone (c.1570-c.1630): Barechu (Call to prayer); Yitgadal (Sanctified and magnified be Your great name)
Daedalus
4.57am
Bach, Johann Sebastian (1685-1750), orch. Schoenberg: Chorale Prelude: Komm, Gott Schopfer, heiliger Geist, BWV631
Sydney Symphony Orchestra
Edo de Waart (conductor)
5.00am
Haydn, (Johann) Michael (1737-1806): Cantata: Lauft, ihr Hirten allzugleich (Run ye shepherds, to the light)
Salzburger Hofmusik
Wolfgang Brunner (leader/organ/cembalo)
5.10am
Gigout, Eugene (1844-1925): Toccata in B minor for organ
Dubois, Theodore (1837-1924): Chant Pastoral
Kalevi Kiviniemi (organ)
5.18am
Gilse, Jan van (1881-1944): String Quartet (unfinished)
Ebony Quartet
5.28am
Ippolitov-Ivanov, Mikhail Mikhaylovich (1859-1935): Caucasian Sketches, Op 10 - suite
Edmonton Symphony Orchestra
Uri Mayer (conductor)
5.50am
Schubert, Franz (1797-1828): Variations on Trockne Blumen in E minor for flute and piano, D802
Emmanuel Pahud (flute)
Bruno Robilliard (piano)
6.05am
Norman, Ludwig (1831-1885), arr. Willen: Andante sostenuto
Swedish Radio Symphony Orchestra
Niklas Willen (conductor)
6.15am
Haydn, Joseph (1732-1809): Keyboard Sonata in C sharp minor, H XVI 36
Andreas Staier (fortepiano)
6.30am
Greef, Arthur de (1862-1940): Cinq chants d'amour for soprano and orchestra
Charlotte Riedijk (soprano)
Flemish Radio Orchestra
Yannick Nezet-Seguin (conductor)
6.50am
Vivaldi, Antonio (1678-1741): Concerto in C for sopranino recorder, RV444
Michael Schneider (recorder)
Camerata Koln.