Main content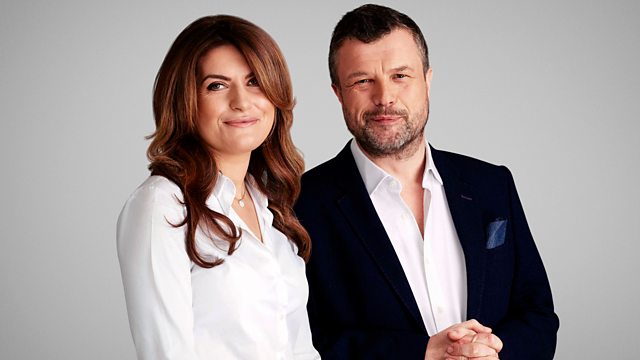 Rob Cowan
With Rob Cowan. Includes Fucik: Florentiner March. Khachaturian: Adagio (Spartacus). F Strauss: Concerto in C minor for horn and orchestra. Vivaldi: Overture (La Verita in Cimento).
With Rob Cowan.
Featuring popular ballet music by Khachaturian, a concerto by Richard Strauss's father and part of a rarely heard early score by Berlioz.
07.03
Fucik: Florentiner March
Czech Philharmonic Orchestra
Vaclav Neumann (conductor)
Teldec 8.42337, Tr 1
07.09
Stenhammar: Ballad - Florez and Blanzeflor
Ingvar Wixell (baritone)
Swedish Radio Symphony Orchetra
Stig Westerberg (conductor)
EMI CDM5 65082-2, Tr 10
07.08
Corelli: Concerto grosso in D, Op 6 No 4
Ensemble 415
Chiara Banchini (violin/director)
Jesper Christensen (harpsichord/director)
Harmonia Mundi HMX 2901406 (D1), Trs 20-22
07.32
Faure: Scherzo (Piano Quartet No 1)
Domus
Hyperion CDA 66166, Tr 2
07.38
Khachaturian: Adagio (Spartacus)
USSR Symphony Orchestra
Aram Khachaturian (conductor)
Melodiya 74321 59056-2 D2, Tr 8
07.46
Piazzolla arr Leonid Desyatnikov: Primavera portena (The Four Seasons of Buenos Aires)
Kremerata Baltica
Gidon Kremer (violin/director)
Nonesuch 79568-2, Tr 16
07.53
Brahms: Finale (Serenade No 2 in A)
London Symphony Orchestra
Istvan Kertesz (conductor)
Decca 421 628-2, Tr 11
08.04
Handel: Minuet, Bouree and Hornpipe (Water Music Suite in F)
London Classical Players
Roger Norrington (conductor)
Virgin VC5 45265-2, Trs 6-8
08.10
Luiz Bonfa arr Kormendi: Manha de carnival
I Salonisti
Decca 425 228-2, Tr 17
08.15
Franz Strauss: Horn Concerto in C minor
Zdenek Tylsar (horn)
Czech Philharmonic Orchestra
Vaclav Neumann (conductor)
Supraphon SU 3892-2, Trs 7-9
08.31
Vivaldi: Overture (La verita' in cimento)
L'Arte dell'Arco
Christopher Hogwood (director)
Deutsche Harmonia Mundi 0542 77501-2, Trs 8-10
08.37
Bach: Fugue in B minor (on a theme of Corelli), BWV579
Peter Hurford (organ of the church of Our Lady of Sorrows, Toronto)
Decca 444 410-2 D3, Tr 2
08.43
Finzi: Eclogue for piano and orchestra
Peter Donohoe (piano)
Northern Sinfonia
Howard Griffiths (conductor)
Naxos 8.555766, Tr 4
08.55
Mendelssohn arr Mendelssohn: Scherzo (Octet for Strings)
Boston Symphony Orchestra
Charles Munch (conductor)
EMI CZS5 75477-2 D2, Tr 1
09.00
Berlioz: Marguerite's Romance and Soldiers' Chorus (Eight Scenes from Faust, Op 1)
Susan Graham (soprano)
Pierre Vincent Plante (cor anglais)
Montreal Symphony Orchestra
Charles Dutoit (conductor)
Decca 475 097-2, Tr 7
09.11
Bach arr Walton: What God hath done is rightly done (The Wise Virgins)
City of Birmingham Symphony Orchestra
Louis Fremaux (conductor)
EMI CZS5 73998-2 D2, Tr 23
09.16
Tippett: Fantasia Concertante on a theme of Corelli
Scottish Chamber Orchestra
Michael Tippett (conductor)
Virgin CUV5 61326-2, Tr 4
09.35
Lennon/McCartney arr Krticka: Eleanor Rigby
Wihan Quartet
Lotos LT 0102-2 131, Tr 1
09.37
Beethoven: Piano Sonata in G, Op 14 No 2
Gerhard Oppitz (piano)
Hänssler Classic CD 98.203, Trs 8-10
09.55
Messager: Solo de concours
Michael Collins (clarinet)
Kathryn Stott (piano)
EMI CDC7 54419-2, Tr 12.