Main content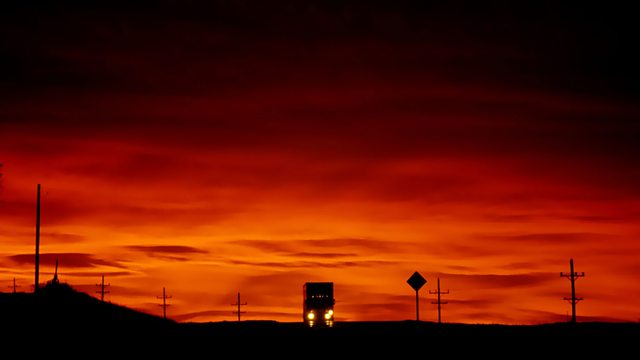 John Shea
John Shea presents music, including Beethoven, Enescu, Franck, Mozart, Sjogren, Raitio, Nardelli, Weber, Hove, Haydn, CPE Bach, Buxtehude, Bloch, Cara, Durante, Greef and Sibelius.
With John Shea.
1.00am
Beethoven, Ludwig van (1770 -1827): Sonata in A for violin and piano, Op 47 (Kreutzer)
1.38am
Enescu, George (1881-1955): Sonata No 3 in A minor for violin and piano, Op 25 (dans le caractere populaire roumain)
2.06am
Franck, Cesar (1822-1890): Sonata in A for violin and piano
Peter Csaba (violin)
Dan Grigore (piano)
2.37am
Mozart, Wolfgang Amadeus (1756-1791): Piano Sonata in F, K533/494
Murray Perahia (piano)
3.00am
Arriaga, Juan Crisostomo (1806-1826): Overture (Los esclavos felices)
Bergen Philharmonic Orchestra
Juanjo Mena (conductor)
3.09am
Sjogren, Emil (1853-1918): Two Lyrical Pieces
Per Enoksson (violin)
Peter Nagy (piano)
3.20am
Schubert, Franz (1797-1828): Der Konig von Thule, D367
Christoph Pregardien (tenor)
Andreas Staier (fortepiano)
3.24am
Raitio, Vaino (1891-1945): Vesipatsas (Waterspout) - ballet music
Finnish Radio Symphony Orchestra
Okko Kamu (conductor)
3.48am
Groneman, Johannes (c.1710-1778): Flute Sonata in E minor
Jed Wentz (flute)
Balazs Mate (cello)
Marcelo Bussi (harpsichord)
3.59am
Nardelli, Mario (1927-1993): Three pieces for guitar
Mario Nardelli (guitar)
4.09am
Weber, Carl Maria von (1786-1826): Piano Sonata No 4 in E minor, Op 70
Stanley Hoogland (fortepiano)
4.33am
Hove, Joachim van den (1567-1620): Praeludium (Delitiae Musicae); Allemande monsieur, pavane, susanneken (Florida); Chanson Flameng (Delitiae Musicae); Orlando - Chanson Englese (Florida)
Toyohiko Satoh (lute)
4.45am
Palestrina, Giovanni Pierluigi da (c.1525-1594): Agnus Dei - super ut-re-mi-fa-sol-la
Huelgas Ensemble
Paul van Nevel (director)
4.53am
Rognoni, Francesco (c.1585-c.1624): Diminutionen on Palestrina's Io son ferito
Le Concert Brise
5.00am
Haydn, Joseph (1732-1809): Overture (Lo Speziale, H XXVIII 3)
Netherlands Radio Chamber Orchestra
Antoni Ros-Marba (conductor)
5.08am
Chopin, Fryderyk (1810-1849): Variations in E on a German National Air
Ludmil Angelov (piano)
5.16am
Jez, Jakob (b.1928): Ode for General Maister; Bright is his little gun (folk song)
Polona Pavsek (soprano)
Metod Palcic (tenor)
Stane Tomelj (baritone)
Cantemus Mixed Choir
Sebastjan Vrhovnik (conductor)
5.24am
Bach, Carl Philipp Emanuel (1714-1788): 12 Variations on La Folia, Wq 118 No 9
Andreas Staier (harpsichord)
5.33am
Buxtehude, Dietrich (1637-1707): Sonate IV in B for violin, viola da gamba and cembalo, BuxWV 255
CordArte
5.42am
Gilson, Paul (1865-1942): La Captive (Suite from Act 1)
Flemish Radio Orchestra
Martyn Brabbins (conductor)
6.05am
Bloch, Ernest (1880-1959): Nigun (Improvisation) - Baal-shem
Moshe Hammer (violin)
Valerie Tryon (piano)
6.13am
Cara, Marchetto (c.1470-c.1525): Se non fusse la speranza
Ensemble Claude-Gervaise
Gilles Plante (director)
6.14am
Tromboncino, Bartolomeo (c.1470-1535): Frottola (Gentil donna)
Joris Verdan (organ)
6.17am
Durante, Francesco (1684-1755): Concerto No 2 in G minor
Concerto Koln
6.29am
Greef, Arthur de (1862-1940): Concerto No 2 in B for piano and orchestra
Artur Pizarro (piano)
Flemish Radio Orchestra
Yannick Nezet-Seguin (conductor)
6.51am
Sibelius, Jean (1865-1957): Serenade No 1 in D for violin and orchestra, Op 69a
Judy Kang (violin)
Orchestre Symphonique de Laval
Jean-Francois Rivest (conductor).