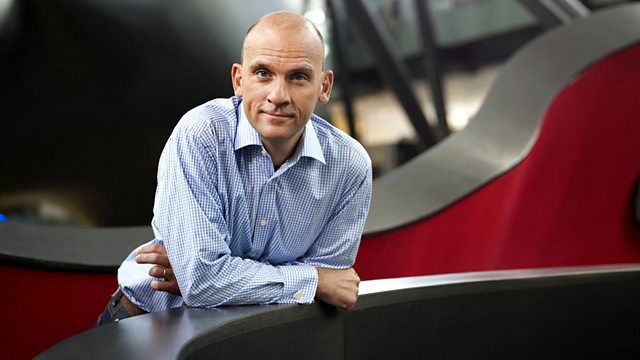 Joshua Redman Trio at Ronnie Scott's
Jez Nelson presents saxophonist Joshua Redman in concert at Ronnie Scott's, with Reuben Rogers on bass and Greg Hutchinson on drums. Redman is known for his formidable technique and a charismatic stage presence, which has been credited with bringing new, young audiences to the music. His approach to music is forward-looking, while also rooted in melody, lyricism and traditional structures. However, on his album Compass, Redman embraces freer forms - it features his most experimental work to date.
The son of late avant-garde saxophonist Dewey Redman, Joshua grew up independently of his father and is a largely self-taught saxophonist. After winning the Thelonious Monk Prize in 1991, he gave up a career in law and quickly earned a worldwide reputation as both a sideman, with Pat Metheny, Chick Corea and Paul Motian, as well as a band leader.
Playlist:
Excerpt from Faraway by Joshua Redman Trio (details below)
CD TRACKS:
Artist: Rob Mazurek Quintet (Rob Mazurek - cornet, John Herndon - drums, Matthew Lux - bass guitar, Josh Abrams - acoustic bass, Jason Adasiewicz - vibraphone)
Track Title: Cinnamon Tree
Composer: Rob Mazurek
Album Title: Sound Is
Label: Delmark Records
Artist: Denman Maroney Quintet (Ned Rothenberg - alto sax, Dave Ballou - trumpet, Denman Maroney - hyperpiano, Reuben Radding - bass, Michael Sarin - drums)
Track Title: Udentity II
Composer: Denman Maroney
Album Title: Udentity
Label: Clean Feed
Artist: Enrico Rava (Enrico Rava - trumpet, Stefano Bollani - piano, Mark Turner - tenor saxophone, Larry Grenadier - double bass, Paul Motian - drums)
Track Title: Outsider
Composer: Enrico Rava
Album Title: New York Days
Label: ECM
Artist: Tom Cawley and Kit Downes (Tom Cawley - piano, Kit Downes - piano)
Track Title: Homely
Composer: Kit Downes
Album Title: Homely
Label: Impure Music
LINKS:
http://www.robmazurek.com/
http://www.myspace.com/denmanmaroney
http://www.enricorava.com/
http://www.myspace.com/tomcawleyandkitdownes
http://www.impuremusic.com/
JOHN FORDHAM AND JEZ NELSON INTRODUCE JOSHUA REDMAN GIG
JOSHUA REDMAN TRIO RECORDED AT RONNIE SCOTTS ON MARCH 21, 2009
Line up:
Joshua Redman - tenor and soprano saxophones
Reuben Rogers - double bass
Gregory Hutchinson - drums
Set list:
1 Hutchhikers Guide (Redman)
2 Zarafah (Redman)
3 Indian Song (Wayne Shorter)
4 Little Ditty (Redman)
5 Autumn In New York (Vernon Duke)
6 Faraway (Redman)
LINKS:
http://www.joshuaredman.com/.
Last on