Main content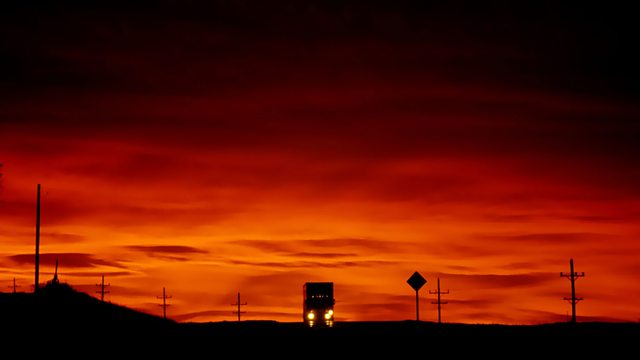 John Shea
John Shea presents music, including Martinu, Dvorak, Milhaud, Ravel, Dutilleux, Weber, JM Haydn, Rontgen, Bodinus, Vaughan Williams, Francaix, Ropartz, Kodaly, Strauss and Mozart.
With John Shea.
1.00am
Martinu, Bohuslav (1890-1959): Sonatina for clarinet and piano
Staffan Martensson (clarinet)
Frederic Lagarde (piano)
1.13am
Dvorak, Antonin (1841-1904): Trio No 4 in E minor for piano and strings, Op 90 (Dumky)
Dumky Trio:
Pierre-Olivier Quayras (violin)
Veronique Marin (cello)
Frederic Lagarde (piano)
1.46am
Milhaud, Darius (1892-1974): Suite for clarinet, violin and piano, Op 157b (Le voyageur sans bagages)
Staffan Martensson (clarinet)
Pierre-Olivier Queyras (violin)
Frederic Lagarde (piano)
1.58am
Debussy, Claude (1862-1918): Premiere rapsodie for clarinet and piano
Staffan Martensson (clarinet)
Frederic Lagarde (piano)
2.07am
Ravel, Maurice (1875-1937): Trio in A minor for piano and strings
Dumky Trio
2.34am
Dutilleux, Henri (b.1916): L'arbre des songes
Leonidas Kavakos (violin)
Rotterdam Philharmonic
Valery Gergiev (conductor)
3.00am
Weber, Carl Maria von (1786-1826): Missa sancta No 1 in E flat (Freischutzmesse)
Norwegian Soloist Choir
Norwegian Radio Orchestra
Grete Pedersen Helgerod (conductor)
3.34am
Beethoven, Ludwig van (1770-1827): Coriolan overture, Op 62
Swedish Radio Symphony Orchestra
Manfred Honeck (conductor)
3.42am
Haydn, (Johann) Michael (1737-1806): Divertimento in A for string quartet
Marcolini Quartett
3.59am
Rontgen, Julius (1855-1932): Sonata in F sharp minor for violin and piano, Op 20
Alexander Kerr (violin)
Sepp Grotenhuis (piano)
4.19am
Verhulst, Johannes (1816-1891): 't Meeuwennest, Op 16, No 1; Lied van bloemen (Flower song), Op 26, No 2
Annegeer Stumphius (soprano)
Nico van der Meel (tenor)
Leo van Doeselaar (fortepiano)
4.25am
Huygens, Constantijn (1596-1687): Iniquitatem meam ego cognovi; Domine spes mea; In quo corriget (Pathodia sacra et profana - 1647)
Anne Grimm (soprano)
Peter Kooij (bass)
Leo van Doeselaar (organ)
Mike Fentross (theorbo)
Mieneke van der Velden (viola da gamba)
4.34am
Buus, Jacques (c.1500-1565): Ricercare
Amsterdam Loeki Stardust Quartet
4.41am
Bouwman, Nicolaas Arie (1854-1941): Thalia - overture for wind orchestra
Dutch National Youth Wind Orchestra
Jan Cober (conductor)
4.50am
Bodinus, Sebastian (c.1700-1759): Trio in G for oboe and two bassoons
Hildebrand'sche Hoboisten Compagnie
5.00am
Klami, Uuno (1900-1961): Serenades joyeuses
Finnish Radio Symphony Orchestra
Jussi Jalas (conductor)
5.07am
Dohnanyi, Erno (1877-1960): Serenade (Im Lebenslenz)
Sylvia Geszty (soprano)
Istvan Lantos (piano)
5.09am
Gounod, Charles (1818-1893): Serenade: Vous qui faites l'endormie (Faust)
Mefistofele ...... Nicola Ghiuselev (bass)
Orchestre de l'Opera National de Sofia
Rouslan Raitchev (conductor)
5.13am
Herbert, Victor (1859-1924): Moonbeams (The Red Mill)
Symphony Nova Scotia
Boris Brott (conductor)
5.17am
Vaughan Williams, Ralph (1872-1958): Serenade to music for 16 soloists and orchestra
Bette Cosar (soprano)
Delia Wallis (mezzo-soprano)
Edd Wright (tenor)
Gary Dahl (bass)
Alexander Skwortsow (violin)
Vancouver Bach Choir
Vancouver Symphony Orchestra
Bruce Pullan (conductor)
5.31am
Warlock, Peter (1894-1930): Serenade for string orchestra (To Frederick Delius on his 60th birthday)
Manitoba Chamber Orchestra
Roy Goodman (conductor)
5.38am
Aufschnaiter, Benedict Anton (1665-1742): Ouverture and Entree (Serenade No 3 in G minor)
L'Orfeo Barockorchester
Michi Gaigg (director)
5.44am
Wolf, Hugo (1860-1903): Italian serenade for string quartet
Bartok Quartet
5.52am
Francaix, Jean (1912-1997): Serenade for small orchestra
Canadian Chamber Ensemble
Raffi Armenian (conductor)
6.02am
Saint-Saens, Camille (1835-1921): Serenade d'hiver for four male voices
Lamentabile Consort
6.07am
Ropartz, Joseph Guy (1864-1955): Serenade
CBC Vancouver Orchestra
Daniel Swift (conductor)
6.12am
Kodaly, Zoltan (1882-1967): Serenade for two violins and viola, Op 12
Bretislav Novotny (violin)
Karel Pribyl (violin)
Lubomir Maly (viola)
6.34am
Strauss, Richard (1864-1949): 4 Lieder
Jard van Nes (mezzo-soprano)
Gerard Van Blerk (piano)
6.45am
Mozart, Wolfgang Amadeus (1756-1791): Serenade in G, K525 (Eine Kleine Nachtmusik)
BBC National Orchestra of Wales
Grant Llewellyn (conductor).