Main content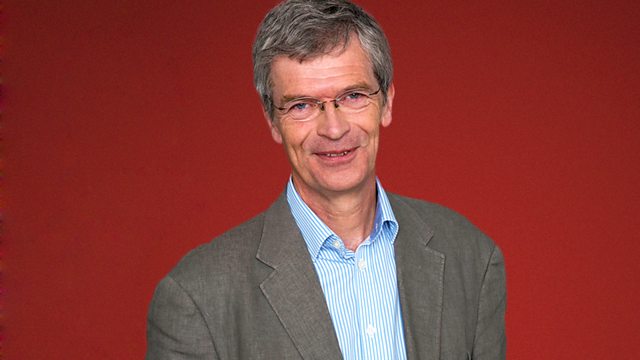 28/03/2009
Geoffrey Smith presents a selection of listeners' jazz requests. Email jazz.record.requests@bbc.co.uk.
Jazz Record Requests
Presented by Geoffrey Smith
Saturday 28 March 2009 8pm–9pm
JRR Signature Tune:
Oh, but on the Third Day (Happy Feet Blues) (Marsalis)
Performed by Wynton Marsalis (tpt), Marcus Roberts (pno), Todd Williams (tsx), Dr Michael White (clt), Danny Barker (bjo), Teddy Riley (tpt), Freddie Lonzo (tbn), Reginald Veal (bs), Herlin Riley (dms)
Recorded 28 October 1988
Taken from the album The Majesty of the Blues
1989 CD (CBS 465129 2)
Crude Blues Parts One and Two (Ian Carr, Karl Jenkins) (3:33)
Performed by Ian Carr (tp, flhn) Brian Smith (ts) Karl Jenkins (ob) Chris Spedding (g) Jeff Clyne (bg) John Marshall (d)
Recorded January 1970
Taken from the album Nucleus Direct Hits
LP (Vertigo 9286 019, S1 B2-3)
Royal Garden Blues (Clarence Williams) (3:25)
Performed by Sidney Bechet (cl) Johnny Windhurst (cnt) Ray Parker (p) George 'Pops' Foster (b) George Thompson (d)
Recorded May 31 1945
Taken from the album Jazz Nocturne Vol. 1
LP (NEC Plus Ultra 502007, S2 B3)
The Duke and the Brute (Webster, McShann) (2:49)
Performed by Jay McShann and his Orchestra: Orville Minor (tp) Clifford Jenkins (as, ts) Ben Webster, Fats Dennis (ts) Jay McShann (p) Gene Griddins (g) Lloyd Anderson (b) Cookie Jackson (d) Pee Wee Matthews (v)
Recorded 27 October 1951, Kansas City
Taken from the album Jumpin' The Blues
2003 CD (Proper PVCD 131(1) Disc 2 Track 24)
Feedin' the Bean (Count Basie) (3:11)
Performed by Count Basie and his Orchestra: Count Basie (p) Ed Lewis, Buck Clayton, Harry Edison, Al Killian (tp) Dickie Wells, Vic Dickenson, Dan Minor (tb) Earle Warren (as) Jack Washington (as, bs) Paul Bascomb , Buddy Tate (ts) Freddie Green (g) Walter Page (b) Jo Jones (d)
Recorded 10 April 1941, Chicago
Taken from the album The Essential Count Basie Volume 3
1988 CD (Columbia 4610982 Track 16)
Don't Take Your Love from Me (Henry Nemo) (5:24)
Performed by Artie Shaw and his Gramercy: Artie Shaw (cl) Joe Roland (vb) Hank Jones (p) Tal Farlow (g) Tommy Potter (b) Irv Kluger (d)
Recorded Late February / early March 1954, New York
Taken from the album Artie Shaw Self Portrait
2001 CD (Bluebird 09026-63808-2 Disc 5 Track 1)
All the Things You Are (J Kern, O Hammerstein II) (3:54)
Performed by Lee Konitz (as) Gerry Mulligan (bs) Chet Baker (tp) Carson Smith (b) Larry Bunker (d)
Recorded January 1953, Hollywood
Taken from the album Konitz Meets Mulligan
1988 CD (Pacific Jazz CDP 7468472 Track 5)
Trav'lin Light (j Mercer, J Mundy, T Young) (3:14)
Performed by Paul Whiteman and his Orchestra: Monty Kelly, Larry Neill, Don Waddilove (tp) Skip Layton, Murry McEachern (tb) Danny d'Andrea, King Guion, Lenny Hartman, Tommy Mace, Alvy West (s) Harry Azen, Sol Blumenthal, David Newman (strings) Buddy Weed (p) Mike Pingitore (g) Artie Shapiro (b) Willie Rodriguez (d) Jimmy Mundy (arr)
Recorded 12 June 1942
Taken from the album Billie Holiday – Ken Burn's Jazz
2000 CD (Verve 549 081 2 Track 12)
Eternal Child (Chick Corea) (4:13)
Performed by Chick Corea (p) Avishai Cohen (ab)
Recorded 25 January 2003 in Chick Corea's Living room, Florida
Taken from the album Lyla
2003 CD (Razdaz SSC4601 Track10)
Let the Music Take Your Mind (Kool & the Gang, G Redd) (8:22)
Performed by Claude Bartee (ts) Grant Green (g) William Bivens (vb) Ronnie Foster (organ) Idris Muhammad (d) Joseph Armstrong (conga)
Recorded 15 August 1970
Taken from the album Grant Green Alive
1993 CD (Blue Note CDP 7897932 Track 1)
Bernie's Tune (Bernie Miller, Jerry Lieber, Mike Stoller) (13:51)
Performed by Roy Eldridge, Dizzy Gillespie (tp) Flip Phillips, Illinois Jacquet (ts) Oscar Peterson (p) Herb Ellis (g) Ray Brown (b) Gene Krupa, Buddy Rich (d)
Recorded 1 November 1955, New York
Taken from the album Compact Jazz Gene Krupa & Buddy Rich
CD (Verve 8353142 Track 2)
Don't forget, you can have your say on today's programme, or any aspect of jazz, by visiting the Jazz Messageboard.
The BBC is not responsible for the content of external internet sites.