Main content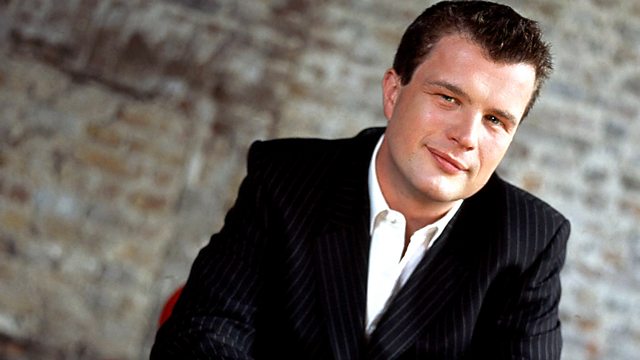 25/03/2009 Jonathan Mills, Sirinu and Musicall Compass
Presented by Petroc Trelawny. With news from Edinburgh International Festival 2009, performance from the court of Henry VIII and a fresh approach to Buxtehude with Musicall Compass.
Petroc Trelawny presents a selection of music and guests from the arts world.
Jonathan Mills, Edinburgh International Festival director, announces their 2009 season and early music group Sirinu perform music attributed to King Henry VIII to celebrate the anniversary of his ascension to the throne in 1509.
And Musicall Compass and their director Crispin Lewis are in the studio to preview their unique take on Buxtehude's cantata cycle Membra Jesu Nostri with contemporary dance group Lo Commotion.
17:02
HENRY VIII
Tandernaken
Sirinu
CHAN 0621
TR 22
2.05
17:05
HANDEL
Overture: Rinaldo
Academy of Ancient Music
Conductor Christopher Hogwood
Decca 467 087 2
CD 1 TR 1
5.35
17:17
STRAVINSKY
Petrushka (end of the fourth Tableau)
Cleveland Orchestra
Conductor Pierre Boulez
DG 435 769 2
TR 4
7.12
17:23
LIVE
HENRY VIII
Green growth the holy
Sirinu
3.11
17:34
LIVE
CORNYSH
And I Were A Maiden
Sirinu
1.35
Segue
LIVE
HENRY VIII
Helas madam
Sirinu
1.18
17:43
LIVE
HENRY VIII
Pastyme with good companye
Sirinu
3.25
17:47
ROSSINI
Overture: Semiramide
Budapest Festival Orchestra
Conductor Ivan Fischer
CCS SA 27708
TR 9
12.13
18:04
WOLF
Italian Serenade
Hagen Quartet
DG 427 669 2
TR 9
6.23
18:11
LISZT
Hungarian Rhapsody No.12
Augustin Anievas (piano)
EMI 2 35733 2
TR 8
9.33
18:19
LIVE
BUXTEHUDE
Cantata No 1 "Ad Pedes" (extracts)
The Musicall Compass
6.17
18:30
LIVE
BUXTEHUDE
Cantata No 3 "Ad Manus" (extracts)
The Musicall Compass
6.58
18:38
MENDELSSOHN
String Symphony No 10 in B minor
Concerto Koln
Teldec 2564 69857 3
TR 9
9.27
18:49
BILLY MAYERL
Marigold
Phillip Dyson (piano)
ASV CD WHL 2071
TR 1
3.32