Main content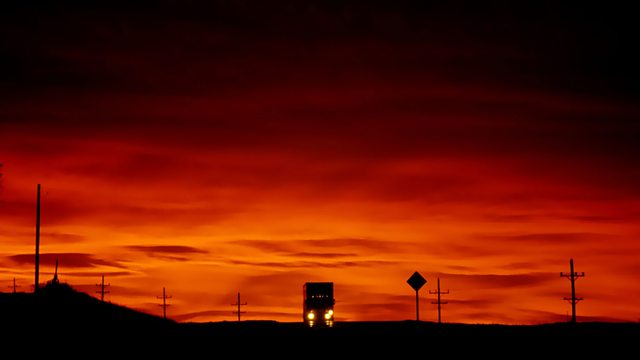 Susan Sharpe
Susan Sharpe with music, including Schumann, Tchaikovsky, Bach, Frescobaldi, Respighi, Schubert, Wassenaer, Brahms, Kapp, Jongen, Debussy, Delius, Forster, Dvorak, Mozart, Dohnanyi.
With Susan Sharpe.
1.00am
Schumann, Robert (1810-1856): Symphony No 2 in C minor, Op 61
Swedish Radio Symphony Orchestra
Daniel Harding (conductor)
1.39am
Tchaikovsky, Pyotr Il'yich (1840-1893): Piano Concerto No 1 in B flat minor, Op 23
Alexander Toradze (piano)
Swedish Radio Symphony Orchestra
Gianandrea Noseda (conductor)
2.15am
Bach, Johann Sebastian (1685-1750): Sonata No 3 in G minor for viola da gamba and keyboard, BWV 1029
Lars Anders Tomter (viola)
Leif Ove Andsnes (piano)
2.29am
Frescobaldi, Girolamo (1583-1643): Messa della Domenica: Toccata avanti la Messa; Kyrie, Christe, Kyrie; Canzon dopo l'Epistola; Toccata chromaticha per l'Elevazione
Peter van Dijk (organ)
2.41am
Respighi, Ottorino (1879-1936): Suite No 2 (Ancient Airs and Dances)
CBC Vancouver Orchestra
Mario Bernardi (conductor)
3.00am
Schubert, Franz (1797-1828): Quintet in A for piano and strings, D667 (Trout)
Nikolai Demidenko (piano)
Marianne Thorsen (violin)
Are Sandbakken (viola)
Leonid Gorokhov (cello)
Dan Styffe (double bass)
3.45am
Wassenaer, Unico Wilhelm van (1692-1766): Concerto No 2 in B flat (Sei Concerti Armonici)
Combattimento Consort Amsterdam
Jan Willem de Vriend (conductor)
3.56am
Hartmann, Johan Peter Emilius (1805-1900): Etudes instructives, Op 53
Nina Gade (piano)
4.06am
Brahms, Johannes (1833-1897): Tragic Overture, Op 81
Danish National Radio Symphony Orchestra
Thomas Dausgaard (conductor)
4.19am
Bach, Johann Sebastian (1685-1750): Gloria in excelsis deo, BWV191
Ann Monoyios (soprano)
Colin Ainsworth (tenor)
Tafelmusik Chamber Choir
Tafelmusik
Ivars Taurins (conductor)
4.34am
Brahms, Johannes (1833-1897): Rhapsody in G minor, Op 79 No 2
Robert Silverman (piano)
4.42am
Kalnins, Alfred (1879-1951): Ballad for cello and piano
Marcis Kuplais (cello)
Ventis Zilberts (piano)
4.49am
Kapp, Artur (1878-1952): Cantata: Paikesele (To the Sun)
Hendrik Krumm (tenor)
Aime Tampere (organ)
Estonian Radio Mixed Choir
Estonian Boys' Choir
Estonian State Symphony Orchestra
Neeme Jarvi (conductor)
5.00am
Mozart, Wolfgang Amadeus (1756-1791): Overture (Le nozze di Figaro, K492)
Polish Radio National Symphony Orchestra in Katowice
Miroslaw Blaszczyk (conductor)
5.05am
Jongen, Joseph (1873-1953): Allegro appassionato, Op 95 No 2 (Two pieces for piano trio)
Grumiaux Trio
5.13am
Debussy, Claude (1862-1918): L'isle joyeuse
Philippe Cassard (piano)
5.19am
Delius, Frederick (1862-1934): Concerto for violin and orchestra
Philippe Djokic (violin)
Symphony Nova Scotia
Georg Tintner (conductor)
5.48am
Brahms, Johannes (1833-1897): Schaffe in mir, Gott, ein rein Herz, Op 29 No 2
Wiener Kammerchor
Johannes Prinz (director)
5.54am
Bach, Johann Sebastian (1685-1750): Prelude and Fugue in C minor, BWV546
Leo van Doeselaar (organ)
6.08am
Forster, Kaspar (1616-1673): Ah, peccatores graves
Olga Pasiecznik, Marta Boberska (sopranos)
Kai Wessel (countertenor)
Krzysztof Szmyt, Jacek Wislocki (tenors)
Dirk Snellings (bass)
Il Tempo
6.16am
Dvorak, Antonin (1841-1904): Polonaise in E flat for orchestra
Slovak Radio Symphony Orchestra
Ludovit Rajter (conductor)
6.23am
Mozart, Wolfgang Amadeus (1756-1791): Nine Variations in C for piano on Dezede's Arietta Lison dormait, K264
Bart van Oort (fortepiano)
6.35am
Dohnanyi, Erno (1877-1960): Variations on a Nursery Song, Op 25
Arthur Ozolins (piano)
Toronto Symphony Orchestra
Mario Bernardi (conductor).