Main content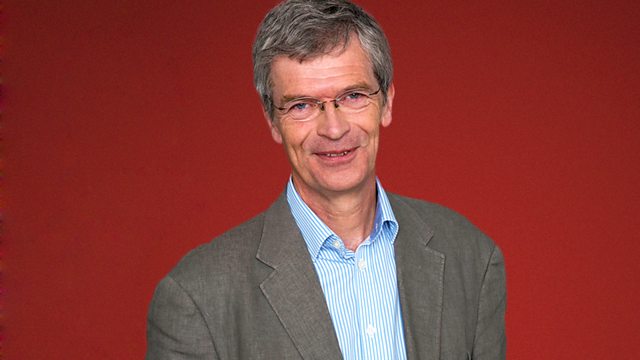 21/03/2009
Geoffrey Smith presents a selection of listeners' jazz requests. Email jazz.record.requests@bbc.co.uk.
Jazz Record Requests
Presented by Geoffrey Smith
Saturday 21 March 2009 8pm–9pm
JRR Signature Tune:
Oh, but on the Third Day (Happy Feet Blues) (Marsalis)
Performed by Wynton Marsalis (tpt), Marcus Roberts (pno), Todd Williams (tsx), Dr Michael White (clt), Danny Barker (bjo), Teddy Riley (tpt), Freddie Lonzo (tbn), Reginald Veal (bs), Herlin Riley (dms)
Recorded 28 October 1988
Taken from the album The Majesty of the Blues
1989 CD (CBS 465129 2)
Tar Paper Stomp (Manone) (3:07)
Performed by Wingy Manone (cor, v) Barbecue Joe and his Hot Dogs: George Walters (cl) Joe Dunn (ts) Maynard Spencer (p) Dash Burkis (d)
Recorded 28 August 1930, Richmond Ind.
Taken from the album Swingin' at the Hickory House
CD (ASV CDAJA5241(1) Track 6)
Cross Country (Bill Harris) (2:54)
Performed by Bill Harris and his Septet: Pete Candoli (tp) Bill Harris (tb) Flip Phillips (ts) Ralph Burns (p) Billy Bauer (g) Chubby Jackson (b) Alvin Burroughs (d)
Recorded 5 April 1945, Chicago
Taken from the album The Herdsmen
LP (Mercury SMWL 21038. S1/1)
Storyville Blues (Tom Turpin) (5:10)
Performed by Turk Murphy and his Band
Recorded October 1955, New Orleans
Taken from the album Turk Murphy: New Orleans Jazz Festival
LP (Philips BBL 7095. S1/1)
Take the A Train (Billy Strayhorn) (5:05)
Performed by Duke Ellington (conductor, piano) Norris Turney (as, ts, fl, cl) Johnny Hodges (as) Harold Ashby (ts, fl) Paul Gonsalves (ts) Harry Carney (bs, cl, bs cl) Cat Anderson, Cootie Williams, Rolf Ericson, Mercer Ellington (tp) Lawrence Brown, Chuck Connors (tb) Wild Bill Davis (organ) Victor Gaskin (b) Rufus "Speedy" Jones (d)
Recorded 25 & 26 November 1969, England
Taken from the album 70th Birthday Concert
LP (United Artists UAD 60001. S1/3)
Grooveyard (Carl Perkins) (7:00)
Performed by Harold Land (ts) Rolf Ericson (tp) Carl Perkins (p) Leroy Vinnegar (b) Frank Butler (d)
Recorded 14 January 1958
Taken from the album Harold in the Land of Jazz
LP (Vogue LAC 12178. S2/1)
So What (Miles Davis) (5:16)
Performed by Milt Jackson (vb) Jimmy Heath (ts) Cedar Walton (p) Jimmy Owens (tp) Granville 'Mickey' Roker (d) Otis Finch Jr. (d) Walter Booker (b)
Recorded 1966
Taken from the album Born Free
LP (Mercury LML 4028. S2/3)
I'm Not Supposed to be Blue Blues (Garner, Russell) (2:25)
Performed by Anita O'Day (v) Cal Tjader (vb) Lonnie Hewitt or Bob Corwin (p) Freddy Schreiber (b) Johnny Rae (d)
Recorded Los Angeles, February 26, 27 & 28, 1962
Taken from the album Time For 2
LP (Verve VLP 9026. S2/6)
Elbow Room (Lennie Niehaus) (6:40)
Performed by Lennie Niehaus sextet: Lennie Niehaus (as) Bill Perkins (ts, fl) Jimmy Giuffre (bs) Stu Williamson (tp, valve tb) Buddy Clark (b) Shelly Manne (d)
Recorded 1956, Los Angeles
Taken from the album Lennie Niehaus, Vol. 5: The Sextet
CD (Fantasy OJCCD19442(1) Track 10)
Where Do We Go From Here? (Kenny Wheeler) (4:40)
Performed by Chris Laurence Quartet: Chris Laurence (b) Frank Ricotti (v) John Parricelli (g) Martin France (d)
Recorded 4 December 2005, 12 February 2006, West Sussex
Taken from the album New View
2007 CD (Basho SRCD182(1) Track 4)
Tangerine (J Mercer, V Schertzinger) (10:17)
Performed by Dave Brubeck (p) Paul Desmond (as) Eugene Wright (b) Joe Morello (d)
Recorded 5 March 1958
Taken from the album The Essential Dave Brubeck
CD (Columbia 5105942(2) Disc 1 Track 10)
Don't forget, you can have your say on today's programme, or any aspect of jazz, by visiting the Jazz Messageboard.
The BBC is not responsible for the content of external internet sites.