Main content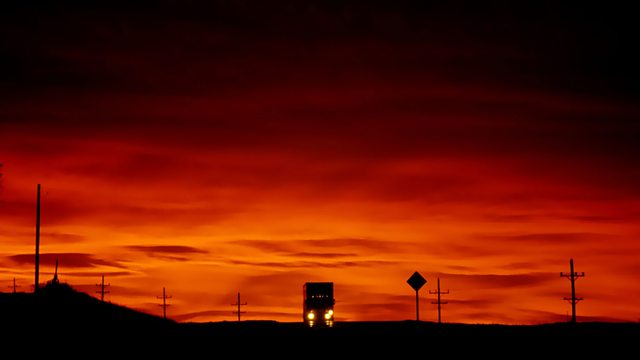 Jonathan Swain
Jonathan Swain presents music, including Marenzio, Schutz, Stradella, Boccherini, Schubert, Svendsen, Grieg, Brahms, Handel, Martinu, Berlioz, Britten, Goldmark, Bartok and Bach.
With Jonathan Swain.
1.00am
Marenzio, Luca (c.1553/4-1599): Giunto a la tomba (Il quarto libro de madrigali a cinque voci - Venice 1584)
The Consort of Musicke
1.12am
Rovetta, Giovanni (c.1595-7-1668): La bella Erminia (Madrigali concertati a 2.3.4 e uno a sei voci - Venice 1629)
The Consort of Musicke
1.20am
Schutz, Heinrich (1585-1672): Five madrigals (Il primo libro de madrigali, Venice 1611)
The Consort of Musicke
1.35am
Stradella, Alessandro (1639-1682): L'anime del Purgatorio (1680) - cantata for two voices, chorus and ensemble
Angelo ...... Emma Kirkby (soprano)
Lucifero ...... David Thomas (bass)
Un'anima ...... Evelyn Tubb (soprano)
Un'anima ...... Richard Wistreich (bass)
The Consort of Musicke
Anthony Rooley (director/lute)
2.16am
Boccherini, Luigi (1743-1805): Concerto No 6 in D for cello and orchestra, G479
Mstislav Rostropovich (cello)
Rotterdam Philharmonic Orchestra
James Conlon (conductor)
2.33am
Schubert, Franz (1797-1828): Six Moments Musicaux, D780
Alfred Brendel (piano)
3.00am
Svendsen, Johan (1840-1911): Octet in A for strings, Op 3
Atle Sponberg, Joakim Svenheden (violins)
Aida-Carmen Soanea (viola)
Adrian Brendel (cello)
Vertavo String Quartet
3.38am
Grieg, Edvard Hagerup (1843-1907): Peer Gynt Suite No 1, Op 46
Bergen Philharmonic Orchestra
Ole Kristian Ruud (conductor)
4.03am
Brahms, Johannes (1833-1897): Nanie, Op 82
Oslo Philharmonic Choir and Orchestra
Rafael Fruhbeck de Burgos (conductor)
4.15am
Schumann, Robert (1810-1856): Sonntags am Rhein, Op 36 No 1; Wehmut, Op 36 No 9; Im Walde, Op 36 No 11 (Liederkreis, Op 39)
Olle Persson (baritone)
Stefan Bojsten (piano)
4.22am
Chopin, Fryderyk (1810-1849): Valse in B minor, Op 69 No 2
Wanda Landowska (piano)
4.26am
Auber, Daniel-Francois-Esprit (1782-1871): Bolero - Ballet music No 2 (La muette de Portici)
Slovak Radio Symphony Orchestra
Ondrej Lenard (conductor)
4.33am
Handel, George Frideric (1685-1759): Il pastor fido - ballet music
English Baroque Soloists
John Eliot Gardiner (conductor)
4.44am
Martinu, Bohuslav (1890-1959): La revue de cuisine - suite from the ballet
Festival Ensemble of the Festival of the Sound
5.00am
Berlioz, Hector (1803-1869): Overture (Le carnaval romain, Op 9)
Finnish Radio Symphony Orchestra
Jukka-Pekka Saraste (conductor)
5.10am
Faure, Gabriel (1845-1924), with Messager, orch. Jon Washburn: Messe basse - for solo soprano, choir and orchestra
Henriette Schellenberg (soprano)
Vancouver Chamber Choir
CBC Vancouver Orchestra
Jon Washburn (conductor)
5.20am
Ravel, Maurice (1875-1937): Berceuse sur le nom de Gabriel Faure
James Ehnes (violin)
Wendy Chen (piano)
5.23am
Debussy, Claude (1862-1918): Images, Set 2
Roger Woodward (piano)
5.36am
Lalo, Edouard (1823-1892): Two Aubades for orchestra
CBC Vancouver Symphony Orchestra
Daniel Swift (conductor)
5.46am
Britten, Benjamin (1913-1976): Five Flower Songs for chorus, Op 47
Camerata Chamber Choir
Michael Bojesen (conductor)
5.57am
Mendelssohn, Felix (1809-1847): Spring Song (Fruhlingslied)
Hyun-Gon Kim (clarinet)
Chi-Ho Cho (piano)
5.59am
Goldmark, Karoly (1830-1915): Overture (In the Spring, Op 36)
Hungarian Radio Orchestra
Antal Jancsovics (conductor)
6.14am
Bartok, Bela (1881-1945), arr. Bartok for two pianos: Mikrokosmos (excerpts)
Claire Ouellet, Sandra Murray (pianos)
6.24am
Bach, Johann Sebastian (1685-1750), transcr. Bartok for piano: Sonata No 6 in G, BWV530
Jan Michiels (piano)
6.36am
Bach, Carl Philipp Emanuel (1714-1788): Concerto No 2 in B flat for flute and strings, Wq 167
Robert Aitken (flute)
CBC Vancouver Orchestra
Mario Bernardi (conductor).