Main content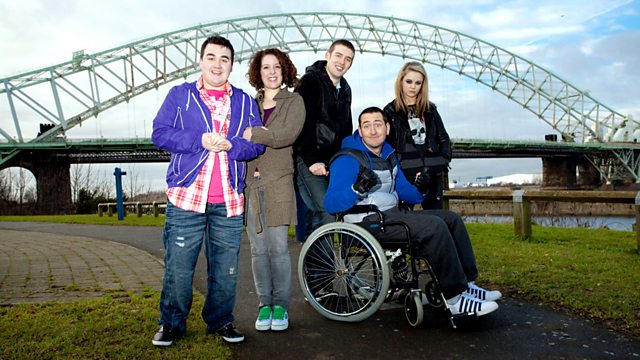 Comic Relief Special: When Janet Met Michelle
One-off special bringing together the casts of sitcoms Two Pints of Lager and a Packet of Crisps, Coming of Age and Grown Ups for Comic Relief.
One-off special bringing together three hit BBC3 comedies - Two Pints of Lager and a Packet of Crisps, Coming of Age and Grown Ups - in a Comic Relief extravaganza.
It's Janet and Gaz's first night as a couple after Donna has moved to London. Gaz wants a cosy night in but Janet insists on going to Timothy Claypole's Comic Relief Fun Night of Fun at the pub.
Louise is also at The Archer mocking Tim for the lack of turnout. He decides to prove to her just how many friends he has and phones round his pals from Manchester (Grown Ups: Michelle, Jenny, Grant, Chris and Alex) and Abingdon (Coming of Age: Jas, Ollie, DK, Matt and Chloe), as well as a call into Joe Pasquale, who rudely turns him down. Louise makes sure she completes the Two Pints team and brings Donna back from London.
Michelle is running late, gets lost and turns up on Gaz's doorstep to ask directions. He thinks she is Janet with a posh hair do until she ravishes him and he realises his mistake.
Once everyone has arrived at The Archer, the Comic Relief games commence and Michelle and Janet take an instant dislike to one another.
In a competition to raise money for the charity, Tim hosts three events, Flirt Off, Bitch Off and Drink Off, to be competed for by a representative from each team.
The Bitch Off sees Gaz, Chris and DK compete, only to end in a homoerotic hug as they bully each other to tears.
The Drink Off sees Matt beat both Donna and Grant to the post but faint in the aftermath, not able to handle his drink.
The Flirt Off is a clear cut win from Jasmine as she renders Gaz speechless, whilst Michelle and Janet's techniques fail to impress him.
Music Played
Timings (where shown) are from the start of the programme in hours and minutes
Credits
| Role | Contributor |
| --- | --- |
| Donna | Natalie Casey |
| Louise | Kathryn Drysdale |
| Tim | Luke Gell |
| Gaz | Will Mellor |
| Janet/Michelle | Sheridan Smith |
| Chris | Richard Mylan |
| Grant | Steve Meo |
| Alex | Warren Brown |
| Jenny | Leah MacRae |
| DK | Joe Tracini |
| Jas | Hannah Job |
| Matt | Tony Bignell |
| Chloe | Anabel Barnston |
| Himself | Joe Pasquale |
| Writer | Susan Nickson |
| Producer | Michelle Farr |
| Director | Nick Wood |