Main content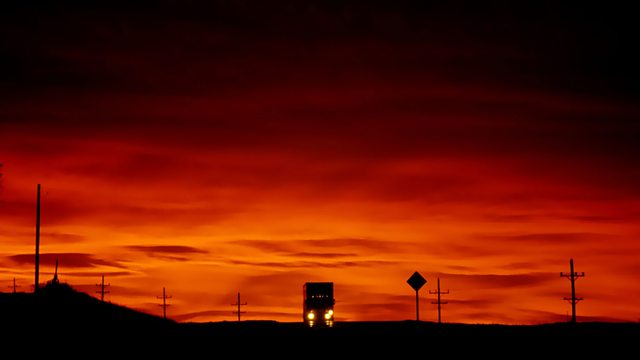 Jonathan Swain
Jonathan Swain presents music, including Beethoven, Debussy, Weill, Dopper, Vermeulen, Hammerschmidt, Schenck, Schubert, Bach, Straus, Schumann, Haydn, Debussy, Zagar and Grandjany.
With Jonathan Swain.
1.00am
Beethoven, Ludwig van (1770-1827): Seven Variations on Bei Mannern welche Liebe fuhlen, WoO 46
1.11am
Debussy, Claude (1862-1918): Sonata in D minor for cello and piano
1.23am
Weill, Kurt (1900-1950): Sonata for cello and piano
Christian Poltera (cello)
Cedric Tiberghien (piano)
1.49am
Dopper, Cornelis (1870-1939): Symphony No 7 (Zuiderzee)
Netherlands Radio Symphony Orchestra
Kees Bakels (conductor)
2.25am
Vermeulen, Matthijs (1888-1967): La veille - for mezzo-soprano and orchestra
Jard van Nes (mezzo-soprano)
Utrecht Symphony Orchestra
Otto Ketting (conductor)
2.37am
Hammerschmidt, Andreas (1611/12-1675): Suite in G minor/G major for winds (Ester Fleiss)
Hesperion XX
Jordi Savall (director)
2.51am
Hindemith, Paul (1895-1963): Trauermusik for viola and string orchestra
Rivka Golani (viola)
Toronto Symphony Orchestra
Andrew Davis (conductor)
3.00am
Schenck, Johann (1660-c.1712): Sonata in A minor, Op 9 No 2 (L'echo du Danube)
Berliner Conzert
3.23am
Schubert, Franz (1797-1828): Symphony No 6 in C, D589
Finnish Radio Symphony Orchestra
Jukka-Pekka Saraste (conductor)
3.55am
Chopin, Fryderyk (1810-1849): Nocturne in D flat, Op 27 No 2
Jane Coop (piano)
4.02am
Bach, Johann Sebastian (1685-1750): Brandenburg Concerto No 2 in F, BWV1047
Alexis Kossenko (recorder)
Erik Niord Larsen (oboe)
Ole Edvard Antonsen (trumpet)
Elise Batnes (violin)
Risor Festival Strings
Knut Johannessen (harpsichord)
4.13am
Sibelius, Jean (1865-1957): Spring Song, Op 16
Kaija Saarikettu (violin)
Raija Kerppo (piano)
4.22am
Crusell, Bernhard Henrik (1775-1838): Introduction et Air Suedois, Op 12 - for clarinet and orchestra
Anne-Marja Korimaa (clarinet)
Finnish Radio Symphony Orchestra
Osmo Vanska (conductor)
4.33am
Bartok, Bela (1881-1945): Four Old Hungarian Folksongs, Sz 50
Male Choir of the Hungarian Army
Bela Podor (conductor)
4.38am
Strauss, Richard (1864-1949): Aria: Was erblicke ich? (Daphne, Op 82)
Ben Heppner (tenor)
Toronto Symphony Orchestra
Andrew Davis (conductor)
4.47am
Dvorak, Antonin (1841-1904): Bacchanalia (Poetic Tone Pictures, Op 85)
Slovak Radio Symphony Orchestra Bratislava
Robert Stankovsky (conductor)
4.53am
Mozart, Wolfgang Amadeus (1756-1791), compl. Kocsis: Concert Rondo in E flat for horn and orchestra, K371
Laszlo Gal (horn)
Hungarian National Philharmonic Orchestra
Zoltan Kocsis (conductor)
5.00am
Schumann, Robert (1810-1856): Overture (Manfred, Op 115)
BBC Symphony Orchestra
Jiri Belohlavek (conductor)
5.15am
Brahms, Johannes (1833-1897): Intermezzo in A, Op 118 No 2
Jane Coop (piano)
5.21am
Handel, Georg Frideric (1685-1759): Aria: Al lampo dell'armi (Giulio Cesare in Egitto)
Cesare ...... Matthew White (countertenor)
Arte dei Suonatori
Eduardo Lopez (conductor)
5.26am
Sammartini, Giuseppe (1695-1750): Sinfonia in F
Europa Galante
Fabio Biondi (violin/director)
5.34am
Haydn, (Franz) Joseph (1732-1809): String Quartet No 31 in B minor, H III 37
Ysaye Quartet
5.52am
Stravinsky, Igor (1882-1971): Feu d'artifice, Op 4
Rotterdam Philharmonic Orchestra
Valery Gergiev (conductor)
5.56am
Debussy, Claude (1862-1918): Jeux - poeme danse
Oslo Philharmonic Orchestra
Jukka-Pekka Saraste (conductor)
6.14am
Mozart, Wolfgang Amadeus (1756-1791): Rondo in D, K184
Carina Jandl (flute)
Svetlana Sokolova (piano)
6.20am
Zagar, Peter (b.1961): Blumenthal Dance No 2 for violin, viola, cello, clarinet and piano
Opera Aperta
6.28am
Grandjany, Marcel (1891-1975): Rhapsodie pour la harpe, Op 10
Rita Costanzi (harp)
6.38am
Bach, Johann Sebastian (1685-1750): Cantata No 170 (Vergnugte Ruh, beliebte Seelenlust - Contented rest, beloved inner joy)
Anne Sofie von Otter (mezzo-soprano)
Les Musiciens du Louvre
Marc Minkowski (conductor).