Main content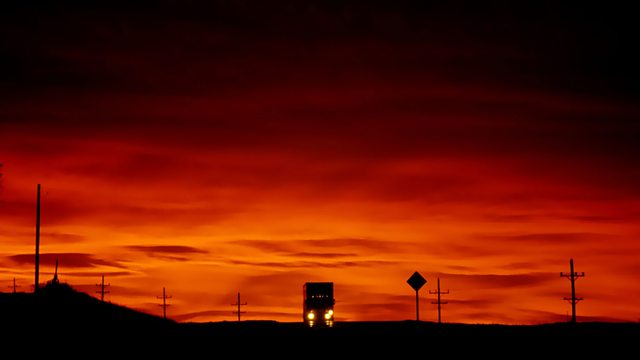 Jonathan Swain
Jonathan Swain presents music, including Caldara, Vivaldi, Weiss, Handel, Holmboe, Nielsen, Part, Poulenc, Rautavaara, Raitio, Scarlatti, Schuncke, Piazzolla, Schoeck and Mozart.
With Jonathan Swain.
1.00am
Caldara, Antonio (c.1671-1736): Sinfonia (La Passione di Gesu Cristo Signor Nostro)
Marini, Biagio (1594-1663): Passacaglia in G minor
Monteverdi, Claudio (1567-1643): Iam moriar, mi fili
Vivaldi, Antonio (1678-1741): Concerto in D minor for string orchestra, RV129 (Concerto madrigalesco)
1.23am
Vivaldi: Sinfonia in E flat, RV130 (Sonata al Santo Sepolcro); Sinfonia in B minor RV169 (al Santo Sepolcro)
Conti, Francesco Bartolomeo (1681/2-1732): Aria: Sento gia mancar la vita (Il Martirio di San Lorenzo - oratorio)
Pisendel, Johann Georg (1687-1755): Sonata in C minor for strings and continuo
1.38am
Weiss, Silvius Leopold (1686-1750): Prelude for lute
Ferrandini, Giovanni Battista (c.1710-1791) attrib. Handel: Giunta l'ora fatal (Il pianto di Maria) - sacred cantata
Bernarda Fink (mezzo-soprano)
Luca Pianca (lute)
Il Giardino Armonico
2.14am
Handel, Georg Frideric (1685-1759): Aria: Cara sposa, amante cara (Rinaldo)
Rinaldo ...... Graham Pushee (countertenor)
Australian Brandenburg Orchestra
Paul Dyer (artistic director)
2.24am
Strauss, Richard (1864-1949): Suite (Le bourgeois gentilhomme, Op 60)
Norwegian Radio Orchestra
Peter Szilvay (conductor)
3.00am
Holmboe, Vagn (1909-1996): A Song at Sunset, Op 138b
Camerata Chamber Choir
Michael Bojesen (conductor)
3.09am
Nielsen, Carl (1865-1931): String Quartet No 1 in G minor, Op 13
Paizo Quartet
3.39am
Part, Arvo (b.1935): Spiegel im Spiegel
Morten Carlsen (viola)
Sergej Osadchuk (piano)
3.46am
Part: Magnificat for chorus
Jauna Muzika
Vaclovas Augustinas (conductor)
3.53am
Poulenc, Francis (1899-1963): Un soir de neige
BBC Singers
Yan Pascal Tortelier (conductor)
4.00am
Debussy, Claude (1862-1918): Des pas sur la neige
Danae O'Callaghan (piano)
4.06am
Rautavaara, Einojuhani (b.1928): Cantus Arcticus, Op 61
4.24am
Raitio, Vaino (1891-1945): Maidens on the Headlands - symphonic poem
Finnish Radio Symphony Orchestra
Jukka-Pekka Saraste (conductor)
4.32 Melartin, Erkki (1875-1937): I am walking in a forest
Sauli Tiilikainen (baritone)
Markus Lehtinen (piano)
4.34am
Grainger, Percy (1882-1961): To a Nordic Princess
Leslie Howard (piano)
4.41am
Lamb, Joseph Francis (1887-1960): The Alaskan Rag
Donna Coleman (piano)
4.47am
Benjamin, Arthur (1893-1960): North American Square Dance
Symphony Nova Scotia
Georg Tintner (conductor)
5.00am
Scarlatti, Domenico (1685-1757): Sonata in G, Kk104
Virginia Black (harpsichord)
5.07am
Paradis, Maria Theresia von (1759-1824): Sicilienne in E flat
Pinchas Zukerman (violin)
Marc Neikrug (piano)
5.10am
Schumann, Robert (1810-1856): Overture (Die Braut von Messina, Op 100)
Radio Bratislava Symphony Orchestra
Ondrej Lenard (conductor)
5.19am
Schuncke, Ludwig (1810-1834): Grande Sonata for piano in G minor, Op 3
Sylviane Deferne (piano)
5.41am
Mendelssohn, Felix (1809-1847): Fantasia on an Irish Song 'The last rose of summer' for piano, Op 15
Sylviane Deferne (piano)
5.51am
Ward, John (c.1589-1638): Upon a Bank with Roses
Emma Kirkby (soprano)
Rose Consort of Viols
5.53am
Guastavino, Carlos (1912-2000): La rosa y el sauce (The Rose and the Willow)
Isabel Bayrakdarian (soprano)
James Parker (piano)
Bryan Epperson, Maurizio Baccante, Roman Borys, Simon Fryer, David Hetherington, Roberta Jansen, Paul Widner, Thomas Wiebe, Winona Zelenka (cellos)
5.57am
Piazzolla, Astor (1921-1992): Las cuatro estaciones portenas
Musica Camerata Montreal
6.20am
Rautavaara, Einojuhani (b.1928): Sommarnatten
Finnish Radio Chamber Choir
Eric-Olof Soderstrom (conductor)
6.23am
Schoeck, Othmar (1886-1957): Sommernacht, Op 58
Camerata Bern
6.35am
Chan Ka Nin (b.1949): Four Seasons Suite
Ottawa Winds
Michael Goodwin (conductor)
6.47am
Mozart, Wolfgang Amadeus (1756-1791): Quartet in A for flute and strings, K298
Joanna G'froerer (flute)
Martin Beaver (violin)
Pinchas Zukerman (viola)
Amanda Forsyth (cello).