Main content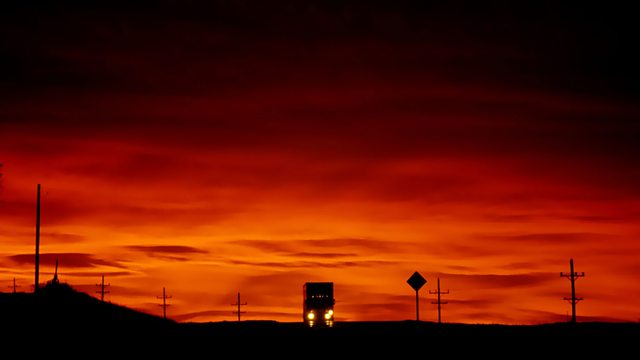 Jonathan Swain
Jonathan Swain presents music, including Beethoven, Shostakovich, Grieg, Dvorak, Janacek, Dussek, Bach, Boccherini, Hartmann, Riisager, Frumerie, Handel, Doppler and Weber.
With Jonathan Swain.
1.00am
Beethoven, Ludwig van (1770-1827): String Quartet in F minor, Op 95
1.22am
Shostakovich, Dmitry (1906-1975): String Quartet No 1 in F, Op 73
Aviv Quartet:
Sergey Ostrovsky, Evgenia Epshtein (violins)
Shuli Waterman (viola)
Rachel Mercer (cello)
1.57am
Beethoven, Ludwig van (1770-1827): Country Dance No 1 (Allegro molto moderato) for wind quintet
Yur-Eum Woodwind Quintet
2.00am
Beethoven: Symphony No 2, Op 36
Oslo Philharmonic Orchestra
Manfred Honeck (conductor)
2.33am
Grieg, Edvard (1843-1907): Concerto in A minor for piano and orchestra, Op 16
Boris Berezovsky (piano)
Bergen Philharmonic Orchestra
Andrew Litton (conductor)
3.00am
Dvorak, Antonin (1841-1904): Slavonic Dance No 8 in G minor, Op 46
Norwegian Radio Orchestra
Ari Rasilainen (conductor)
3.05am
Dvorak: Symphony No 5 in F, Op 76
Rotterdam Philharmonic Orchestra
James Conlon (conductor)
3.45am
Janacek, Leos (1854-1928): The Fiddler's child - ballad for orchestra
BBC Symphony Orchestra
Jiri Belohlavek (conductor)
3.58am
Morawetz, Oskar (1917-2007): Overture on a Fairy Tale
Edmonton Symphony Orchestra
Uri Mayer (conductor)
4.10am
Dussek, Jan Ladislav (1760-1812): Piano Sonata in B flat, Op 35, No 1
Andreas Staier (fortepiano)
4.30am
Bach, Johann Sebastian (1685-1750): Fantasia (and unfinished fugue) in C minor for keyboard, BWV 906
Andreas Staier (harpsichord)
4.38am
Bach: Prelude and fugue in A minor for organ, BWV 561
Norbert Bartelsman (organ)
4.47am
Gorczycki, Grzegorz Gerwazy (c.1665-1734): Laetatus sum for four voices, two violins, two trumpets and organ; Ecce nunc benedicite
Olga Pasiecznik (soprano)
Henning Voss, Piotr Lykowski (countertenor)
Wojciech Parchem (tenor)
Miroslaw Borzynski (bass)
Sine Nomine Chamber Choir
Concerto Polacco
Marek Toporowski (chamber organ/director)
4.55am
Bacewicz, Grazyna (1909-1969): Folk sketches for small orchestral ensemble
Polish Radio Symphony Orchestra
Jan Krenz (conductor)
5.00am
Boccherini, Luigi (1743-1805): Minuet (Quintet, G275) - for strings
Varazdin Chamber Orchestra
David Geringas (conductor)
5.05am
Hartmann, Johan Peter Emilius (1805-1900): 6 Characteerstykker med indledende Smaavers af HC Andersen, Op 50
Nina Gade (piano)
5.18am
Riisager, Knudage (1897-1974): Little Overture
CBC Vancouver Orchestra
Mario Bernardi (conductor)
5.24am
Frumerie, Gunnar de (1908-1987): Pastoral Suite for flute, harp and strings, Op 13b
Kathleen Rudolph (flute)
CBC Vancouver Orchestra
Mario Bernardi (conductor)
5.37am
Frumerie, Gunnar de (1908-1987): Klagosangen (The Lament)
Christina Billing, Carina Morling, Aslog Rosen (soprano soloists)
Swedish Radio Choir
Eric Ericson (conductor)
5.41am
Handel, Georg Frideric (1685-1759): Two arias (Ariodante)
Anne Sofie von Otter (mezzo-soprano)
Les Musiciens du Louvre
Marc Minkowski (conductor)
6.01am
Handel, Georg Frideric (1685-1759): Sonata in B flat for two violins and basso continuo, HWV 388
Musica Alta Ripa
6.12am
Doppler, Franz (1821-1883): L'oiseau des bois - idyll for flute and four horns, Op 21
Janos Balint (flute)
Jeno Kevehazi, Peter Fuzes, Sandor Endrodi, Tibor Maruzsa (horns)
6.18am
Schickhardt, Johann Christian (c.1681-c.1762): Concerto in G minor
Musica Ad Rhenum
6.35am
Weber, Carl Maria von (1786-1826): Quintet in B flat for clarinet and strings, Op 34
Lena Jonhall (clarinet) with the Zetterqvist String Quartet.