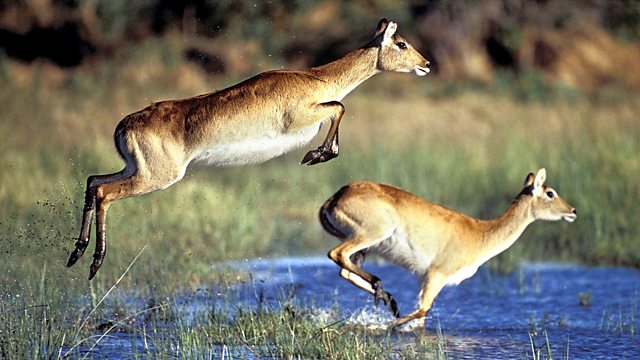 The great flood in the Okavango turns 4,000 square miles of arid plains into a beautiful wetland. Elephant mothers guide their families on an epic trek across the harsh Kalahari Desert towards it, siphoning fresh water from stagnant pools and facing hungry lions. Hippos battle for territory, as the magical water draws in thousands of buffalo and birds, and vast clouds of dragonflies. Will the young elephant calves survive to reach this grassland paradise?
The experienced mother elephants time their arrival at the delta to coincide with the lush grass produced by the great flood. In a TV first, the programme shows the way they use their trunks to siphon clean water from the surface layers of a stagnant pool, while avoiding stirring up the muddy sediment on the bottom with their feet.
Bull hippos also converge on prime territories formed by the rising floodwater. Two big bulls do bloody battle, at times being lifted out of the water by their rival.
Lechwe swamp deer, zebras, giraffes, crocodiles and numerous fish and thousands of birds arrive in the delta. And, in a phenomenon never before filmed in the Okavango, thousands of dragonflies appear - seemingly from nowhere - within minutes of the flood arrival, mating and laying eggs.
As the flood finally reaches its peak, elephants and buffalo, near the end of their epic trek across the desert, face the final gauntlet of a hungry pride of lions.
In a heartrending sequence, a baby elephant is brought down by a lion in broad daylight.
The diary section - Mission Impassible - shows how the versatility and persistence of cameraman Mike Holding results is some amazing sequences of the flood advancing.
Last on
Credits
| Role | Contributor |
| --- | --- |
| Narrator | David Attenborough |
| Producer | Peter Bassett |
| Series Producer | Karen Bass |
| Producer | Justin Anderson |