Main content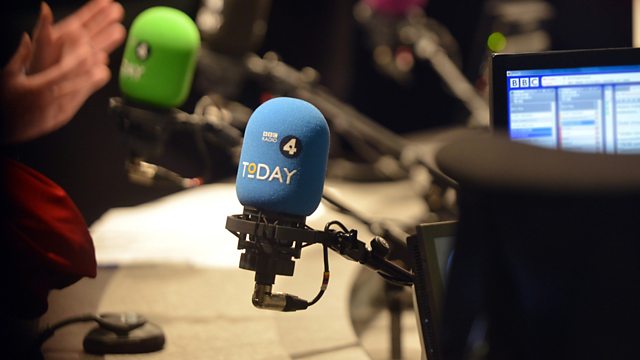 16/03/2009
With James Naughtie and Evan Davis. Including Sports Desk; Weather; Thought for the Day.
Presented by Evan Davis and James Naughtie.
Pakistan's opposition leader Nawaz Sharif called off a planned protest march on the capital, Islamabad. Veteran Pakistani journalist and author Ahmed Rashid explains what he thinks are the implications for Pakistan.
Hugh Sykes reports on a survey which apparently shows how Iraqis are optimistic about the future of the country.
Professor Marek Ziebart, from University College London, explains the European Space Agency's mission to measure the Earth's gravity.
Sanchia Berg catches up with Alan South, who lost his job in the City of London last March.
Dr Petra Meier and Tim Howe of The Wine and Spirit Trade Association discuss minimum prices for alcohol.
Environment analyst Roger Harrabin reports from a sewage plant in Germany and explains how biochar works.
Pakistan's High Commissioner to UK Wajid Shamsul Hasan and correspondent Barbara Plett analyse the situation in Pakistan.
Arthur Scargill recently targeted Lord Kinnock, saying that he 'betrayed' the striking miners. Lord Kinnock gives his response to the former NUM leader's accusations.
Two British soldiers have been killed in an explosion in Afghanistan, the Ministry of Defence has said. Ian Pannell reports.
Former bank employee Tetsuya Ishikawa and author William Cohen discuss the takeover of investment bank Bear Stearns.
Hugh Schofield checked out the play Satin Slipper, written by the dramatist and diplomat Paul Claudel in 1929, which is a staggering 11 hours long.
Writer John Franklin discusses whether cyclists who don't wear helmets could be blamed for injuries resulting from an accident.
The Metro newspaper celebrates its 10th anniversary as what is now the world's largest circulated free daily. Steve Auckland, head of Associated Newspapers' free division, and former editor of the Daily Mirror Roy Greenslade discuss the impact these free dailies has had on the wider newspaper industry.