Main content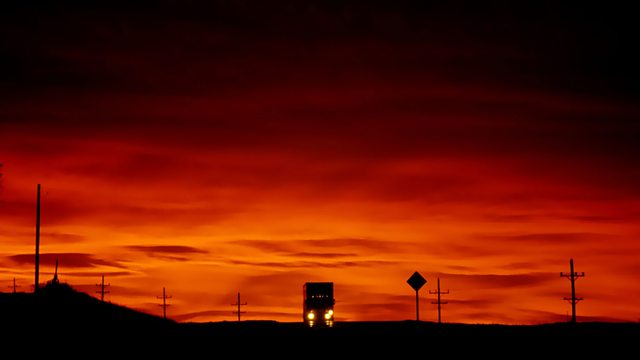 13/03/2009
Jonathan Swain presents music, including Bach, Brahms, Tchaikovsky, Ravel, Debussy, Dvorak, Janacek, Vivaldi, Borodin, Elgar, Rossini, Grieg, Nielsen, Mozart, Norman and Alfven.
With Jonathan Swain.
1.00am
Bach, Johann Sebastian (1685-1750): Suite No 2 in G for cello solo, BWV1007 (arr. for viola)
Maxim Rysanov (viola)
1.19am
Clarke, Rebecca (1886-1979): Four songs
Elizabeth Watts (soprano)
Paul Turner (piano)
1.27am
Brahms, Johannes (1833-1897): Trio in A minor for viola, cello and piano, Op 114
Maxim Rysanov (viola)
Kristina Blaumane (cello)
Ekaterina Apekisheva (piano)
1.54am
Tchaikovsky, Pyotr Il'yich (1840-1893): Symphony No 1 in G minor, Op 13 (Winter Daydreams)
Slovak Symphony Orchestra
Pavel Semetov (conductor)
2.38am
Ravel, Maurice (1875-1937): Sheherazade
Catherine Robbin (mezzo-soprano)
Nora Shulman (flute)
Andre Laplante (piano)
2.55am
Debussy, Claude (1862-1918): La plus que lente
Roger Woodward (piano)
3.00am
Dvorak, Antonin (1841-1904): Concerto in B minor for cello and orchestra, Op 104
Karmen Pecar (cello)
Slovenian Radio and Television Symphony Orchestra
David de Villiers (conductor)
3.40am
Janacek, Leos (1854-1928): Violin Sonata
John Harding (violin)
Daniel Blumenthal (piano)
3.58am
Bach, Johann Sebastian (1685-1750): Sarabanda (Partita No 1 in B minor for violin solo, BWV1002)
Hopkinson Smith (baroque lute)
4.02am
Vivaldi, Antonio (1678-1741): Nulla in mundo pax sincera for soprano and orchestra, RV630
Emma Kirkby (soprano)
Academy of Ancient Music
Andrew Manze (director)
4.09am
Borodin, Alexander (1833-1887): Notturno/Andante (String Quartet No 2 in D)
Slovak Radio Symphony Orchestra
Oliver Dohnanyi (conductor)
4.18am
Hummel, Johann Nepomuk (1778-1837): Rondo in B minor, Op 109
Stefan Lindgren (piano)
4.27am
Sialm, Duri (1891-1961): La Ventira (Happiness)
Chor da Concert Grischun
Alvin Muoth (director)
4.33am
Elgar, Edward (1857-1934): Serenade for strings, Op 20
Royal Academy Soloists
Clio Gould (director)
4.45am
Neruda, Jan Krtitel (1708-1780): Trumpet Concerto in E flat (1st mvt)
Giuliano Sommerhalder (trumpet)
European Union Chamber Orchestra
4.51am
Rossini, Gioachino (1792-1868): Overture (The Italian Girl in Algiers)
BBC National Orchestra of Wales
Richard Hickox (conductor)
5.00am
Grieg, Edvard (1843-1907): Four Norwegian Dances for piano duet, Op 35 (No 1) (arr. for orchestra)
Oslo Philharmonic Orchestra
Ole Kristian Ruud (conductor)
5.06am
Nielsen, Carl (1865-1931): Serenata in vano for clarinet, horn, bassoon, cello and double bass, FS68
Kari Krikku (clarinet)
Jonathan Williams (horn)
Per Hannisdahl (bassoon)
Oystein Sonstad (cello)
Katrine Oigaard (double bass)
5.14am
Mozart, Wolfgang Amadeus (1756-1791): Symphony No 35 in D, K385 (Haffner)
Bergen Philharmonic Orchestra
Bjarte Engeset (conductor)
5.34am
Saint-Saens, Camille (1835-1921): Allegro appassionato in C sharp minor, Op 70
Stefan Lindgren (piano)
5.41am
Johanson, Sven-Eric (1919-1997): Four songs about the seasons
Christina Billing, Carina Morling, Aslog Rosen (sopranos)
Swedish Radio Choir
Eric Ericson (conductor)
5.48am
Sehested, Hilda (1858-1936): Three Fantasy Pieces
Nina Reintoft (cello)
Malene Thastum (piano)
5.59am
Horneman, Christian Frederik Emil (1840-1906): Overture (A Hero's Life)
Danish National Radio Symphony Orchestra
Michael Schonwandt (conductor)
6.13am
Norman, Ludvig (1831-1885): String Quartet in C, Op 42
Bernt Lysell (violin)
Per Sandklef (violin)
Thomas Sundkvist (viola)
Mats Rondin (cello)
6.44am
Alfven, Hugo (1872-1960): Suite for Orchestra (King Gustav II Adolf, Op 49)
Swedish Radio Symphony Orchestra
Niklas Willen (conductor).