Main content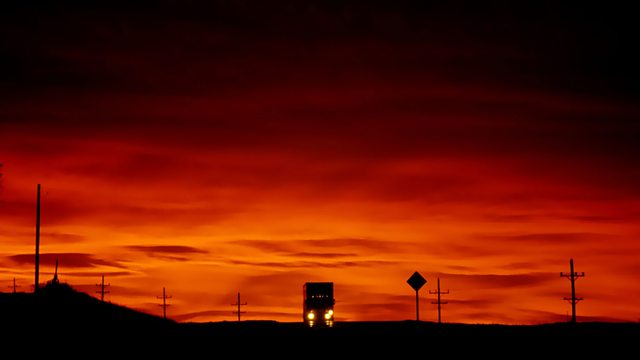 Jonathan Swain
Jonathan Swain presents music, including Wagner, Faure, Mahler, Brahms, Handel, Palmgren, Klami, Zelensi, Csiky, Mozart, Schumann, Abel, JM Bach, Pachelbel, Durufle and Respighi.
With Jonathan Swain.
1.00am
Wagner, Richard (1813-1883): Wesendonck-Lieder for voice and orchestra
Jane Eaglen (soprano)
Bergen Philharmonic Orchestra
Juanjo Mena (conductor)
1.23am
Faure, Gabriel (1845-1924): La bonne chanson, Op 61
Barbara Hendricks (soprano)
Staffan Scheja (piano)
Vertavo String Quartet
1.47am
Mahler, Gustav (1860-1911): Symphony No 5 in C sharp minor
Bergen Philharmonic Orchestra
Juanjo Mena (conductor)
3.00am
Brahms, Johannes (1833-1897): String Quartet No 1 in C minor, Op 51
Karol Szymanowski Quartet
3.33am
Brahms, Johannes (1833-1897): 25 Variations and Fugue on a Theme by GF Handel, Op 24 (arr. Edmund Rubbra)
Norwegian Radio Orchestra
Johannes Fritzsch (conductor)
4.01am
Handel, Georg Frideric (1685-1759): Sonata in A minor for recorder/oboe and continuo, HWV362
Louise Pellerin (oboe)
Dom Andre Laberge (organ)
4.08am
Pylkkanen, Tauno (1918-1980): Suite for oboe and strings, Op 32
Aale Lindgren (oboe)
Finnish Radio Orchestra
Petri Sakari (conductor)
4.17am
Palmgren, Selim (1878-1951): Exotic March
Finnish Radio Symphony Orchestra
George de Godzinsky (conductor)
4.23am
Klami, Uuno (1900-1961): Helsinki March
Finnish Radio Symphony Orchestra
George de Godzinsky (conductor)
4.29am
Stenhammar, Wilhelm (1871-1927): Four Stockholm poems - for voice and piano, Op 38
Karl-Magnus Fredriksson (baritone)
Stefan Nilsson (piano)
4.40am
Eklund, Hans (1927-1999): Three Poems about the Sea
Swedish Radio Choir
Gustaf Sjokvist (conductor)
4.46am
Zelenski, Wladyslaw (1837-1921): Overture (In the Tatras, Op 27)
Sinfonia Varsovia
Grzegorz Nowak (conductor)
5.00am
Vaszy, Viktor (1903-1979): Comedy Overture
Hungarian Radio Orchestra
Viktor Vaszy (conductor)
5.07am
Bakfark, Valentin (c.1526/30-1576): Fantasia and Je prens en gre for lute
Jacob Heringman (lute)
5.13am
Goldmark, Karoly (1830-1915): Night on the Lake with Moonlight, Op 52 No 5
Ilona Prunyi (piano)
5.17am
Csiky, Boldizsar (b.1937): Divertimento for wind ensemble
Budapest Wind Ensemble
Kalman Berkes (leader)
5.30am
Mozart, Wolfgang Amadeus (1756-1791): Divertimento in D, K136
National Arts Centre Orchestra
Pinchas Zuckerman (conductor)
5.45am
Schumann, Robert (1810-1856): Marchenbilder for viola and piano, Op 113
Pinchas Zukerman (viola)
Marc Neikrug (piano)
6.01am
Abel, Carl Friedrich (1723-1787): Sonata in A for cello and continuo
La Stagione Frankfurt:
Rainer Zipperling (cello)
Harald Hoeren (harpsichord)
6.09am
Bach, Johann Michael (1648-1694): Liebster Jesu, hor mein Flehen
Maria Zedelius (soprano)
David Cordier (alto)
Paul Elliott, Hein Meens (tenors)
Michael Schopper (bass)
Musica Antiqua Koln
Reinhard Goebel (director)
6.17am
Pachelbel, Johann (1653-1706): Jauchzet Gott, alle Lande - motet
Cantus Colln
Konrad Junghanel (director)
6.24am
Durufle , Maurice (1902-1986); Quatre motets sur des themes Gregoriens for a capella choir, Op 10
BBC Singers
Stephen Cleobury (conductor)
6.32am
Anon: Gregorian Chant - Lux vera lucis
Schola Gregoriana Pragensis
David Eben (conductor)
6.34am
Respighi, Ottorino (1879-1936): Vetrate di chiesa (Church windows) - symphonic impressions
Orchestra of London Canada
Uri Mayer (conductor).