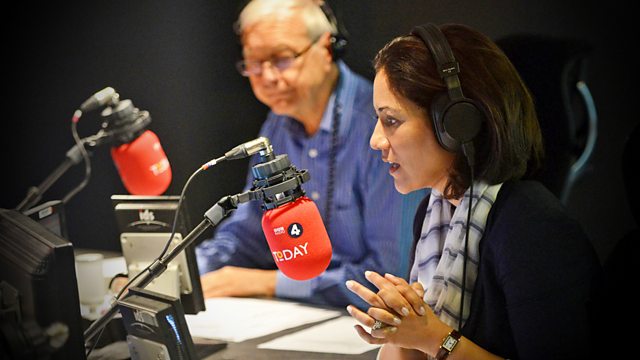 12/03/2009
Presented by James Naughtie and Sarah Montague.
John Dunford, General Secretary of the Association of School and College Leaders, says councils are struggling with the huge responsibilities of social work.
Science correspondent Tom Feilden visits the Science Museum and reports on an exhibition demonstrating how technology from Formula One racing influences more pedestrian pursuits.
Edward Leigh, Chairman of the Public Accounts Committee, discusses how plans for a multi-million pound central database on offenders failed because of poor management and a lack of budget control.
Thomas Kielinger, of German newspaper Die Welt, discusses the reaction to a shooting spree by a 17 year old student on pupils and teachers at his former school.
Economics editor Stephanie Flanders speaks to some of the officials involved in the G20 summit to examine what sort of preparations are needed for such a meeting.
Dr David Walker and Professor Roger Corder discuss if chocolate should be taxed.
China has sealed off Tibet to foreigners but correspondent James Reynolds, who has managed to get onto the Tibetan plateau without being arrested, reports on the situation in the region.
Thought for the day with Professor Mona Siddiqui, of the University of Glasgow.
Babar Sattar, a lawyer based in Islamabad, discusses why lawyers and politicians are protesting in Pakistan.
Reporter Sanchia Berg, Deputy Children's Commissioner for England Sue Berelowitz and Dr Eileen Munro discuss if reforms to child protection have been properly implemented.
Columnists Liz Jones and Minette Marrin discuss the merits of personal newspaper columns.
Scottish Justice Secretary Kenny MacAskill and lawyer Tony Kelly discuss payouts for human rights offences.
Samuel Beckett's play Waiting for Godot is being taken on tour by four of the UK's greatest actors. Jim Naughtie visits acting stars Sir Ian McKellen, Patrick Stewart, Simon Callow and Ronald Pickup and discuss how this partnership had come about.
Sir Christopher Meyer, former British Ambassador to Washington, and columnist Anatole Kaletsky, discuss if the G20 meeting will meet expectations.
Last on