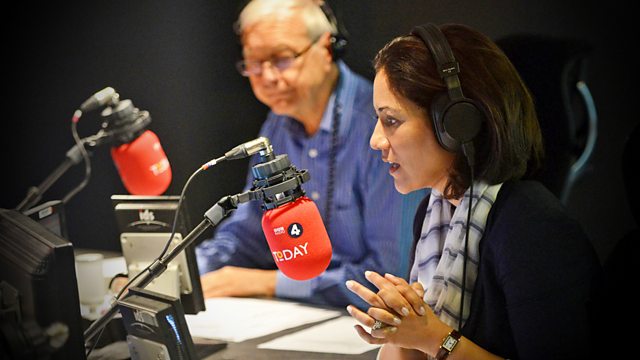 10/03/2009
Presented by John Humphrys and Evan Davis.
Correspondent Mark Devenport gauges the political reaction to the shooting dead of a policeman in Northern Ireland.
Chancellor Alistair Darling discusses if rich countries have a 'moral imperative' to help new EU countries facing funding gaps.
Chris Morris reports on the 50th anniversary of a failed uprising by Tibet against Chinese rule.
DUP MP David Simpson discusses who could be responsible for the murder of the policeman in County Armagh.
How stable is the current situation in Afghanistan? Gordon Corera reports on how narcotics, the insurgency and the government are interlinked.
Thought for the Day with the Right Rev Tom Butler, Bishop of Southwark.
Schools minister Jim Knight and Christine Blower of the NUT discuss plans to offer fast-track teacher training.
Northern Ireland secretary Shaun Woodward, John O'Dowd of Sinn Fein and Conservative MP Patrick Mercer discuss if the murder of a policeman in Northern Ireland could damage the peace process.
Psychology lecturer Dr Joan Harvey and marketing director Matt Close discuss how the recession affects consumer habits.
Allan Gibson of the ACPO drugs committee discusses a big increase in the number of 'cannabis factories' discovered by police over the past five years.
Robin Evans of the British Waterways Association and environmentalist Paul Kingsnorth discuss the Industrial Revolution and the role played by the canal system.
A chimpanzee who gathers rocks to use against zoo visitors could teach us about the way primates think, according to researcher Mathias Osvath.
Academic Dr Peter Shirlow says that anti-Sinn Fein rhetoric is key to dissident groups.
Josette Sheeran of the UN World Food Programme and economics professor Paul Collier discuss the global food crisis.
Last on
So you think you know the Today programme?