Main content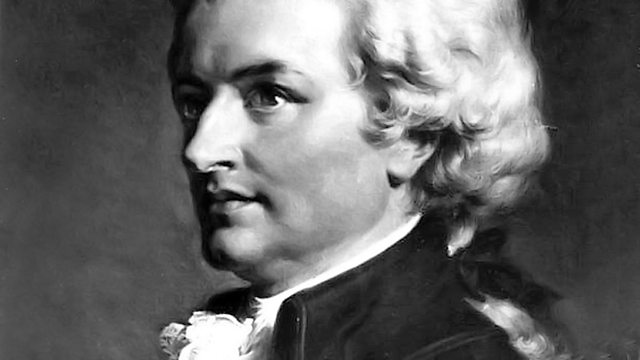 Donald Macleod explores Mozart's Vienna years, and concentrates on his opera The Magic Flute and the unfinished Requiem.
Donald Macleod explores Mozart's Vienna years, and concentrates on the opera that affronted some of the composer's fellow masons, but which has enchanted generations of opera-goers ever since - The Magic Flute.
He also focuses on the commissioning of the Requiem Mass, which, as many believe, came about when Mozart received a call from a stranger, who made him an offer he could not afford to refuse. The composer almost certainly had the whole work mapped out in his head, but died before he was able to get it all down on paper.
Four German Dances, K602 (No 3 in C)
Wiener Mozart Ensemble
Willi Boskovsky (conductor)
Philips 464 780-2, CD 13, Tr 19
Requiem in D minor, K626 (1 Dies irae (chor); 2 Tuba mirum (sop, alt, ten, bas); 3 Rex tremendae (chor); 4 Recordare (sop, alt, ten, bas); 5 Confutatis (chor); 6 Lacrimosa (chor)
Christine Schafer (soprano)
Bernarda Fink (alto)
Kurt Streit (tenor)
Gerald Finley (bass)
Arnold Schoenberg Chor
Concentus Musicus Wien
Nikolaus Harnoncourt (conductor)
Deutsche Harmonia Mundi 82876 58705 2, Trs 3-8
Bald prangt, den Morgen zu verkunden; Der, welcher wandert diese Strasse voll Beschwerden; Tamino halt! ich muss dich sehn! Wir wandelten durch Feuersgluten; Papagena! Papagena!; Pa-Pa-Pa-; Nur stille! stille!; Die Strahlen der Sonne vertreiben die Nacht (The Magic Flute, K620)
Three Boys ...... Damien Colin, Patrick Olivier Croset, Stephane Dutournier
Pamina ...... Rosa Mannion
Two armed men ...... Christopher Josey, Laurent Naouri
Tamino ...... Hans Peter Blochwitz
Papageno ...... Anton Scharinger
Papagena ...... Linda Kitchen
Monostatos ...... Steven Cole
Three ladies ...... Anna-Maria Panzarella, Doris Lamprecht, Delphine Haidan
Reinhard Hagen (Sarastro)
Les Arts Florissant
William Christie (conductor)
Erato 0630-12705-2, CD 2, Trs 17-24.
More episodes
Next
You are at the last episode